What NFL Team May Sign Colin Kaepernick? Quarterback's Lawyer Hints 2 Franchises Are Interested
Colin Kaepernick's lawyer hinted in an interview with TMZ Thursday that the quarterback has drawn interest from two NFL franchises. It would be a somewhat remarkable turn of events should Kaepernick earn a roster spot midseason, considering he has been kept out the NFL for well over a season after sparking kneeling protests during the national anthem before games.
Attorney Mark Geragos was careful to hedge his comments since predictions he has made in the past have not gone well.
"OK, this is what I'm going to predict: I've been pilloried for the idea that he would—I said a year ago that he would get a contract in 10 days," he told TMZ. "I would just say, 'Stay tuned... that next week there may be some news."
Asked if Kaepernick might be on the verge of signing somewhere, Geragos deferred by saying, "That's as far as I'm going to go."
But later in the interview, when pressed, Geragos said, "I've got two other teams that will remain nameless."
Again, when pressed for a hint, the lawyer seemed—key word: seemed—to suggest the Oakland Raiders (owned by the Davis family) and New England Patriots might be interested.
"I'll just say this: If Al Davis were still alive.… That's all I'm going to say," Geragos said.
Later, however, the TMZ interviewer brought up rapper Meek Mill claiming he wrote a Kaepernick anthem.
"You know who Meek Mill was visited by when he was in custody?" Geragos said, referencing the New England Patriots owner Robert Kraft. It's not entirely clear the attorney was hinting that the Patriots were interested in Kaepernick—but it did appear Geragos was bringing him up for a reason.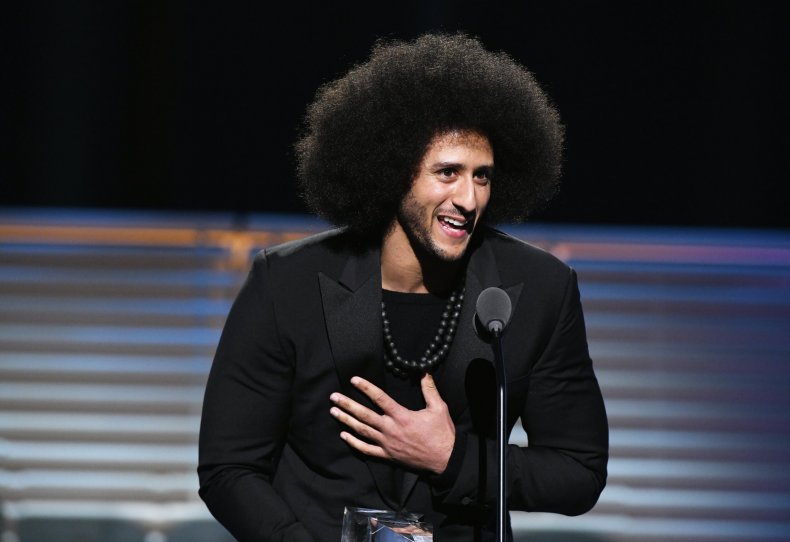 Kaepernick has been out of the league after sparking the kneeling national anthem protests in 2016 aimed at raising awareness of the oppression of black people in America. While Geragos might hint that NFL teams are interested, there could be the potential complication of Kaepernick's ongoing lawsuit against the league that alleges collusion has kept him out.
But even without an NFL job Kaepernick has remained a central figure in the football world and the country at large. President Donald Trump has regularly attacked the 30-year-old and other players who have kneeled during the national anthem. And recently Nike ran a high-profile ad featuring the activist quarterback that said, "Believe in something, even if it means sacrificing everything."