Colin Kaepernick Tells the NFL to 'Stop Running from the Truth' Amid Workout Controversy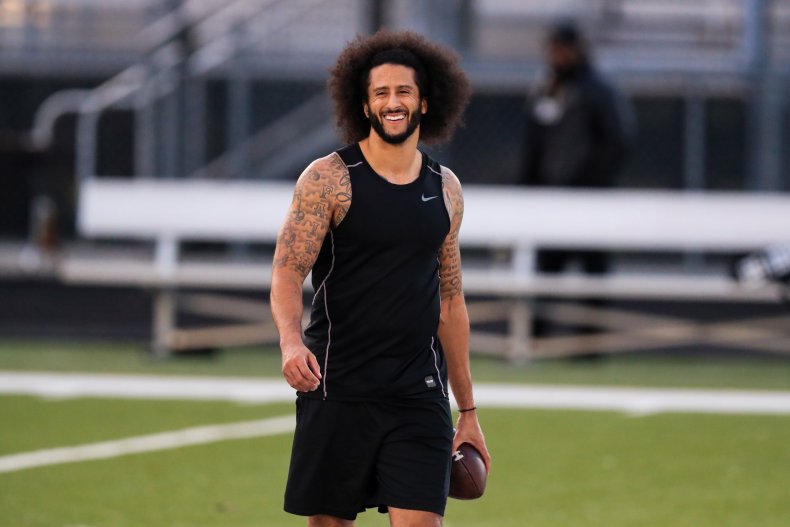 Quarterback Colin Kaepernick, formerly of the San Francisco 49ers, urged leaders of the National Football League (NFL) to "stop running from the truth" amid controversy over his workout on Saturday.
After the practice and before his departure, ESPN reported that Kaepernick gave his regards to the 250 fans who had shown up to watch before making a statement that was shared on Twitter by Dan Wolken of USA Today.
"I've been ready for three years; I've been denied for three years," Kaepernick said. "We all know why I came out here and showed it today in front of everybody. We have nothing to hide. So we're waiting for the 32 owners, the 32 teams, Roger Goodell [NFL commissioner], all them to stop running. Stop running from the truth, stop running from the people."
Kaepernick, 32, has been a contentious figure in the world of football since 2016, when he took a knee during the national anthem. Kaepernick has said he began to kneel during the "Star-Spangled Banner" in order to silently protest police brutality against African Americans and other minority groups. Some others, including football fans, players and pundits, took his protest as a serious affront to national pride and a deliberate dishonor to military personnel.
In 2017, he opted out of his contract with the 49ers. During the off-season that year, he was not signed on as a player by any other teams in the NFL. He has been out of work as a professional football player since then, but later sued 32 franchise owners for colluding with each other to keep him out of the league. He reached a settlement with the NFL this past February.
The NFL had set up a practice or "workout" for Kaepernick for Saturday, which was set to take place in Atlanta and be attended by representatives from at least 11 professional teams. The intention was to allow the teams to observe Kaepernick's skill with the ball in consideration of signing him on as a player.
Newsweek reported that Kaepernick "asked the league to hold the event on Tuesday when most coaches and general managers would be free, as opposed to Saturday—a day traditionally busy for NFL franchises as it comes just before game day." The NFL denied the request, and also stated that journalists would be barred from attending the practice.
But, almost suddenly on Saturday afternoon, media were informed that Kaepernick would be holding his own alternative practice in a different location. Kaepernick's camp put out a press release in the afternoon that explained the situation:
Newsweek earlier reported that the statement said the practice would be moved from 3 p.m. to 4 p.m., and would take place at Charles Drew High School in Atlanta. The school is about 60 miles from the Atlanta Falcons' facility, where the practice was originally slate to take place, according to ESPN. Media would be allowed to attend the event at its new location.`
When he arrived at the school, Kaepernick wore a shirt with the name "Kunta Kinte" on it. Kinte is a character from Alex Haley's novel, Roots. In the novel, Kinte an 18th-century African sold into slavery in Virginia, where he strives to maintain his Mandinka culture despite slavers' attempts to force him to forget it.
According to USA Today, Kaepernick practiced for about 45 minutes with other professional players, and seemed to still be quite adept at handling a football despite his three years out of the league.
"Kaepernick appeared to prove that he could still compete for a roster spot in the NFL, if not a starting job," Wolken of USA Today wrote.
Whether Kaepernick will ever get a job with an NFL team following the workout remains uncertain. As Michael Rosenberg of Sports Illustrated opined: "The problem is that there is such a deep mistrust between the NFL and Kaepernick's camp. Sixty scripted throws could never overcome it."