Here's What We've Learned About Colin Kaepernick's Workout
After the announcement of Colin Kaepernick's Saturday workout for the NFL, many were shocked to learn that the event would be closed to the media. By the end of the day Friday, 24 teams were sending representatives to watch the quarterback's workout.
A press release from Kaepernick's camp on Saturday afternoon announced many sudden, recent changes to the workout. If a team signs Kaepernick, it will be the first time he's played in the NFL since 2016.
While initial plans had announced that media would not be allowed at the 3 p.m. workout, the new statement informed NFL officials and journalists that the event would instead take place at 4 p.m. at Charles Drew High School in Atlanta, Georgia, according to an Atlanta Journal-Constitution reporter. Media was allowed to attend the relocated event.
The press release said Kaepernick sought a "transparent and open process." A tweet from ESPN NFL writer Jeremy Fowler revealed that sources told him that the NFL would provide three wideouts for Kaepernick to workout with for the original event. Kaepernick brought five receivers with him: Bruce Ellington, Brice Butler, Ari Wertz, Jordan Veasy and Eric Reid.
According to Mother Jones, a handful of protesters arrived outside the Falcons' training facility, where the workout was originally scheduled. Supporters also gathered at the facility.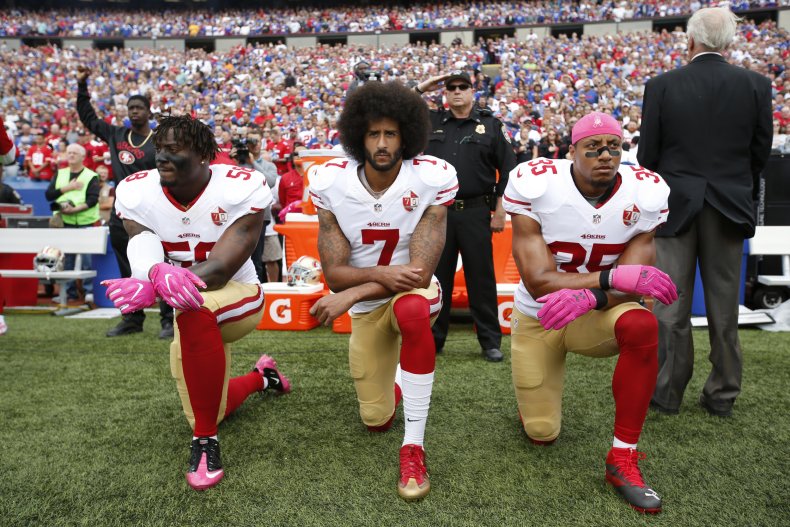 With the last-minute move, reporter Dov Kleiman tweeted that Hue Jackson, who had been scheduled to lead the workout, left Atlanta. Yahoo Sports senior writer Jay Busbee tweeted that Kaepernick's arriving to workout at a high school field was "surreal."
Sports outlet The Undefeated also posted a photo on Twitter where Kaepernick can be seen in the background upon his arrival at Charles Drew High.
A crew assisting Kaepernick wore black t-shirts that read "#IMWITHKAP." Kaepernick posed for photos between stretches and preliminary workouts.
At 4:49 p.m., ESPN NFL reporter Adam Schefter tweeted the NFL's response to Kaepernick's move. The NFL statement asserted that the league agreed to Kaepernick's requests to bring his own receivers, shoot an ad by Nike, and allow his representatives on the field to monitor the filming process.
The NFL also stated that they received a rewritten liability waiver from Kaepernick at noon on Saturday and were made aware that he wanted it open to the media, when his statement was released.
"We are disappointed that Colin did not appear for his workout. He informed us of that decision at 2:30 p.m. today along with the public," the statement read. The league also notes that Kaepernick's decision does not effect whether or not he can sign with a team.
After drills, Kaepernick signed autographs for fans who viewed just over the fence.
The workout is being streamed on YouTube.
Newsweek will publish more details as they emerge.