Colin Kaepernick's Girlfriend Nessa Blasts Trump and NFL After Report President Will Spend $10 Million on Super Bowl Ad
Nessa Diab, the girlfriend of former NFL quarterback Colin Kaepernick, criticized President Donald Trump, the NFL and NFL Commissioner Roger Goodell on Tuesday after a report about the Trump campaign's purchase of a Super Bowl ad.
"You see how this works?" Nessa wrote on her Twitter account. "Trump and his @NFL buddies from team owners & @nflcommish have a code they stick by. That code blackballed @kaepernick7 for peacefully protesting systematic oppression. Trump to drop $10 million on Super Bowl ad."
The tweet also attached a Politico article confirming the Trump re-election campaign's purchase of the commercial. According to the story, the $10 million ad buy will provide Trump with 60 seconds of commercial time during the Super Bowl, one of the country's most watched TV events.
Like Nessa (who goes by her first name), many believe that Kaepernick's kneeling during the national anthem to protest police brutality against black Americans is one of the main reasons he has remained unsigned to a team for the past three years.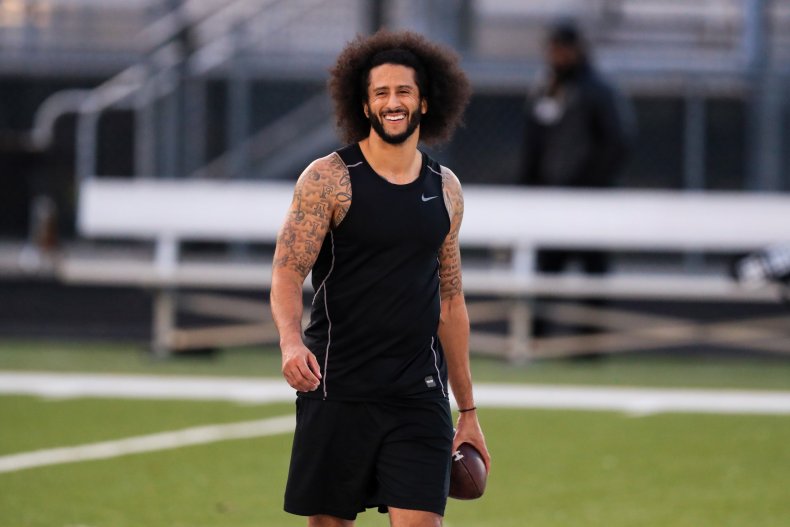 In February 2019, Kaepernick was able to settle a collusion grievance with NFL owners in which he claimed that the group denied him from playing because of his outspoken activism. But after he remained unsigned after his workout with the league in November, many began to question the NFL's motives regarding the quarterback. The league and Goodell have said they are open to a team signing Kaepernick.
In May 2018, Trump, who had been critical of Kaepernick's protests against police brutality, responded to a new NFL policy that required players who were on the field to stand for the national anthem, saying that players who knelt "shouldn't be playing."
The NFL is allowing the president to air a campaign ad during their biggest game of the season, which may be what Nessa's tweet is reacting to when she says there is a "code" between Trump and the NFL.
This is not the first time Nessa has been critical of the NFL and Goodell regarding their handling of the Kaepernick situation. Following his workout with the league, a waiver sent to Kaepernick surfaced. It showed different wording from the normal waiver the league would send to a player.
"Let me say it again," Nessa wrote on her Twitter account. ".@nflcommish soooo YOU & OTHERS worked with multiple teams AND the front office to put sneaky verbiage in the waiver you wanted @Kaepernick7 to sign & wouldn't allow the workout to be transparent & you call it "credible"? Hope you keep your story straight."
Newsweek reached out to the NFL Players Association concerning Nessa's criticism, but it said it had no comment.