Colin Kaepernick to Hold Private Workout Saturday While NFL Teams Battle QB Injuries
Injuries have not been kind to quarterbacks in the National Football League during the 2019 season, and former quarterback Colin Kaepernick could see an opening finally go his way.
Kaepernick will hold a private workout this Saturday in Atlanta, and all NFL clubs were informed about it Tuesday, ESPN's Adam Schefter reported with this tweet.
"NFL clubs were informed today that a private workout will be held for Colin Kaepernick on Saturday in Atlanta. Session will include on-field work and an interview. All clubs are invited to attend, and video of both the workout and interview will be made available to clubs," Schefter wrote.
A memo was sent to NFL teams that read:
"Earlier this year, we discussed some possible steps with his representatives and they recently emphasized his level of preparation and that he is ready to work out for clubs and be interviewed by them. We have therefore arranged this opportunity for him to work out, and for all clubs to have the opportunity to evaluate his current readiness and level of interest in resuming his NFL career."
Kaepernick, now 32, was the backup quarterback for the San Francisco 49ers when began kneeling during the national anthem at NFL games during the 2016 preseason to raise awareness to social injustice, police brutality in black communities and racial inequalities. That year was his last to play in the league.
Kaepernick has since tried to get on rosters of other NFL teams, but none of them would sign him, prompting a lawsuit by Kaepernick against the league, saying the teams conspired to not sign him because of his political views.
Kaepernick and former San Francisco 49ers teammate Eric Reid reached a settlement with the NFL last year that was a little less than $10 million.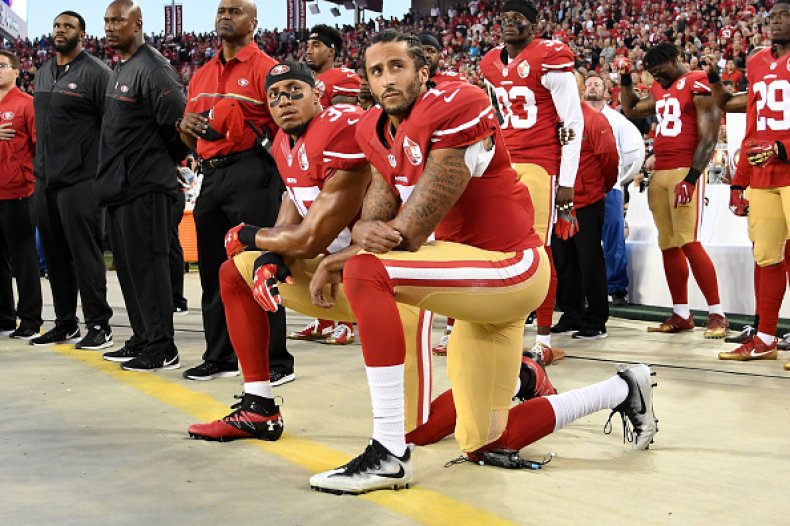 Meanwhile, injuries have taken a serious toll on NFL quarterbacks this season. Poor play has played a role for other starting quarterbacks, which opened the door for Kaepernick holding the workout and extending invitations to NFL clubs.
In the early part of the season, the Pittsburgh Steelers lost Ben Roethlisberger for the season with a torn UCL. Roethlisberger's backup, Mason Rudolph, was also temporarily removed from action after a nasty concussion.
Drew Brees of the New Orleans Saints missed five games with a torn thumb ligament, and backup Teddy Bridgewater went undefeated before Brees finally returned.
Sam Darnold of the New York Jets was sidelined with mononucleosis, and his backup quarterback, Trevor Siemian, had a season-ending ankle injury.
Nick Foles went out during the first game with an injury that required surgery, and rookie backup Gardner Minshew steered the Jacksonville Jaguars half a season before the team announced Foles would be back as the starter this week.
Cam Newton lost eight straight as a starter, and now has been held out with a foot injury while Kyle Allen guides the Carolina Panthers.
Eli Manning of the New York Giants was benched for rookie Daniel Jones, the Miami Dolphins have replaced starter Josh Rosen with veteran backup Ryan Fitzpatrick, and Ryan Tannbehill has taken over the offense for Tennessee Titans with Marcus Mariota now on the sidelines.
Colin Kaepernick to Hold Private Workout Saturday While NFL Teams Battle QB Injuries | Sports