Former NFL quarterback Colin Kaepernick accused the league of running "propaganda" that proclaims to care about Black lives while it simultaneously undermines fellow free agent Eric Reid for speaking out in support of the Black community.
Kaepernick criticized the league Sunday for "actively blackballing" Reid, who was the second NFL player to kneel during the U.S. national anthem in the 2016 season alongside the then-San Francisco 49ers quarterback. Both players are now free agents who have long accused NFL owners and league officials of colluding to prevent them from being signed due to their outspoken anti-police brutality demonstrations. Reid, a 28-year-old former Pro Bowler, was recently ranked as one of the top available free agents in the NFL—and Kaepernick says his activism is the only reason he's not been signed.
"While the NFL runs propaganda about how they care about Black Life, they are still actively blackballing Eric Reid (@E_Reid35) for fighting for the Black community. Eric set 2 franchise records last year, and is one of the best defensive players in the league," Kaepernick tweeted Sunday afternoon.
Earlier on Sunday, Kaepernick highlighted that his former teammate holds tackling and sack defensive records for the Carolina Panthers, yet was still released this past March. Reid recorded 97 solo tackles last season, which tied him for third place in the entire league among defensive backs. In March, Reid was ranked by ESPN as the seventh-best remaining free agent available in the league. All six of the free agents who were ahead of him on that list have since been signed, thus moving him to the top spot.
"My agents have been in communications with teams daily, but there have been no developments," Reid told Deadspin in an article published Saturday.
Kaepernick, who is also a free agent, has been left off nearly all recent lists of available players in the NFL. A September CBS ranking that did not feature Kaepernick listed Reid as the second-best available free agent behind only Antonio Brown.
"It's been four years since Colin Kaepernick and Eric Reid first took a knee to protest systemic oppression, specifically police brutality," Kaepernick posted to Facebook on September 1, marking the anniversary of the two first doing so during the 2016 NFL season. "The fight continues."
Reid filed an official grievance letter with the NFL in May 2018 which alleged team owners and league administrators were influenced by President Donald Trump's criticism of silent national anthem protests. Attorneys representing Reid have also filed similar legal complaints against the NFL on behalf of Kaepernick. In 2017, Trump told the NFL directly that players who kneel during the national anthem should be fired.
An April 2018 report claimed Cincinnati Bengals owner Mike Brown repeatedly pressed Reid on whether he would cease his silent protests during the playing of the national anthem—a commitment Reid was reportedly not able to make at the time.
"Colin [Kaepernick] and Eric have taken courageous action at the expense of their professional careers and personal lives," Reid's attorney, Mark Geragos, said in a statement following the NFLPA complaint against the league in 2018. Geragos also represents Kaepernick in his own grievance case against the NFL. "We stand shoulder to shoulder with the NFLPA in our fight for justice, equality and inalienable rights of all Americans."
Newsweek reached out to the league for additional remarks on Kaepernick's comments Sunday afternoon.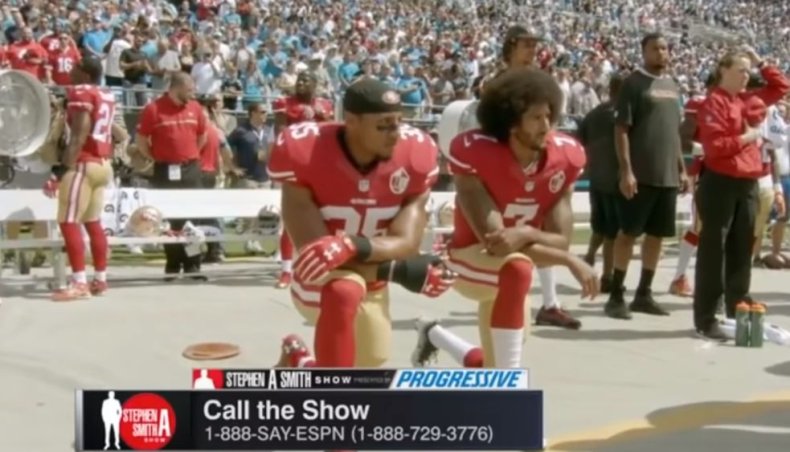 About the writer
Benjamin Fearnow is a reporter based out of Newsweek's New York City offices. He was previously at CBS and Mediaite after working as a news curator at Facebook. Fearnow has pieces published in The Atlantic as well as stories published about him in Wired and The New York Times. He attended the Columbia University School of Journalism after graduating from Indiana University-Bloomington. Email: b.fearnow @ newsweek [dot] com.