Colin Powell Calls Out Trump Over Flag Issue, Asks, 'Doesn't He Have More Important Things to Do?'
Colin Powell, who served as secretary of state under former President George W. Bush, criticized President Donald Trump for calling out NASCAR for banning the Confederate flag.
"I don't know why he does this," Powell, a retired four-star general in the U.S. Army, said Thursday during an interview with MSNBC. "Doesn't he have more important things to do? I mean, why is he fooling around with NASCAR and a flag?"
Powell's remark referenced a tweet from Trump that criticized NASCAR, suggesting inaccurately that its decision to ban the Confederate flag had "caused lowest ratings EVER!" In reality, as The New York Times reported, NASCAR's Sunday broadcast of the Brickyard 400 was viewed by about 40 percent more people than the average NASCAR race aired in 2019.
Newsweek reached out to the White House for comment, but it did not respond by the time of publication. White House Press Secretary Kayleigh McEnany on Monday responded to a similar question from a reporter about why Trump is focusing on the NASCAR issue during the pandemic.
"He's focused on two things at once, something we're all capable of doing," McEnany said. She also said that Trump "has made clear he was not taking a position one way or the other" on the Confederate flag in the tweet.
Powell told MSNBC that the president should be "an example to the rest of the country that we are one nation, one people, and make sure that we can make these systems go away, these systems of racism and the kind of intolerance that still exists in our country."
The former secretary of state voiced support for allowing the military to rename several bases that have been named after Confederate officers, something Trump has publicly criticized as well. "I think it is quite appropriate that the 10 bases, Army bases, anyway, that we have in the southern part of the United States, should be looked at by the leadership of the military and the president should keep out of it," he said.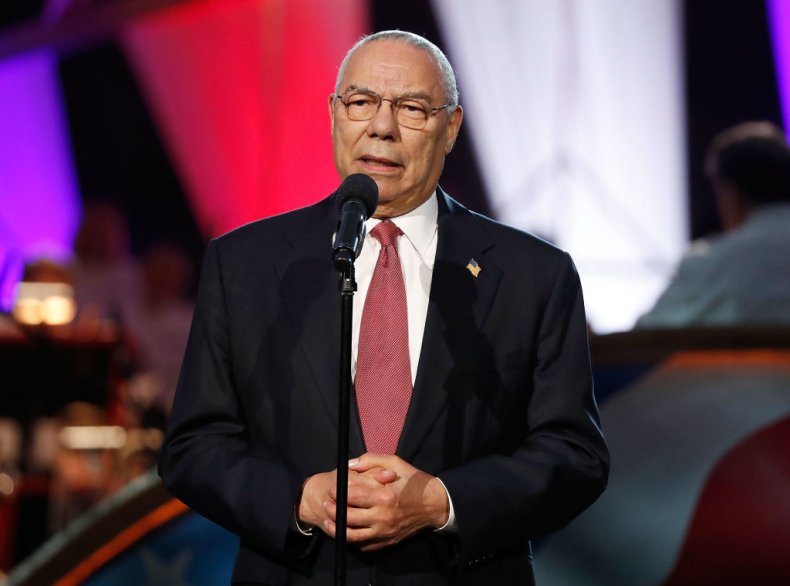 Trump tweeted on June 10: "My Administration will not even consider the renaming of these Magnificent and Fabled Military Installations. Our history as the Greatest Nation in the World will not be tampered with. Respect our Military!" The Confederacy was formed in rebellion against the U.S., as southern states attempted to secede in a bid to preserve slavery.
The retired general, who is Black, noted that the U.S. was still a segregated country when he first entered the military more than six decades ago. "The Army had been integrated," Powell pointed out. "And we have come a long way. That allowed me to rise to the top of my profession. But it isn't over yet. Racism still exists."
Although Powell identifies as a Republican and served as secretary of state under a Republican president, he endorsed former President Barack Obama, a Democrat, in 2008. He also voted for Democratic presidential candidate Hillary Clinton over Trump in 2016. In June, Powell said publicly that Trump "lies" and that he plans to vote for Democratic presidential candidate Joe Biden.