Colin Powell: George H.W. Bush Was a 'Perfect President' for his Humility and Kindness
Following the passing of former President George H.W. Bush, his Chairman of the Joint Chiefs of Staff, Colin Powell, praised the leader for his character and being one of the most qualified people in terms of foreign policy.
Powell told ABC News host George Stephanopoulos that Bush was the "perfect American" with regard to how he served his country in Congress, business, as CIA director and throughout every aspect of his life. He explained that despite becoming vice president and then president, Bush "never let it all go to his head" and called him a man of "great humility."
"He was always kind, he was always contained within himself. He didn't let emotions get on top of him," Powell explained.
The former chairman of the joint chiefs of staff credited Bush's parents for instilling in him that no matter what, he shouldn't show off. Along with being the "perfect American," Powell credited Bush for being the "perfect president" because of how he was as a human being.
Powell specifically pointed to the falling of the Berlin Wall as a moment that exemplified Bush's character. While the president was competitive, he said when the Berlin Wall was falling, even though some would be tempted to brag, the then-president didn't.
"He was very competitive, especially with horseshoes and other sports," Powell said. "But in matters like this, he felt it was his place to do the right thing and not gloat, not ­– not, you know, shout over somebody's grave."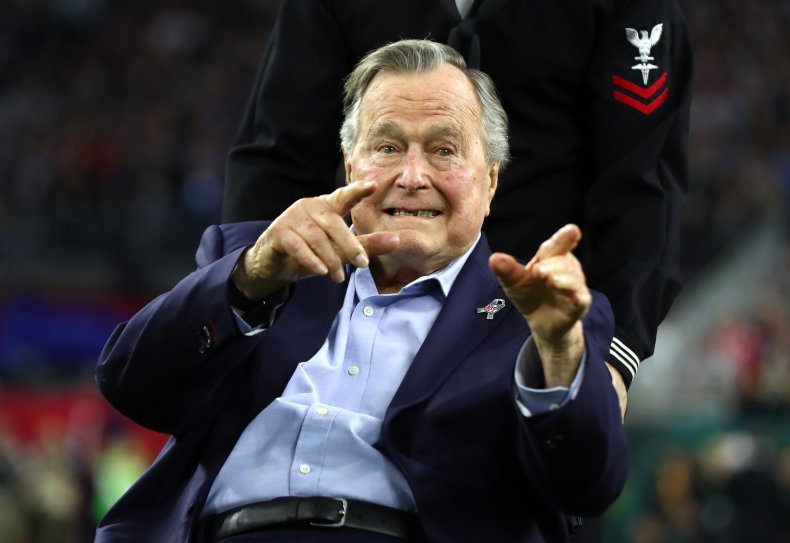 Powell, who worked with Bush for two years when he was vice president and through his four-year presidency, said that everything the former leader did was directed at helping the American people. In both war and peace, Powell said, Bush was a patriot.
"He was the most qualified person with respect to foreign policy ever to serve as president of the United States of America and he was able to demonstrate that for the four years of his service," Powell said.
The former chairman of the joint chiefs of staff called it his "privilege" to have worked with Bush and agreed with former Secretary of State James Baker that Bush was one of the best American presidents of all time.
On Friday, Bush passed away at the age of 94, only six months after his wife, former first lady Barbara Bush passed away. In a statement from Bush's spokesman, Jim McGrath, former President George W. Bush called his father a man of the "highest character" and the best dad a child could ask for.
"The entire Bush family is deeply grateful for 41's life and love, for the compassion of those who have cared and prayed for Dad, and for the condolences of our friends and fellow citizens," the statement said.
Powell, a retired four-star general in the United States Army, served as Bush's joint chiefs of staff for the entirety of his presidency. He then served as secretary of state to Bush's son from 2001 until 2005. Powell was the first African American to hold either of the positions.
On Monday, Bush's remains will be flown from Ellington Field Joint Reserve Base in Houston to Joint Base Andrews in Maryland. After a ceremony upon arrival, his casket will be taken to the Capitol in Washington, D.C., where he will lie in state from 5:00 p.m. EST Monday until 10:00 a.m. EST on Wednesday.
His casket will then be transported to Washington National Cathedral, where his funeral is set to take place. Bush's casket will then be flown back to Houston and will lie in repose at St. Martin's Episcopal Church. Bush will be interred next to his wife and daughter Robin on Thursday at Texas A&M University in College Station, home to the George Bush Presidential Library and Museum.