Getting 'Varsity Blues' Kids Into College After Scandal Is 'New Frontier of Disadvantage': Admissions Consultant
Admissions consultant Hanna Stotland's job is to help the kids who are the hardest to admit into college get accepted. Her clients regularly have felony convictions and sexual assault accusations, but it's the children of the parents indicted in the college admission scandal who now present the biggest challenge in finding a path forward with their education.
"The 'Varsity Blues' students are a new frontier of disadvantage, far beyond my students who have been found responsible for sexual misconduct," Stotland told Newsweek.
The FBI operation dubbed Varsity Blues made national headlines in March after 35 parents were indicted, some of whom have been sentenced to jail time, for participating in a fraudulent scheme that boosted their children's chances of getting into college. Some of the students were expelled; others had their acceptance revoked. On Monday, the University of Southern California confirmed that Lori Loughlin's two daughters, Olivia Jade and Bella Giannulli, were no longer students. The school didn't elaborate on whether they withdrew or were forced out, citing privacy laws.
With their children's college education in limbo, parents have turned to Stotland, an educational consultant to the law firms retained by the five families charged in the scandal, for help. But Stotland said it would be "very hard" for anyone connected to the scandal to pursue a college education in the United States. This includes younger siblings who didn't work with Rick Singer, the scandal's ringleader
Stotland has spoken to colleges and universities to see what, if any, options these students have to obtain a college degree. The task, she told Newsweek¸ brought her into unchartered territory.
"Even when I'm talking about students accused of sexual misconduct, I very rarely hear an admissions staffer say, 'We don't think your student should even apply,'" Stotland said. "Here, a lot of the schools I've spoken to have been willing to tell me, flat out, no."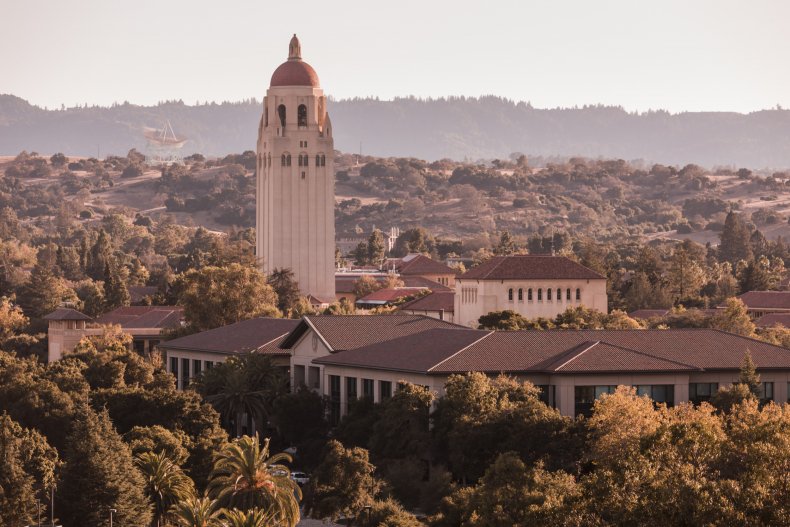 So where do these young people go from here? Despite a difficult road ahead, Stotland said she was "certain" there are options for these students, which could include heading abroad or starting out at a community college in California.
Many American schools take a holistic approach to admissions. Academic achievements, such as grades and test scores, are factors in the process, but admissions officers also consider extracurricular activities, an applicant's background and personal qualities. The goal is to consider the whole person, meaning that children of parents in the college admission scandal could be rejected even if they have the necessary academic qualifications.
Universities in other countries often take an admissions approach more centered on academics, which could make those schools a better option for these children.
"It's more transactional. It's much more: These are your test scores and then you get into these programs in these schools," Stotland said. "I think, from an admissions point of view, that's going to be much, much easier than getting into a university in the U.S."
Students who weren't enrolled at the University of California, Los Angeles, may have another option available to them, according to Stotland. Six University of California (UC) campuses offer guaranteed admission to certain community college students through the Transfer Admission Guarantee program, according to the school's website.
To qualify for guaranteed admission, students must transfer directly from a California community college; have completed 30-semester UC-transferable units; and, for some campuses, meet minimum grade point average requirements. California community colleges are required to admit all California residents who have a high school diploma or the equivalent, so this route could eliminate the problem of a holistic admissions approach.
Newsweek reached out to UC media representatives but did not receive a response in time for publication.
Part of the problem is that colleges and universities in the United States are businesses, and like all businesses, they want to steer clear of bad publicity. It's harmful to reputations, which could mean it also hurts donations and applicant pools. Admitting a student whose name is tied to the college admission scandal would be bad publicity.
"I think that's what's making it tougher than a rape accusation, in terms of being a burden to carry on your application," Stotland explained. "Schools are scared of facing the headlines."
Stotland's far from giving up hope and said her clients can obtain a college education if they want one. While some schools have turned her down entirely, she said she's spoken to some schools that are "open-minded" and willing to evaluate applicants based on their merit.
Merit-based admissions has been central to discussions about the scandal, with even Jack Buckingham, whose mother was charged, criticizing the role money plays in the process. Now, parents who used their wealth to tilt the odds in their kid's favor are paying Stotland to get the scoop on where their child stands in terms of college admissions, which doesn't make for the best optics.
"It's something I'm at peace with," she said. "I don't know many people in this industry that believe it's a perfectly level playing field."