College Basketball Analysts, Commentators Weigh In On Punishments After Kansas, Kansas State Basketball Brawl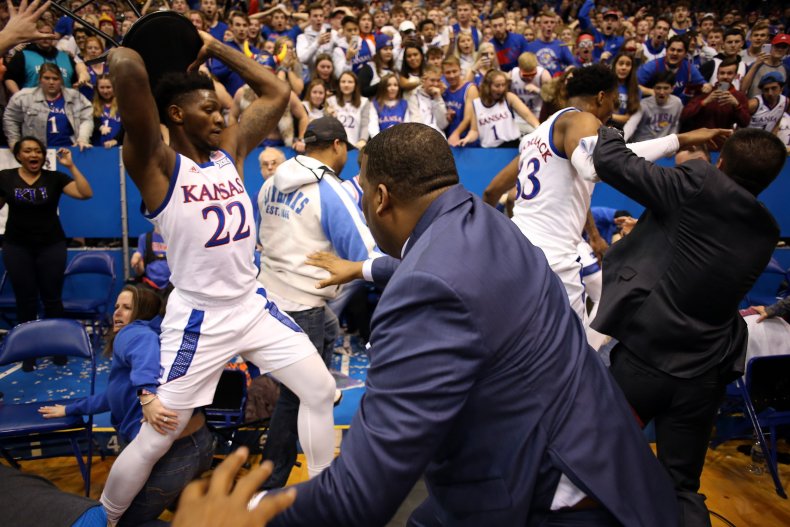 On Tuesday night, a bench-clearing brawl broke out between Kansas and Kansas State, which could lead to a number of different punishments handed down by the BIG 12 conference and NCAA.
The fight erupted during the final seconds of the game between the two teams. Kansas was leading 81 to 59 when Kansas State guard DaJuan Gordan stole the ball from Kansas center Silvio De Sousa. Gordon then proceeded to race down the court for a last-second layup, but De Sousa had other plans and swatted the ball away from the basket and stood over Gordon, taunting him.
As he stood over Gordon, players from both teams raced down to the basket, and chaos ensued, with punches being thrown and De Sousa attempting to hit a Kansas State player with a chair, though he was stopped by an assistant coach.
Following the fight, conversations began regarding what punishments would come as a result of the fight. On Wednesday, Kansas announced that De Sousa has been suspended indefinitely.
"I have suspended Silvio De Sousa indefinitely pending the final outcome of the review by KU and the Big 12 conference," Kansas head coach Bill Self said in a statement.
While it is currently unclear what type of punishments could be handed to the players involved in the fight, this is not the first time the NCAA or specific conferences have dealt with this type of situation.
In 2011, a fight broke out during a men's basketball game between Xavier and Cincinnati. The brawl between the two teams resulted in each suspending four players. Cincinnati suspended three players for six games and one additional player for one game, while Xavier suspended two players for four games, one player for two and another player for a single game. At the time, both teams were a part of the Big East conference, who endorsed the suspensions and did not add any additional sanctions.
In 2014, another similar brawl broke out again during a game between Utah Valley State and New Mexico State, after a New Mexico State player K.C. Ross-Miller threw a ball at Utah Valley's Holton Hunsaker. As he threw the ball, fans stormed the court, and a fight broke out between the two teams and many fans. Following the incident, Ross-Miller was suspended by New Mexico State, a punishment later endorsed by the Western Athletic Conference, who suspended him for two games.
As the Big 12 and Kansas continue to investigate the incident, many college basketball experts and sports commenters have weighed in on what type of punishment could be levied.
Immediately after the brawl, ESPN college basketball analyst Dick Vitale gave his take on the altercation and called for very harsh punishments. "It is sickening," Vitale said. "There's no place in the game. That was almost criminal what De Sousa has done. I'll be shocked if he ever wears a [Kansas] uniform again."
On the other hand, two former NBA players and current basketball analysts, Jay Williams and Jalen Rose, gave a different take on the incident and called for shorter punishments.
"Let me say this, Silvio De Sousa should be suspended for ten games," Williams said in a video posted on his Twitter account. "I don't think there should be criminal charges brought against De Sousa."
"I totally disagree with our hall of famer Dick Vitale," Rose said while appearing on ESPN's Get Up. "I'm not going to go to the extreme of feeling like these student-athletes should never play again."
"I think some suspensions should happen and the young man should continue to play basketball," Rose added
College basketball analyst Jeff Goodman also disagreed with Vitale's view on the potential punishments and stated that he "completely disagreed" with a Twitter user's take that De Sousa "should be done in college basketball forever."
From a slightly different standpoint, ESPN's Stephen A. Smith said he thinks De Sousa "needs to be suspended for a minimum of ten games."
Regardless of the different views from former players and analysts, the final decision regarding punishments handed to the players involved in the altercation will come down to the Big 12 conference.