Paying for college can often be a family effort but when it comes to financing higher education, women are more uncomfortable than men asking their grandparents to chip in, a new survey found.
Over the past 30 years, the cost of obtaining a college degree has doubled or even tripled depending on the type of institution. To foot the bills of higher education, parents have started college funds for their children at a young age, students take out loans and in some cases, ask family members or friends to make a financial contribution toward their education.
However, when it came to asking a grandparent for help, students largely felt uncomfortable about the situation. Fidelity, a financial services corporation, released a survey on Tuesday that shed light on how students felt about the cost of higher education and financing it.
Sixty-four percent of those polled said they would be uncomfortable asking their grandparents to give them money to help pay for their education and forty-two percent said they'd be very uncomfortable.
When broken down by gender, Fidelity's poll found women were 10 percent more likely to be uncomfortable than men. Compared to the 59 percent of males who said they'd be uncomfortable, 69 percent of women responded the same way.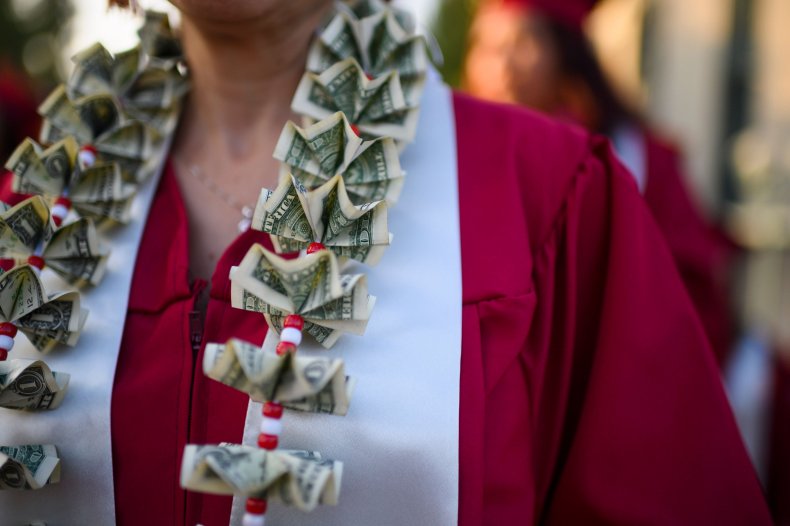 Fidelity also noted previous research indicated that family and friends were willing to consider giving college funds as gifts in lieu of traditional presents.
Women were also more likely to feel stressed about student loan debt than men. Only 38 percent of the men polled said they were stressed and 55 percent of women felt the pressure.
An estimated 45 million people in America collectively hold about $1.6 trillion in student loans. Being saddled with thousands of dollars in loans has prevented people from purchasing homes, starting businesses and even getting married.
In an attempt to combat the crisis, legislators at state and federal levels have proposed measures to make college affordable. Senators Elizabeth Warren and Bernie Sanders champion debt forgiveness and free college while South Bend Indiana Mayor Pete Buttigieg advocates for expanding Pell Grants.
President Donald Trump's administration has also spoken out about the issue. The administration recommended putting added responsibility on institutions and better informing students about the costs associated with their degree in comparison to their projected income after graduation.
Some legislators have already taken steps to create avenues for affordable education. Over the summer, Pennsylvania lawmakers passed a bill and got it signed into law that would National Guard members who reenlist to transfer their education benefits to a spouse or child.
The national spotlight on higher education costs has prompted presidential candidates to weigh in on the topic from the debate stage. On Thursday, 10 contenders will once again debate each other and higher education is likely to be a topic of conversation.
Despite the high cost associated with getting a degree, 85 percent of the people Fidelity polled said they made the right selection on which school to attend. Only 19 percent felt the value of their education was not worth the amount of money they spent to get it.