College Democrats Accuse Trump of Breaking 'Promise to American Students' As Campus Reelection Campaign Launches
As the Republican National Committee (RNC) kicked off a campus initiative to rally young voters, College Democrats accused President Donald Trump of breaking his promise to American students.
On Monday, Trump's reelection campaign paid a visit to the University of Akron, a public institution in Akron, Ohio, the first stop in its youth engagement program. A national initiative aptly dubbed, Make Campus Great Again, the program aimed to register voters and help secure supporters for Trump among a younger audience.
Traditionally, the college-aged demographic has aligned with the Democratic Party and in response to the Trump campaign's kickoff event, the College Democrats offered their own message.
"Donald Trump broke his promise to American students," College Democrats of America President Mikaela Guido said in a statement. "From proposing massive cuts to federal student aid programs to consistently siding with for-profit colleges over student borrowers, he has failed to keep his promise to ease student loan debt and is instead working to systematically decrease access to quality, affordable higher education."
In March, Trump called for a multi-billion dollar cut to funding at the Education Department, including the elimination of the Public Service Loan Forgiveness program and subsidized student loans. While some Democratic presidential candidates advocated for debt forgiveness, the Trump administration championed putting the responsibility on the institutions, consolidating the loan process and increasing transparency about the amount being borrowed and a student's prospective salary upon graduation.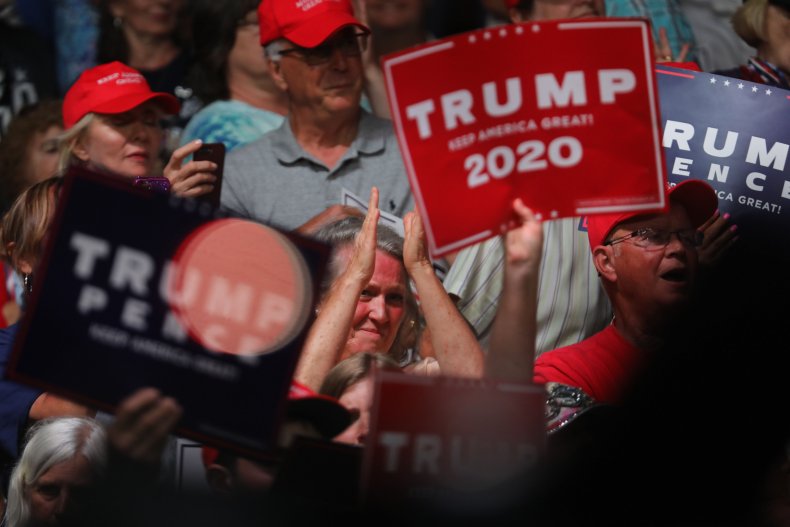 College Democrats of Ohio President Eva Holtkamp said in a statement that Trump and Republicans in Congress sided with corporations over students on "every issue young people care about," including climate change and gun violence.
An August poll, conducted by College Pulse, a data and survey analytics company, found that students, regardless of political affiliation, favored universal background checks for gun purchases. However, college students identifying as Republicans and Democrats differed on the best method of preventing mass shootings and supporting a candidate that backs the National Rifle Association.
On Wednesday, the Make Campus Great Again tour, spearheaded by Mitch Freckleton, director of youth engagement, is expected to stop at Ohio University in Athens. The event touted free food, voter registration and social media training.
"Maybe the Democrats are taking for granted that they have the youth vote, but we are fighting for it," Mandy Merritt, regional communications director for the RNC, told the Akron Beacon Journal.
Trump won Ohio during the 2016 presidential election 51.3 percent to Democratic candidate Hillary Clinton's 43.2 percent. Akron and Athens both went blue, though, so it's possible that along with targeting concentrated areas of college students, the GOP is attempting to rally support in areas where Trump previously lost.
About 60 people showed up for Monday's event, according to the Akron Beacon Journal, and included members of College Republican clubs at the host university, Kent State University, Walsh University and Cleveland State University.
Trump is scheduled to visit Ohio on Sunday with Australian Prime Minister Scott Morrison for a tour of an Australian-owned manufacturing facility. While Alex Pavloff, chairman of Ohio Young Republicans, told the Akron Beacon Journal that Trump could rally college students with the economy and unemployment rates, Guido saw the 2020 election as one that should concern the president.
"Young people are at the center of a winning coalition that should terrify the Trump reelection campaign," Guido said in a statement. "College Democrats of America has worked tirelessly to produce national and state coordinated field plans in battleground states across the country, and are already organizing from coast to coast to ensure success for our party for years to come."
Guido said College Democrats look forward to electing Democrats up and down the ticket and sending their candidate to the White House in November 2020.