Are White Women Finally Turning Against Republicans? Poll Shows Educated Voters Don't Want GOP in Congress
College-educated women are increasingly abandoning the "damaged" Republican Party as part of a backlash against President Donald Trump and the party's backing of an alleged child molester for Senate—and the shift could mean big trouble for Republican candidates in the midterms.
Democrats in Congress currently boast a 20-point lead over Republicans with women and an even larger 32-point lead among college-educated women, according to a Wall Street Journal/NBC News poll conducted December 13-15.
The numbers indicate that Democrats are already performing far better with college-educated women than they have in the last two midterm elections. That's a big shift, considering Republicans were able to regain control of the House in 2010 and gain seats in the Senate thanks in part to women. Married women in particular skewed more Republican that year, which some speculated was due to financial and economic stresses they thought Democrats weren't adequately addressing.
What's changing women's minds this year? Some women told the Wall Street Journal that Republicans' support for failed Alabama Senate candidate Roy Moore left them feeling disillusioned with the party and uncertain about its direction.
"I don't know where the party is going to go from here, but they are going to have to do a lot to get me back," Stephanie Martin, a long-time Republican, told the publication.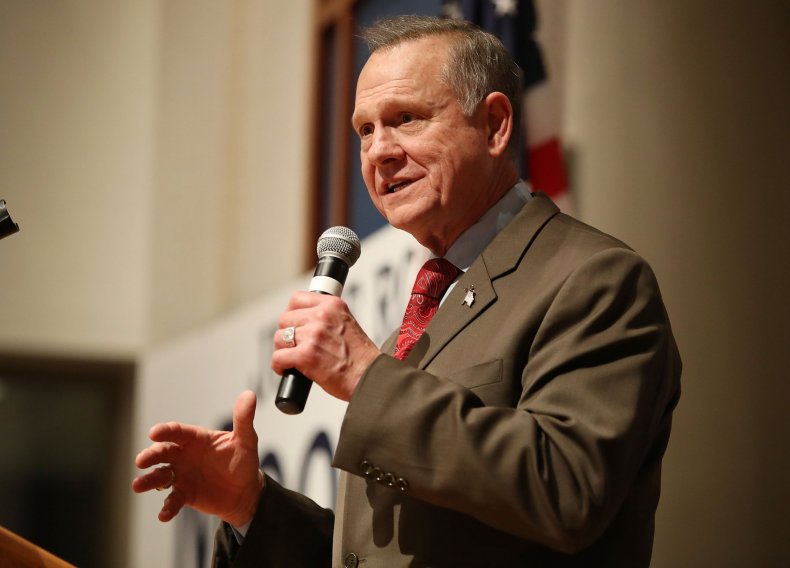 Moore did beat his rival Democrat Doug Jones among white women with and without college degrees, but had it not been for allegations that he had molested children, his margin would almost certainly have been bigger with women—perhaps enough to win the close December 12 election.
Ahead of that special election, many Republican strategists predicted that the support for Moore by the Republican Party—and the president—could hurt the GOP in the long run.
"You can't dress this up politically," Michael Steele, a former chairman of the Republican National Committee, told Newsweek at the time. "If they're not willing to confront these allegations directly, they will pay a very dear price at the ballot box next year."
The sexual misconduct allegations against Trump, of course, didn't matter much in the 2016 election. Trump still managed to win with 53 percent of white women's vote. But with the #MeToo movement in full swing across the country—and now in Capitol Hill—the tides could be turning against the GOP, allowing Democrats to seize control of Congress.
"Republicans have to be on the defensive rather than the offensive," Tara Setmayer, a former GOP communications director, told Newsweek earlier this month. "They cast aside the indecency of Trump to secure the borders, fix health care, [but] they don't have those accomplishments…You throw all of that on top of a damaged brand, and it's going to be tough for Republicans."
And it's not just women who will be hard to win over: Polling from earlier this month found that American voters on the whole are less likely to identify as Republicans than they were a year ago, with more voters identifying as Democrats or Democratic-leaning independents. The findings are on track with general trends that precede Trump's shake-up to the Republican Party. Over the last decade, Gallup surveys show Democrats with a consistent lead over Republicans.