Clemson vs. Virginia: Where to Watch ACC Championship Game, TV Channel, Live Stream and Odds
Clemson may have just gone undefeated for a second straight regular season, but Tigers coach Dabo Swinney has no plans for celebrations just yet as his team prepares to face Virginia in the Atlantic Coast Conference title game.
The Tigers have won the past four conference championship and are 28-point favorites—the largest spread of any of the FBS conference title games this season—but Swinney dismissed the suggestion Clemson could be taking success for granted.
"These guys love to work," Swinney was quoted as saying by The Associated Press. "They love the challenge of preparing every single week. So for us, this is the next goal."
For the first time in school history, the Tigers have won 27 consecutive games and have completed two consecutive perfect regular seasons.
The ACC title game in Charlotte, North Carolina, could see Clemson break another record, as it would become the first program to win five straight conference championships.
As the below graphic provided by Statista shows, the Tigers remained at No. 3 in the latest College Football Playoff rankings for the third consecutive week on Tuesday and bar a colossal upset on Saturday, they are all but guaranteed a spot in the CFP.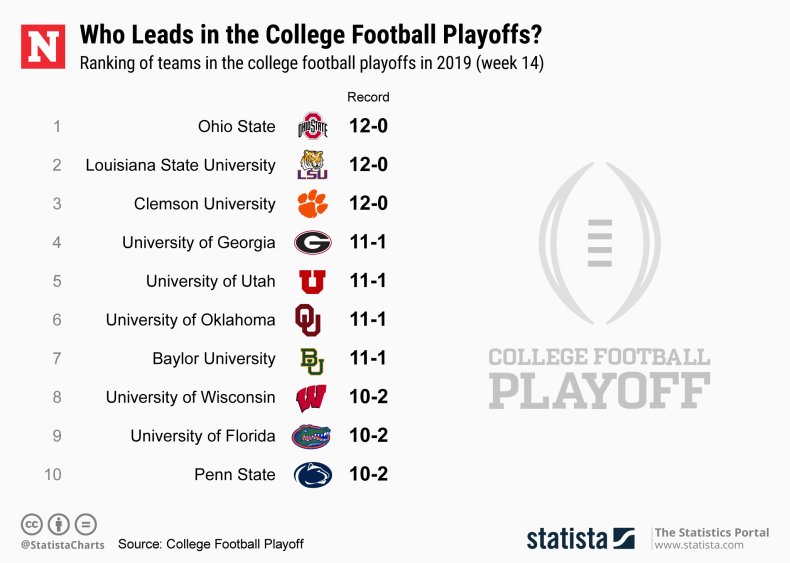 Before focusing on defending the title it won a year ago, Swinney wants his team to take care of business against Virginia.
"We all know we've got playoff opportunities and all that stuff," he added. "But the way we got to 12-0 is focusing on the task at hand and that's the way it'll be this week, just lock in and try and play our best four quarters of the season."
The Tigers have gone 12-0 this season but their relatively easy schedule has attracted criticism. No. 23 Virginia will be the first ranked program Clemson faces this year.
Speaking during his press conference on Tuesday, Swinney lamented the lack of appreciation reserved for the ACC.
"Our league never gets the credit," Swinney said. "Our league doesn't get a lot of recognition for what's happened. I just think other programs get the benefit of the doubt, and for whatever reason, our league, certainly Clemson, we don't get the benefit of the doubt."
Despite its relatively easy schedule, Clemson's march to the ACC title game has been nothing short of impressive. The Tigers have held all 12 of their opponents this season to less than 300 yards of total offense and North Carolina is the only team to score 20 points against Clemson—the second-highest total is 14.
On the other side of the ball, the Tigers rank third in the nation in total offense and fourth in scoring offense with 541.8 yards and 45.3 points per game, respectively.
The figures speak volumes for how difficult a task Virginia faces on Saturday, but Bronco Mendenhall suggested his team will not be fazed by being the underdog.
The Cavaliers secured a spot in the ACC title game after finishing 9-3 in the regular season, after snapping a 15-year losing streak against Virginia Tech with a 39-30 win last week.
It marks a remarkable turnaround from 12 months ago when overtime losses to Georgia Tech and Virginia Tech stopped their title bid short.
"This stage is an unknown for our team and our institution, and that's a good thing," Mendenhall was quoted as saying by AP.
Bryce Perkins, who leads the conference in total offense, echoed his coach's stance.
'All year long, all spring, all camp [...] we've been working as a team to be exactly here,'' the Cavaliers quarterback added.
Virginia may not trouble Clemson, but it will certainly relish its big day.
Here's all you need to know ahead of Saturday.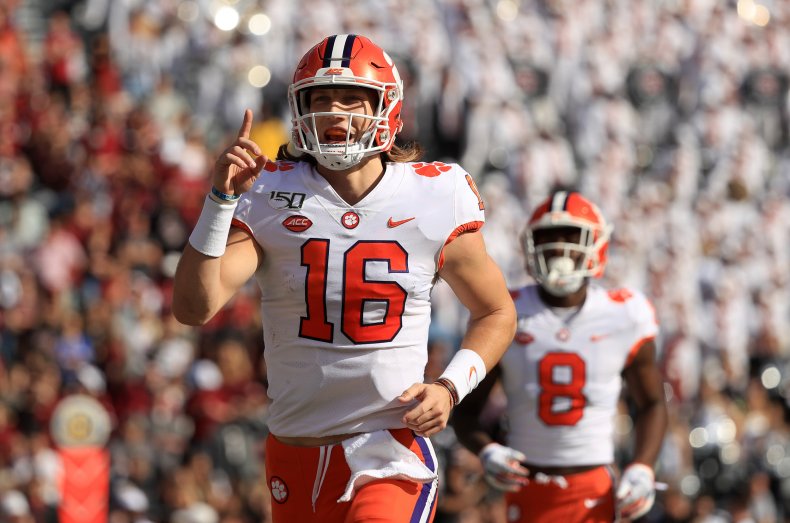 When and where is the ACC Championship Game?
The Clemson Tigers take on the Virginia Cavaliers at Bank of America Stadium in Charlotte, North Carolina, the home of the Carolina Panthers.
Kick-off is scheduled for 7:30 p.m. ET on Saturday, December 7.
TV coverage

The game will be broadcast nationally on ABC.
Live stream

A live stream will be available via ABC's digital platforms.
Series record

The two programs have crossed paths 47 times, with Clemson winning on 38 occasions and Virginia coming out on top in eight games.
The Tigers have won the last three games against the Cavaliers, thrashing them 59-10 last time the two programs met in 2013.
Odds
According to BetOnline, Clemson is a 28-point favorite and is 9/10 to cover the spread, while Virginia is a 31/2 underdog and the over/under line in terms of points scored is set at 55.