Alabama faces a race to hold onto its status as the top-ranked team in the country when it hosts Arkansas on Saturday, a task it will face without Tua Tagovailoa.
The quarterback rolled his right ankle in the win over Tennessee in Week 8 and hobbled off the field after completing 11 of his 12 passes for 155 yards and a touchdown.
Speaking to reporters on Monday, Alabama coach Nick Saban confirmed the starting quarterback had undergone surgery to correct his high-ankle sprain and that he would miss the home game against the Razorbacks on Saturday,
However, Saban admitted he did not have a schedule for Tagovailoa's comeback.
"There's no real timetable for his return, but the expectation is he will be non-weight bearing for several days and then he'll be able to come back as his rehab allows him," the Crimson Tide coach was quoted as saying by AL.com.
"We're hopeful that in a 10-day period he'll be back being able to do pretty active type rehab and we'll see how it goes from there. These things are pretty unpredictable at this point."
Tagovailoa has passed for 2,166 yards and 27 touchdowns so far this season with just two interceptions, and his absence could have a major ripple effect on Alabama's season.
The Crimson Tide faces Arkansas on Saturday, before heading into a bye week. That is followed by a blockbuster matchup against No. 2 ranked LSU—who is 7-0 like Alabama—on November 9.
Alabama began the season as the No.2-ranked team in the Associated Press Top 25 poll, but overtook Clemson at the top in Week 6 and has retained top spot since.
However, with LSU taking on No. 9-ranked Auburn this weekend, the Crimson Tide could find itself dethroned by the end of Week 9.
Alabama could also come under threat from Ohio State, who has moved up to third in the rankings and faces No. 13 Wisconsin at home.
Should Tagovailoa not be fit for the game against LSU, that would deprive Alabama of its key offensive weapon.
Mac Jones finished 6-of-11 for 72 yards in the 35-13 road win against Tennessee after replacing Tagovailoa, but has played just 12 games in the last two seasons combined.
Alabama's clash against LSU has long been heralded as the showdown between the two Heisman Trophy favorites—Tagovailoa and Joe Burrow—but the former's injury may mean the face-off doesn't take place at all.
Before the Crimson Tide can focus on the implications of its quarterback's absence, it has to take care of business against Arkansas.
The Razorbacks are bottom of the SEC with a 2-5 record on the back of a four-game losing streak and have lost all four matchups against conference rivals so far this season.
Alabama has won the last 11 games against Arkansas and even without Tagovailoa it's hard to imagine it not extending the streak to 12 this weekend.
Here's all you need to know ahead of Saturday.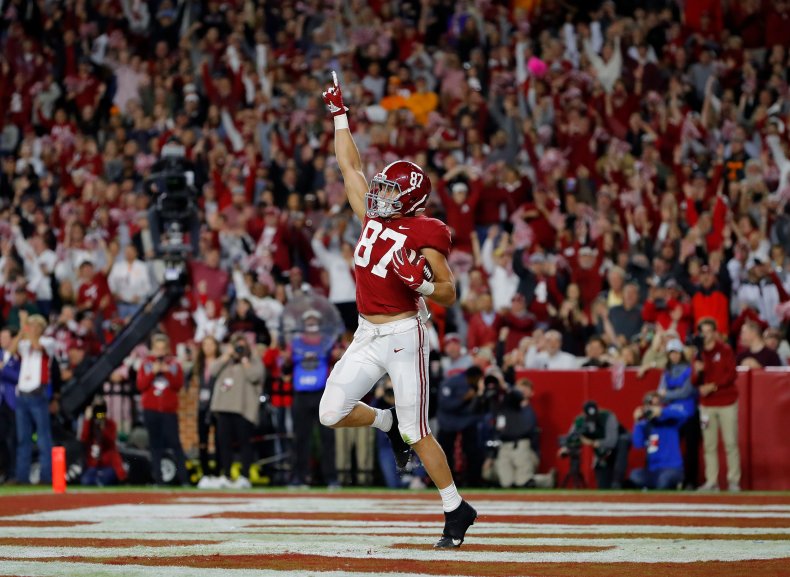 When and where is the game?
Alabama hosts the Arkansas Razorbacks at the Bryan-Denny Stadium in Tuscaloosa, Alabama, on October 26.
Kick-off is scheduled for 7 p.m. ET.
TV coverage
The game will be broadcast nationally on ESPN.
Live stream
Live stream will be available via WatchESPN, the ESPN app and ESPN's digital platforms.
Series record
The two programs have met 27 times, with Alabama winning 19 matches and Arkansas prevailing on eight occasions. The Crimson Tide has won the last 11 games against the Razorbacks and hasn't lost at home to Arkansas since 2003.
Odds

According to Oddschecker, Alabama is a 31-point favorite and is 91/100 to cover the spread, while Arkansas is a 55/4 underdog.
The over/under line in terms of total points scored is set at 55.5.
About the writer
Dan Cancian is currently a reporter for Newsweek based in London, England. Prior to joining Newsweek in January 2018, he was a news and business reporter at International Business Times UK. Dan has also written for The Guardian and The Observer.