Oklahoma vs. Baylor: Where to Watch Big 12 Title Game, TV Channel, Live Stream and Odds
Oklahoma and Baylor collide in the Big 12 Championship Game on Saturday, just two weeks after the Sooners needed the largest comeback in school history to defeat their conference rivals.
Down 31-10 at halftime in Waco, Texas, Oklahoma scored 24 unanswered points in the second half to win 34-31 and keep its season alive, while ending the Bears' nine-game undefeated run.
Both teams arrive into Saturday's game in Arlington, Texas, with an 11-1 record after Baylor thumped Kansas 61-6 and Oklahoma defeated then-No. 21 Oklahoma State University 34-16 on the road.
The wins kept both programs in the hunt for a College Football Playoff spot, with the Sooners rising one spot to No. 6 and the Bears climbing up two spots to No. 9, as the below graphic provided by Statista shows.
With Ohio State, LSU and Clemson having locked in the top three playoff spots, the final berth will fall to one between No. 4 Georgia, No. 5 Utah, Oklahoma or Baylor.
The quartet have identical 11-1 records and are all involved in conference title games this weekend, with Utah taking on No. 13 Oregon in the Pac-12 Championship Game, while Georgia faces No. 2 LSU in the SEC decider.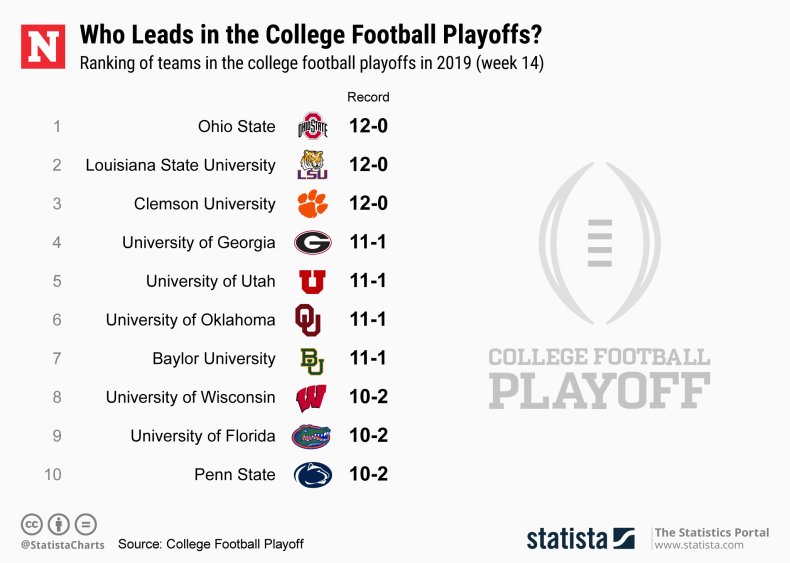 Utah has one of the most dominant defenses in the nation but none of its 11 wins have come against an opponent with fewer than four losses, while Oklahoma and Baylor have both added wins against ranked programs to their resumes.
Baylor coach Matt Rhule suggested the Big 12 should always have a representative in the CFP.
"I personally would like to see the Big 12 champion go to the College Football Playoff year in and year out," Rhule said in his press conference on Monday.
"I think the Big 12 champion should be in it. How that works out, I don't know. I just think if you win this league and you play nine league games, plus a 10th game when you play a rematch, I think that you should go have a chance to play. What good is having a national championship if it's not national?"
Saturday marks the third anniversary of Rhule's introductory press conference as Baylor coach. In his first season in charge Rhule oversaw an 11-loss season, but the drastic turnaround since has impressed many in college football.
None more so than Oklahoma head coach Lincoln Riley, who paid tribute to his counterpart.
"He's obviously done a tremendous job, coming out of some of the adversity that they had as a football program and university," Riley was quoted as saying by the Associated Press. "You don't do what they've done without that guy doing what he's doing and doing it at a high level. I certainly have a lot of respect for him and the job they've done."
Both teams have built their success this season on a resolute defense, with Baylor leading the Big 12 in scoring defense and ranking third in total defense against conference opponents, while Oklahoma led the Big 12 in total defense in conference play.
Baylor defensive tackle James Lynch leads the Big 12 with 10.5 sacks and is third with 15.5 tackles for loss, while Oklahoma linebacker Kenneth Murray has racked up 85 tackles, including 13 for loss.
While there is little to separate the two programs defensively, Oklahoma has a slight edge on the offensive side of the ball. The Sooners rank first and fifth in the nation in total offense and scoring offense respectively, while the Bears rank 32nd and 15th.
In Jalen Hurts, the Sooners have one of the best quarterbacks in the country. In his first season in Oklahoma since transferring from Alabama he has thrown for 3,347 yards, 31 touchdowns and six interceptions, while rushing for 1,217 yards.
Aside form a high-octane offense, Oklahoma is significantly more experienced at this level than Baylor. The Sooners are looking for a third consecutive win in a Big 12 Championship Game—Oklahoma also won in 2010, the last title game before the conference dropped it in 2017—while the Bears make their first appearance in a title game on Saturday.
Here's all you need to know ahead of Saturday.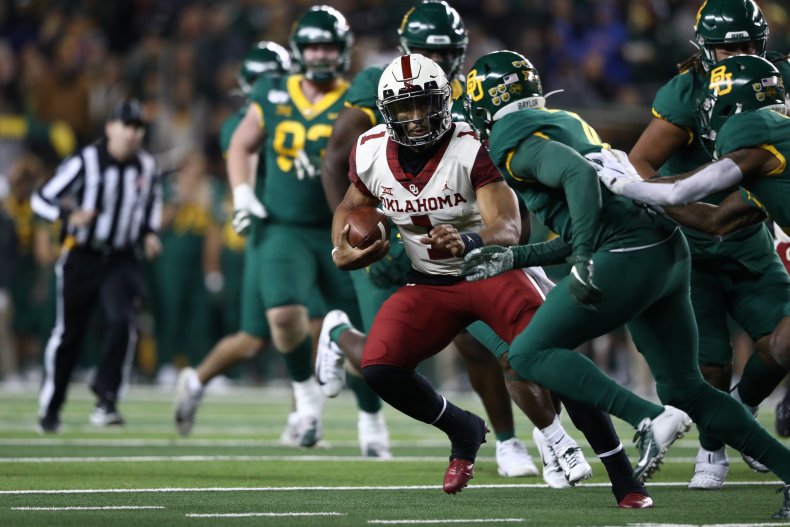 When and where is the Big 12 Championship Game?
The Oklahoma Sooners take on the Baylor Bears at AT&T Stadium in Arlington, Texas, the home of the Dallas Cowboys.
Kick-off is scheduled for 12 p.m. ET on Saturday, December 7.
TV coverage

The game will be broadcast nationally on ABC.
Live stream

A live stream will be available via ABC's digital platforms.
Series record

Oklahoma holds the upper hand in the series, with 26 wins to Baylor's three.
The Sooners are on a five-game winning streak against Baylor, with their most recent win coming two weeks ago, when they needed a record comeback to have the better of the Bears and win 34-31.
Odds
According to BetOnline, Oklahoma is an 8.5-point favorite and is 21/25 to cover the spread, while Baylor is a 5/2 underdog.
The over/under line in terms of total points scored is set at 64.5.