College Football TV Schedule 2019: Where to Watch Clemson vs. South Carolina, TV Channel, Live Stream and Odds
Clemson could complete another unblemished regular season with a road win against South Carolina on Saturday.
The Tigers won all their 12 regular-season games last year, en route to becoming the first major college football program to finish with an overall record of 15-0 since Penn achieved the feat in 1897.
Fast forward 12 months and the Tigers are again on the verge of completing a clean-sweep regular season as they return from their Week 13 bye with an 11-0 record. They are 27-point favorites against South Carolina.
The Gamecocks pulled off one of the upsets of the season when they won on the road against Georgia in October, but the result proved to be an exception rather than the rule.
To put the size of the task awaiting South Carolina into context, Clemson ranks third in the nation in total offense, fourth in scoring offense and eighth in rushing offense.
On a two-game losing streak and with a 4-7 overall record, South Carolina is unlikely to halt Clemson's seemingly inexorable march towards the College Football Playoff.
As the graphic provided by Statista shows, the Tigers remained No. 3 in the latest set of CFP rankings despite not playing in Week 13.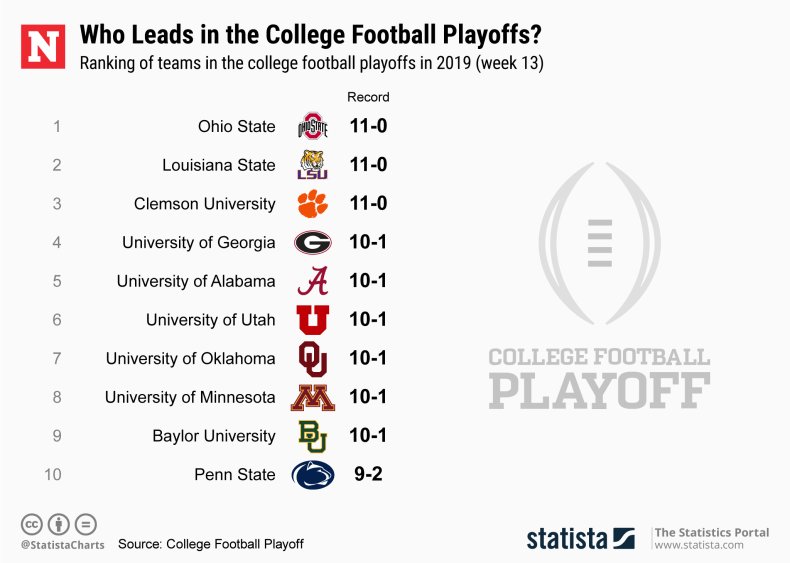 Tigers coach Dabo Swinney suggested having a bye so late in the season was beneficial and dismissed the suggestion it could stall momentum, given Clemson has won its last 26 games in a row.
"I'll take an open date any time we can get one," Swinney said in his press conference on Tuesday.
"I'm never concerned about an open date. I think it's great. I don't ever really worry about a schedule anyway because it's something you don't have control over. [...] If we get beat this week, it's not going to be because we had an open date. It's going to be because they played better than we did."
With Michigan hosting Ohio State and Alabama and Auburn squaring off in the Iron Bowl, Clemson's matchup against South Carolina may not be the pick of the crop on Rivalry Week, but Swinney insisted the rivalry was as important as ever for both programs.
"As we always say, we have the season and then we have South Carolina," he added.
"It's literally a goal of its own. It's something we look forward to every single year. I feel sorry for players in college football that don't get to be part of a true rivalry like we have here. It's a blast to be a part of."
The two-time National Championship winner, however, had a strong response to the suggestion his players were taunting opponents when on the road.
Last week, South Carolina's play-by-play announcer Todd Ellis suggested the Tigers' pregame victory walk—in which Clemson players link arms and walk from midfield towards the end zone during the warmup—was disrespectful.
"I think that's ridiculous," Swinney replied. "It's what Clemson has done for 17 years that I've been here. It's just ridiculous. It's not any type of taunting. It's a unity thing for our team. It's something we do every single game, home or away. If it's something we just did on the road, then I could see that. But it's who we are and what we do."
Here's all you need to know ahead of Saturday.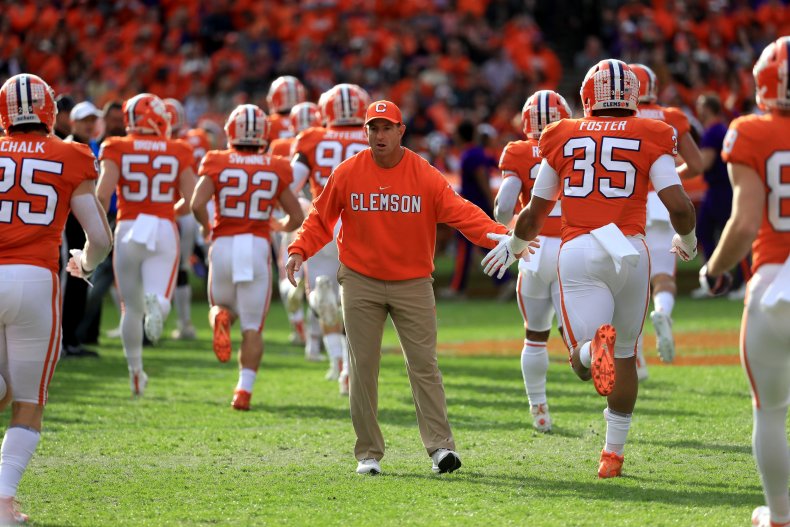 When and where is the game?
The South Carolina Gamecocks host the Clemson Tigers at Williams–Brice Stadium in Columbia, South Carolina, on Saturday, November 30.
Kick-off is scheduled for 12 p.m. ET.
TV coverage
The game will be broadcast nationally on ESPN.
Live stream
A live stream will be available via ESPN's digital platforms, WatchESPN and the ESPN app.
Series record
Clemson holds the upper hand in the series, with 70 wins in 116 meetings to South Carolina's 42.
The Tigers have won the last five meetings against the Gamecocks, defeating them 56-35 last season and 34-10 a year earlier on their last visit to South Carolina.
Odds
According to BetOnline, Clemson is a 27-point favorite and is 9/10 to cover the spread, while South Carolina is a 29/2 underdog.
The over/under line in terms of total points scored is set at 50.