College Football 2019: Where to Watch Florida vs. LSU, TV Channel, Live Stream and Odds
On a college football week packed with a host of heavyweight clashes, Florida's road game against LSU is arguably the pick of the crop.
Two top-10 ranked programs slugging it out under the lights in front of a packed house with approximately 100,000 fans in attendance is what makes college football such a great spectacle.
Additionally, the outcome of the matchup will not only have an impact on where the two SEC rivals will finish in their conference this season, but could go a long way in determining their playoffs chances.
The No.5-ranked Tigers are 5-0 after thrashing Utah State 42-6 last week and boast the highest-scoring offense in the country.
LSU averages 54.6 points per game and ranks second in total offense and passing offense—behind Oklahoma and Washington State respectively—with an average of 571 and 416 yards per game.
Joe Burrow has thrived in the Tigers' high-octane offense, passing for 1,864 yards—an SEC best this season—22 touchdowns and just three interceptions so far.
The senior quarterback has completed 78.4 percent of his passes but faces his biggest test of the season against a Florida defense that has conceded just 9.5 points per game—the fifth best in the country.
The Gators rank first nationwide on interceptions (12) and third in sacks (26).
Burrow is expected to come under pressure on Saturday.
The Ohio native, however, was in bullish mood this week.
"I don't like them very much," he said in his press conference on Wednesday when asked what playing Florida meant to him.
"I know they don't like us very much. That's been the talk around here. You just have to keep your emotions in check with a game like this."
Gators head coach Dan Mullen adopted a more conciliatory tone, praising Burrow's performances this season and describing him as the toughest challenge his defense will face this year.
"He's easily the best guy we've played, at quarterback, this year," he said during Wednesday's SEC conference call. "He can make all throws. But he also now has the experience, the pocket presence, the decision making to get the ball to where it needs to get too."
The Gators beat Auburn 24-13 at home last weekend, climbing up three spots in the Associated Press' Top 25 poll and arrive into the weekend as the No.7-ranked team in the nation, their highest ranking this season
A second consecutive win over a top-10 ranked program—Auburn was No.7 last week but dropped to No.12 after the defeat—would propel the Gators even higher.
In fact, a win over the Tigers could feasibly see Florida receive at least some votes to be the new No.1-ranked team in the country.
Here's all you need to know ahead of Saturday.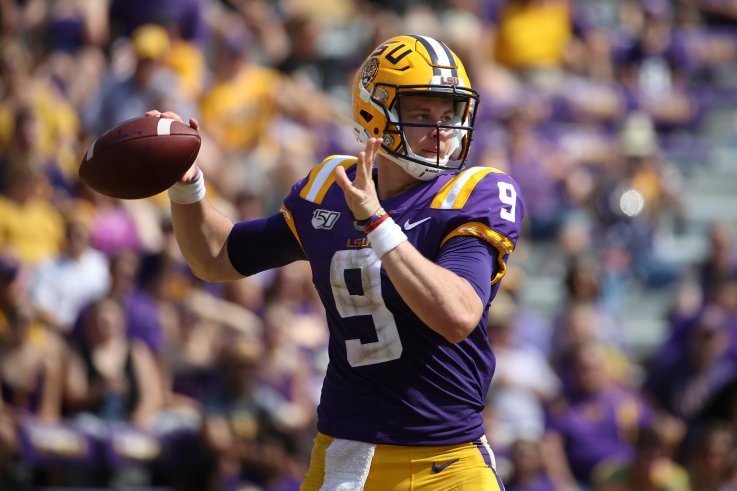 When and where is the game?
The LSU Tigers host the Florida Gators at Tiger Stadium in Baton Rouge on Saturday, October 12.
Kick-off is scheduled for 7 p.m. local time (8 p.m. ET).
TV coverage
The game will be broadcast nationally on ESPN.
Live stream
A live stream will be available via ESPN's digital platforms and on WatchESPN.
Series record
Florida has a slight edge in the all-time series, with 33 wins to LSU's 29 and three ties.
The Gators won the last meeting between the two, beating the Tigers 27-19 in Florida almost exactly a year ago, and also won the last meeting in Baton Rouge, defeating LSU 16-10 in November 2016.
Odds
According to BetOnline, LSU is a 13-point favorite and is 91/100 to win and cover the spread, while Florida is an 81/20 underdog. The over/under bar in terms of points scored is set at 54.5.
College Football 2019: Where to Watch Florida vs. LSU, TV Channel, Live Stream and Odds | Sports