College Football TV Schedule 2019: Where to Watch Florida State vs. Clemson, TV Channel, Live Stream and Odds
After a bye in Week 6, Clemson returns to action on Saturday when it hosts Florida State.
The defending champions extended their winning run to 20 games in Week 5 with a 21-20 road victory against North Carolina, but that wasn't enough to retain top spot in the Associated Press Top-25 poll.
The Tigers dropped to No. 2 behind Alabama for the first time this season, fueling debates over whether they deserved the No. 1 spot to begin with.
Clemson's relatively weak schedule—No. 19 Wake Forest is the only ranked opponent left for the defending champions—could make its quest to reclaim top spot complicated, but Tigers coach Dabo Swinney insisted he wasn't too concerned by external pressure.
"If I'm worried about what other people say, then I'm distracted," he said in his press conference on Tuesday.
"But I like it. I'm glad that people have an opinion on Clemson.
"That's great. That means we matter. It's good that people are talking about Clemson good or bad. It doesn't really matter. What matters to us is playing well."
Clemson squeezed past North Carolina as the Tar Heels missed a two-point conversion and the game was a timely reminder the defending champions carry a target on their back.
Florida State is 3-2 this season and 2-1 in Atlantic Coast Conference play. It currently ranks third in the Atlantic Division and Wake Forest.
Swinney suggested the Seminoles may prove to be Clemson's toughest test of the season so far and that the matchup could have a major impact in terms of postseason hopes.
"[Florida State] is easily the most talented team that we have played to this point on paper and roster. And they're getting better," explained.
"For the last 10 years, the team that has won this game has represented the Atlantic. So it's a huge game for both teams. Whoever wins is in control of its own destiny. It's division playoff football for us this week."
Florida State also had a bye in Week 6 and is on a two-game winning run after beating Louisville and North Carolina State.
Seminoles head coach Willie Taggart acknowledged playing Clemson on the road was a major challenge, but also suggested it would give a clear indication of how close the program is to a conference title.
"Our goal is to win the ACC championship, and in order to be the man, you've got to beat the man. So Clemson is the man," he said in his press conference.
Here's all you need to know ahead of Saturday.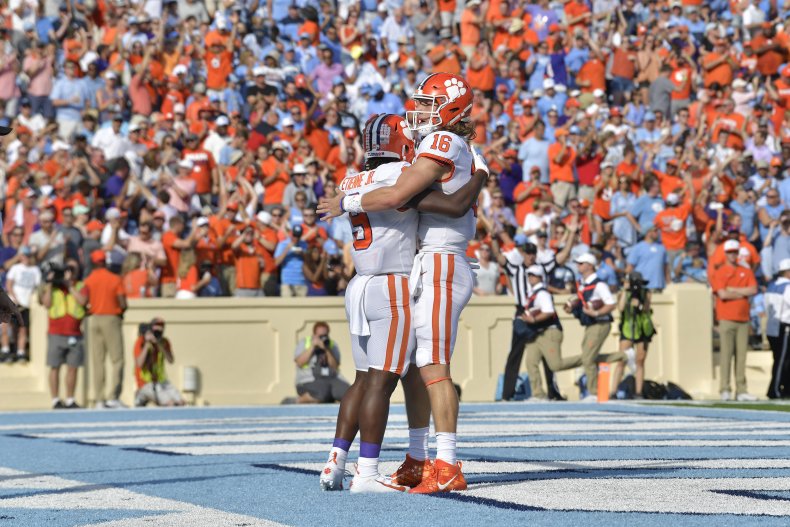 When and where is the game?
The Clemson Tigers host the Florida State Seminoles at the Memorial Stadium in Clemson, South Carolina, on Saturday, October 12.
Kick-off is scheduled for 3:30 p.m. ET.
TV coverage
The game will be broadcast nationally on ABC
Live stream
A live stream will be available via ABC's digital platforms.
Series record
The two programs have met 32 times, with Florida State winning on 20 occasions and Clemson prevailing 12 times.
The Tigers, however, have won the last four meetings against the Seminoles, with Florida State failing to score more than 14 points in three of those four games.
Odds
According to Oddschecker, Clemson is a 27-point favorite and is 23/25 to win and cover the spread, while Florida State is a 19/1 underdog. The over/under bar in terms of total points scored is set at 60.