College Football Schedule 2019: Where to Watch Kentucky vs. Georgia, TV Channel, Live Stream and Odds
Week 7 was a week of firsts for Georgia, but unfortunately for the Bulldogs they were unwanted milestones.
Georgia suffered a first loss of the season, falling 20-17 at home to South Carolina in double overtime as Jake Fromm lost at home for the first time in his college career.
The Bulldogs signal-caller completed just 55 percent of his 55 passes and had three interceptions in the worst start of his career.
Georgia entered the game as a 24-point favorite but the unexpected loss saw them drop from third to 10th in the Associated Press Top 25 poll and damaged their chances of reaching the College Football Playoff for the second time in three seasons.
At 5-1, the Bulldogs may well face an uphill battle to even win the SEC East, with No. 9 Florida 6-1 after losing to No.2 LSU and No. 22 Missouri also at 5-1 on the back of five consecutive wins.
Georgia takes on the Gators on November 2 in Jacksonville, Florida, before hosting Missouri a week later and traveling to Auburn on November 16.
Those three games will in all likelihood determine the outcome of the Bulldogs' season, but it's hard to dispel the feeling Georgia's playoff hopes were dealt a potentially crushing blow last week.
On Saturday, the Bulldogs welcome another SEC team, as Kentucky takes its 3-3 record to Athens. Georgia is a 25-point favorite and hasn't lost to the Wildcats in 10 years, but after the defeat to South Carolina little, if anything, can be taken for granted.
Bulldogs coach Kirby Smart, however, was confident his team can bounce back this weekend.
"We have goals every game. Our goals are extremely lofty," he said his press conference on Tuesday.
"If you came in and saw what our goals are defensively and offensively, every year on my coaching staff everyone wants to change the goals because they are just crazy goals.
"We make some, game by game goals, and then we don't make some. You're always trying to set the golden standard [...] I think our kids realize they are aspiring for excellence, not perfections."
Kentucky snapped a three-game losing streak last week with a 24-20 win over Arkansas and Smart suggested the Bulldogs were in for a bruising encounter.
"They [Kentucky] have got really big, physical guys," he added.
"It'll be important to get movement but it'll also be important to allow the backs to cut back, find lanes, to get the ball on the perimeter as well. It's always important up front that you can establish movement and displacement."
After the debacle against South Carolina, the Bulldogs have no room for error.
Here's all you need to know ahead of Saturday.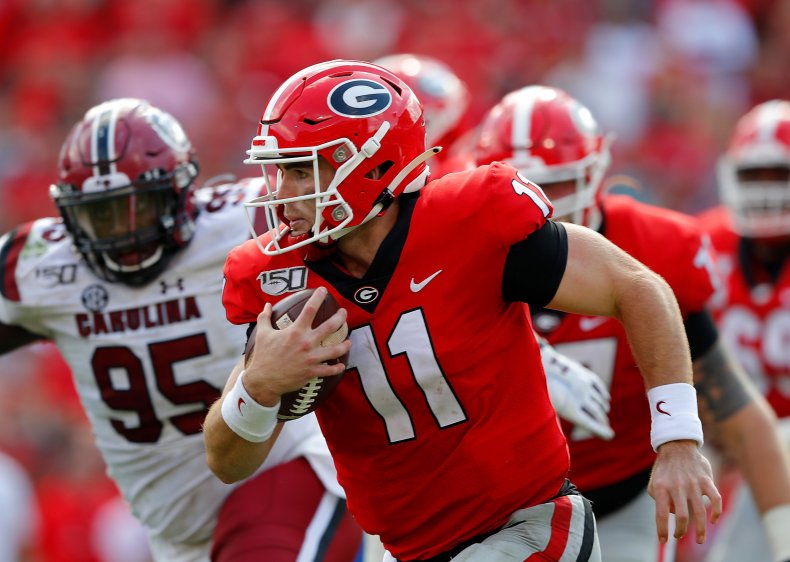 When and where is the game?
The Georgia Bulldogs host the Kentucky Wildcats at Sanford Stadium in Athens, Georgia, on Saturday, October 19.
Kick-off is scheduled for 6 p.m. ET.
TV coverage
The game will be broadcast nationally on ESPN.
Live stream
A live stream will be available via ESPN's digital platforms and on WatchESPN.
Series record
The Bulldogs hold the upper hand in the all-time series, winning 58 of the 72 against the Wildcats, while Kentucky has prevailed on 12 occasions.
Georgia has won the last seven times it has played Kentucky and last season won 34-17 on the road against the Wildcats.
Kentucky's last visit to Athens in 2017 ended in a 42-13 defeat.
Odds
According to Oddschecker, the Bulldogs are a 25-point favorite and are 91/100 to win and cover the spread, while the Wildcats are 25/2 underdog.
The over/under bar in terms of total points scored is set at 48.