College Football 2019: Where to Watch Notre Dame vs. Georgia, TV Channel, Live Stream and Odds
The headline act of Week 4 of the college football season pits together two top-10 ranked teams, as No. 4 Georgia hosts No. 7 Notre Dame on Saturday.
Both teams have reached the playoffs in the last two years—Georgia in 2018 and Notre Dame in 2019—and both are firmly in the hunt for a spot this season.
After playing two unranked teams and one FCS—the second tier of college football—program in the first three weeks of the season, four of the Bulldogs' remaining nine games are against Top 25-ranked teams, starting with the Fighting Irish.
Jake Fromm completed 17 of his 22 passes for 279 yards and three touchdowns as No. 3-ranked Georgia routed Arkansas State 55-0 to improve to 3-0.
Fromm is still to lose a home game since joining Georgia in 2017, but that record could be sorely tested against Notre Dame this weekend.
Incidentally, Fromm's first start for the Bulldogs came against the Fighting Irish two years ago, with Georgia winning 20-19 win in South Bend, Indiana.
Notre Dame, who has only played a top-5 SEC program on the road once before—against No.4 Tennessee in 1999—is 2-0 after thrashing New Mexico 66-14 at home last week.
Ian Book completed 15 of 24 passes for 360 yards and five touchdowns, adding 46 rushing yards and a score on the ground.
The Fighting Irish are averaging 50.5 points and seven touchdowns per game, but history is firmly against them.
Notre Dame hasn't beaten a top-5 team since overcoming No.3-ranked Michigan in Ann Arbor in 2005, and Brian Kelly has lost all four games he's coached against top-4 teams.
In contrast, Georgia beat two top-5 teams in 2017 alone, defeating Auburn and Oklahoma in consecutive weeks.
When the Bulldogs played Notre Dame in Indiana in 2017, Georgia fans took over the stadium and painted it red. This year, Notre Dame has been allocated 8,000 tickets and demand has gone through the roof, given Saturday's is the last scheduled meeting between the programs for a decade.
There will not be an empty seat at the 93,000-capacity Sanford Stadium and Bulldogs coach Kirby Smart believes fans will have a major role to play.
"I do know the crowd will have an impact, whether it's on alignment, communication of a receiver or tight end, who knows," he said during his press conference on Tuesday.
"They'll have an impact on the game and we need them to because that's the advantage of playing at home."
It is hard to escape the sense of occasion in Athens, Georgia, which will only be heightened by the arrival of ESPN's College GameDay crew.
Smart, however, insisted his team would treat the game as if it was just another matchup.
"It's a bigger game, yeah there's more people here," he explained.
"But the amount of time that we commit to those people and those groups is really the same, I mean, there's more of them, we try to manage it for them [the players].
"Almost every week you play an SEC game, you've got some kind of coverage."
Here's all you need to know ahead of Saturday.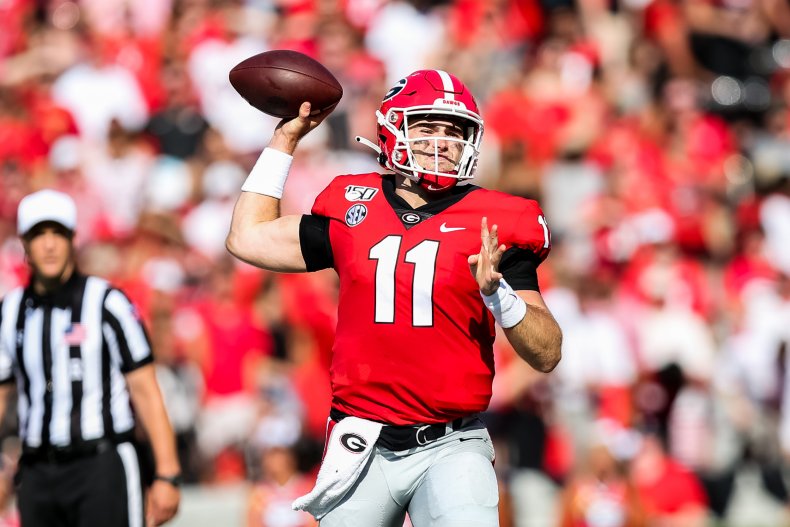 When and where is the game?
The Georgia Bulldogs host the Notre Dame Fighting Irish at Sanford Stadium in Athens, Georgia, on Saturday, September 21.
Kick-off is scheduled for 8 p.m. ET.
TV coverage
The game will be broadcast nationally on CBS.
Live stream
A live stream will be available via the CBS' digital platforms, as well as via fuboTV.
Series record
The two programs have met each other just twice, with Georgia winning on both occasions. The most recent encounter dates back to September 201, when the Bulldogs clinched a narrow 20-19 win in South Bend, Indiana.
Odds
According to Oddschecker, Georgia is a 14.5-point favorite and is 24/25 to win and cover the spread, while Notre Dame is a 9/2 underdog.
The over/under bar in terms of total points scored is set at 56.5