College Football TV Schedule 2019: Where to Watch Alabama vs. Auburn, TV Channel, Live Stream and Odds
Alabama's season is on the line on Saturday, when the Crimson Tide clashes with Auburn on the road in the Iron Bowl.
The Crimson Tide began the post-Tua Tagovailoa era convincingly, with a 66-3 shellacking of Western Carolina as backup quarterback Mac Jones finished with 275 passing yards and three touchdowns.
"He's in the right place mentally, which has always been an important thing for Mac," Alabama coach Nick Saban said in his weekly radio show on Wednesday.
Emphatic as the win was, it wasn't enough to convince the College Football Playoff selection committee to lift the Crimson Tide into the top four of the rankings.
As shown by this graphic provided by Statista, Alabama remained at No.5 in the latest set of CFP rankings on Tuesday and with no SEC title game to speak of on the horizon, its only chance of securing a playoff spot is convincingly beating Auburn in its final regular-season game.
Like Alabama, the program ranked immediately above it—Georgia—and the two just behind it—Utah and Oklahoma—have one loss on the resume this season, but all three have another two games left on their schedules.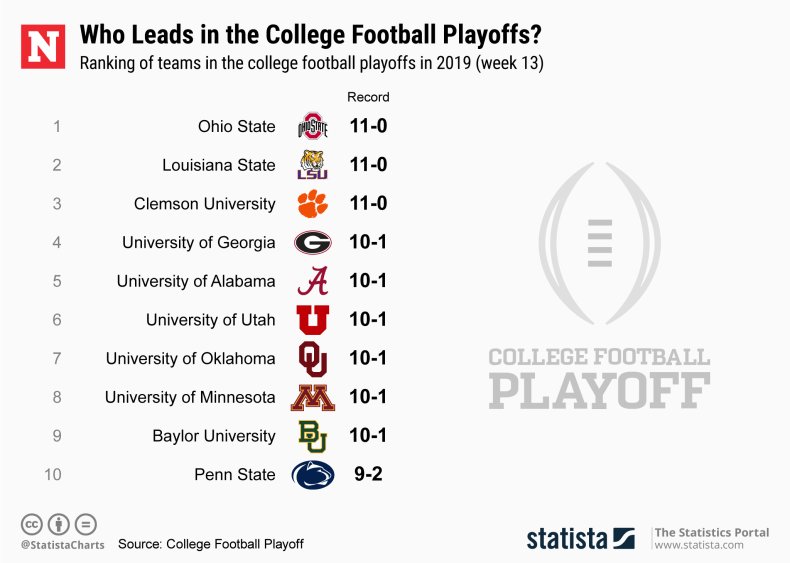 Georgia can go 12-1 if it defeats Georgia Tech on Saturday and then beats No. 2 LSU in the SEC Championship Game on December 7.
No. 6 Utah and No. 7 Oklahoma also have two games left—both of which are against ranked opponents in the Sooners' case—and could finish with a 12-1 record if they win their respective conference title games.
Alabama, however, can only go 11-1 and a win over Auburn is imperative to make the Crimson Tide's case for being the best one-loss team in the country, provided Georgia loses to LSU in the SEC title game.
Saban suggested the Iron Bowl was a "season within a season," as a loss would force Alabama to watch the CFP as a spectator for the first time since the playoff's inception in 2014.
"There's a lot on the line, which maybe it should be," he added.
No. 15 Auburn is only the second ranked program Alabama has faced all season and Saban heaped praise on the Tigers.
"This is the best team we've played, probably, so far this year," he said on Monday.
Saban's take is intriguing, given the Crimson Tide lost 46-41 to No. 2 ranked LSU three weeks ago in arguably the biggest game of the college football season so far.
While not better than LSU, Auburn is certainly a talented team. The Tigers are 8-3 this season and have already knocked off No. 14 Oregon and Texas A&M, while two of their three losses have come against LSU and Georgia.
Conversely, statistics paint a far gloomier picture.
Auburn ranks fourth in the SEC in terms of total offense with 415.5 yards per game and third when it comes to points scored, with 30.8. The two figures put the Tigers 54th and 44th in two respective categories nationally.
Against the four ranked opponents it has faced so far—Oregon, Texas A&M, Georgia and LSU—the Tigers have only averaged 18.5 and 317 yards per game.
As Alabama arrives in Auburn without Tagovailoa, Tigers coach Gus Malzahn is well aware his team's offense must step up if Auburn can seize the opportunity to effectively end its rivals' season.
The Crimson Tide ranks 16th in total defense and 12th in scoring defense, decent but by no means fantastic figures by Alabama's standards.
"We've played good football at times," the 54-year-old was quoted as saying by USA Today. "Like I said, we've come up short. Feel good going into this one. We need to play well on offense, we know that, and really looking forward to getting out there with the bunch."
The Tigers can't make the playoffs, but Malzahn can become only the second coach to defeat Saban three times since the latter took charge of Alabama in 2007.
In the 12 intervening years, the Tide has gone 156-22, losing no more than three games in each year bar Saban's debut campaign.
Alabama hasn't lost more than once a season since 2015 and Malzahn could add to the two wins he already has over his Alabama counterpart.
Doing so in the Iron Bowl would be particularly significant.
"There's nothing like it. The Iron Bowl's different,"
"It's one of those things that all you've got to do is experience it one time, whether you're a coach, player or fan, it's different."
Here's all you need to know ahead of Saturday.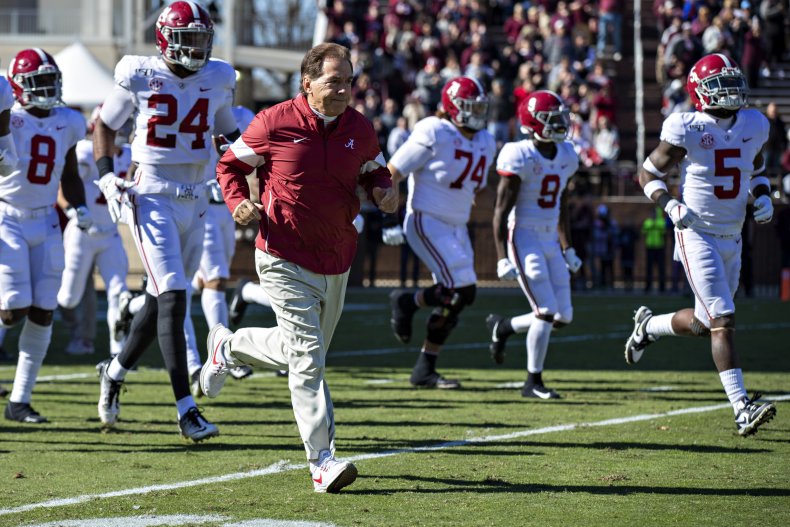 When and where is the game?
Alabama takes on the Auburn Tigers at Jordan-Hare Stadium in Auburn, Alabama, on Saturday, November 30.
Kick-off is scheduled for 3:30 p.m. ET.
TV coverage
The game will be broadcast nationally on CBS.
Live stream
A live stream will be available via CBS's digital platforms and fuboTV.
Series record
The two programs have met 83 times and Alabama leads the all-time series with 46 wins to Auburn's 36.
The Crimson Tide won the most recent meeting between the two, trouncing the Tigers 52-21 in Tuscaloosa last year, but lost its last visit to Auburn 26-14 in 2017.
Odds
According to BetOnline, Alabama is a 3.5-point favorite and is 9/10 to cover the spread, while Auburn is a 3/2 underdog.
The over/under line in terms of total points scored is set at 50.5.