College Football 2019: Where to Watch Oklahoma vs. Kansas State, TV Channel, Live Stream and Odds
With Alabama, LSU and Ohio State continuing to hog the headlines, Oklahoma has somewhat flown under the radar so far this season.
That is as much as a program of the Sooners' pedigree can go unnoticed while racking up a nation best figures in yards and points per game—612.9 and 50.4 respectively.
Oklahoma started the season as the No. 4 ranked team in the Associated Press Top 25 poll, but since falling to No. 5 in Week 5 it has failed to crack the top four again.
That says more about how good Alabama, LSU and Ohio State have been than anything about the Sooners.
Oklahoma leads the Big 12 alongside Baylor with a 7-0 record and it's difficult to imagine anyone stopping them before the postseason.
In his first season with the Sooners since transferring from Alabama, Jalen Hurts is playing like a Heisman Trophy candidate.
The senior quarterback has thrown for 2,074 yards, 20 touchdowns and just three interceptions so far for a quarterback rating of 95.2
Hurts completed 16 of his 17 passes 316 yards and three touchdowns as Oklahoma routed West Virginia 52-14 in Week 8.
On Saturday, Hurts comes up against a Kansas State Wildcats defense that has given up more yards per play than any other defense in the Top 50.
With Oklahoma averaging over 70 yards more than the second-best offense in the nation, the Wildcats will have their work cut out to stop Hurts.
At the same time, Kansas State ranks No. 40 overall in total defense with just 347.7 yards allowed per game and Oklahoma coach Lincoln Rile is wary of the threat posed by the Wildcats.
"You first look at what they've done defensively through the year," he said in his press conference on Monday.
"They've played extremely well defensively. They've got a very talented front, a couple really good defensive ends, a couple linebackers that we played against, and a couple secondary guys that feel like they've been there forever."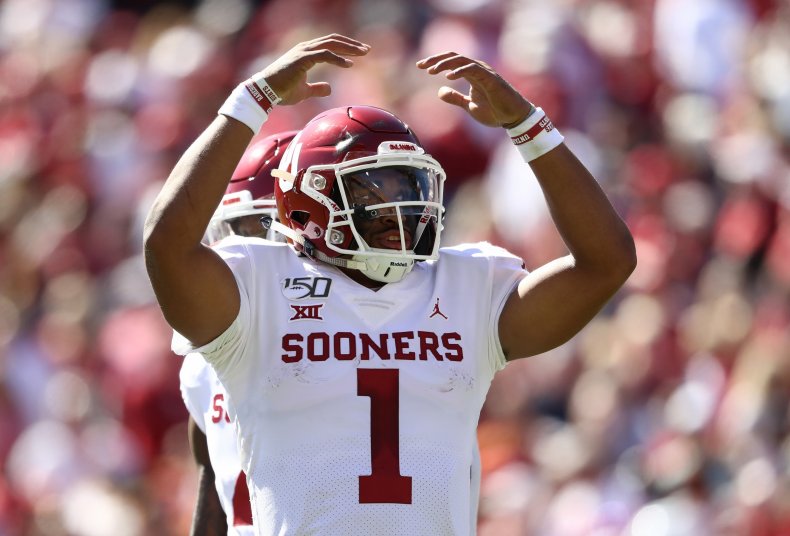 The Sooners have been just as impressive defensively and rank in the top-30 in the nation in terms of average yards allowed per game with 326.
The figure makes for worrying reading for Kansas State, who ranks 96th in the nation in terms of total offense with just 369 yards per game.
That makes the Wildcats the second-worst team after West Virginia of any of Oklahoma's opponents this season.
After winning the first three games of the season, Kansas State has gone 1-2 since and will have to bring its A game to upset the Sooners this weekend.
Here's all you need to know ahead of Saturday.
When and where is the game?
The Kansas State Wildcats host the Oklahoma Sooners at Bill Snyder Family Stadium in Manhattan, Kansas, on Saturday, October 26.
Kick-off is scheduled for 12 p.m. ET.
TV coverage
The game will be broadcast nationally on ABC.
Live stream
A live stream will be available via ABC's digital platforms.
Series record
Oklahoma holds the upper hand in the all-time series, with 76 wins to Kansas State's 19. The Sooners have won the last four meetings between the two programs.
Odds

According to Oddschecker, Oklahoma is a 23.5-point favorite and is 91/100 to cover the spread, while Kansas State is a 35/4 underdog.
The over/under line in terms of total points scored is set at 50.5.