LSU is two games away from going undefeated in the regular season and if bookmakers are to be believed, that run isn't going to be stopped by Arkansas this week.
The Tigers arrive into the matchup against the Razorbacks on Saturday as a 44-point favorite. According to Killer Sports Database, that makes them the biggest favorite in a SEC conference game since 1980.
In the intervening four decades, there have been only 10 SEC games featuring a spread larger than 35 points and LSU's 44-point line is the biggest in conference history since Florida was a 43-point favorite against Vanderbilt in 1995 and 1996.
A look at this season's statistics makes it hard to argue against the line. As this graph provided by Statista illustrates, LSU remained top of the College Football Playoff rankings for the second straight week on Tuesday and tops both the Associated Press Top 25 poll and USA Today's coaches poll.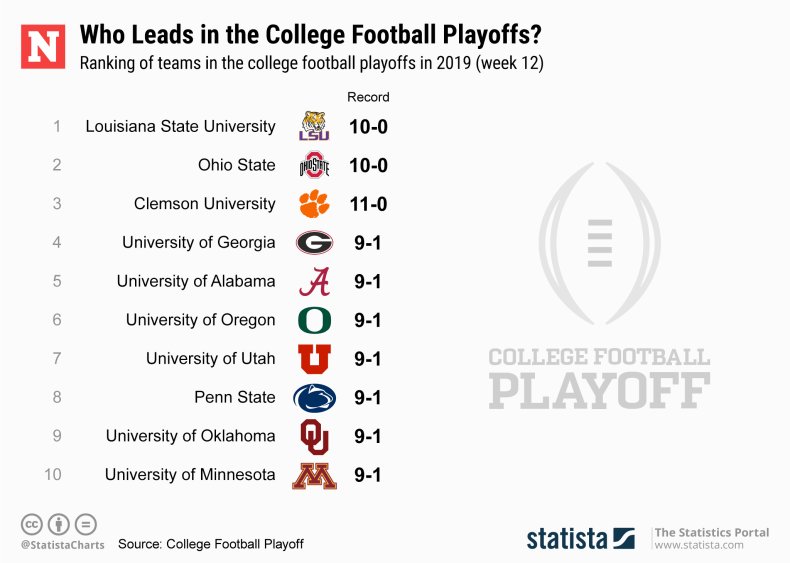 While the Tigers improved to 10-0 with a 57-38 win over Ole Miss, Arkansas returns from a bye week on a seven-game losing streak. The Razorbacks are 2-8 and 0-6 in SEC play and have the spread just once against conference opponents this season, falling 10.8-point short on average—the fourth-worst team in the country.
LSU look almost certain to clinch the SEC East title and a spot in the conference championship game and while Arkansas is unlikely to cause Ed Orgeron any sleepless nights, the Tigers coach admitted the No.1 ranked team in the nation had issues to address.
Chief among them is a defence that gave up 614 yards to Ole Miss last week, with John Rhys Plumlee rushing for 212 yards and four scores.
LSU has relied on its high-octane offense throughout the season—Heisman Trophy favorite Joe Burrow has completed 78.6 percent of his passes for 3,687 yards and 38 touchdowns with just six interceptions—but its defense has been less than impregnable at times this season.
The Tigers gave up 530 yards in a 45-38 win over Texas on September 7 and 374 yards in a 66-38 thrashing of Vanderbilt two weeks later. The 614 yards they gave up against Ole Miss saw the Tigers fall to No. 9 in the SEC in both yards allowed and points conceded per game with 367.8 yards and 23.8 respectively, figures which rank them 47th and 44th nationwide.
"We need to look at it—400 yards rushing," Orgeron was quoted as saying by The Daily Advertiser.
"You don't want that on your football team. We need to look at it on film and see where we went wrong—schematically, personnel-wise, technically. Whatever it may be, we're going to fix it."
Here's all you need to know ahead of Saturday.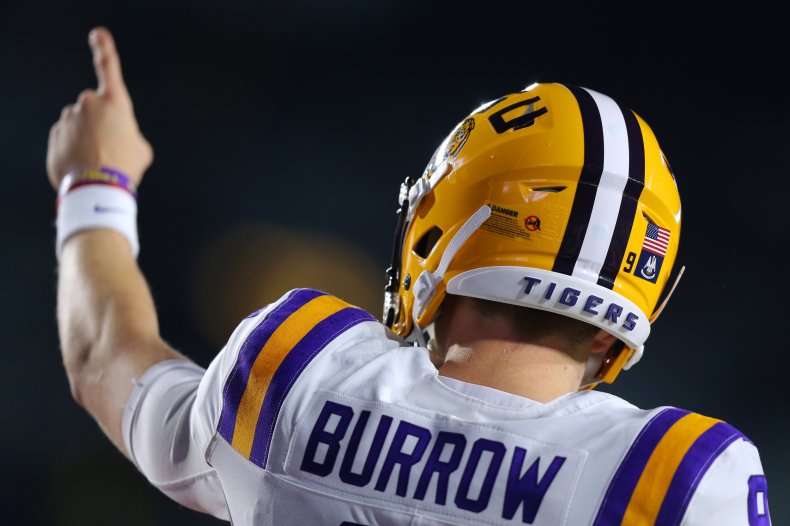 When and where is the game?
The LSU Tigers host the Arkansas Razorbacks at Tiger Stadium in Baton Rouge on Saturday, November 23.
Kick-off is scheduled for 7 p.m. ET.
TV coverage
The game will be broadcast nationally on ESPN.
Live stream
A live stream will be available via ESPN's digital platforms, WatchESPN and the ESPN app.
Series record
LSU holds the upper hand in the all-time series with 40 wins to Arkansas's 22 in 64 previous meetings.
The Tigers have won the last three games against the Razorbacks, defeating them 24-17 on the road last season. Arkansas last won in Baton Rouge, Louisiana, in November 2015.
Odds
According to Oddschecker, LSU is a 44-point favorite and is 22/25 to cover the spread.
About the writer
Dan Cancian is currently a reporter for Newsweek based in London, England. Prior to joining Newsweek in January 2018, he was a news and business reporter at International Business Times UK. Dan has also written for The Guardian and The Observer.