College Football TV Schedule 2019: Where to Watch Notre Dame vs. Michigan, TV Channel, Live Stream and Odds
Meetings between Michigan and Notre Dame seldom need any introduction, even less so when the game is one of the three Top 25-matchups on tap for Week 9.
The Fighting Irish return from a bye as the No. 8-ranked team in the country, knowing that a road win against Michigan is crucial to keep playoff hopes alive.
Notre Dame is 5-1 and can ill afford to drop another game if it is to make the postseason, while the Wolverines are 5-2 after losing to 28-21 to No. 7 Purdue last week and dropping to No. 19.
Michigan trails both the Nittany Lions—who rose to No. 6 after last week's win—and Ohio State by 1.5 games in the Big Ten East and a first conference title in 14 years looks unlikely.
Wolverines coach Jim Harbaugh, however, insists his team still has something to play for.
"This week [is] the most important game of the season," he was quoted as saying by USA Today.
"Win our next game. That's our goal. Put together a really good plan for this week, practice it, and go out and execute. I feel like our team is as optimistic as ever that it's hitting its stride. Win our next game, that's where our focus is."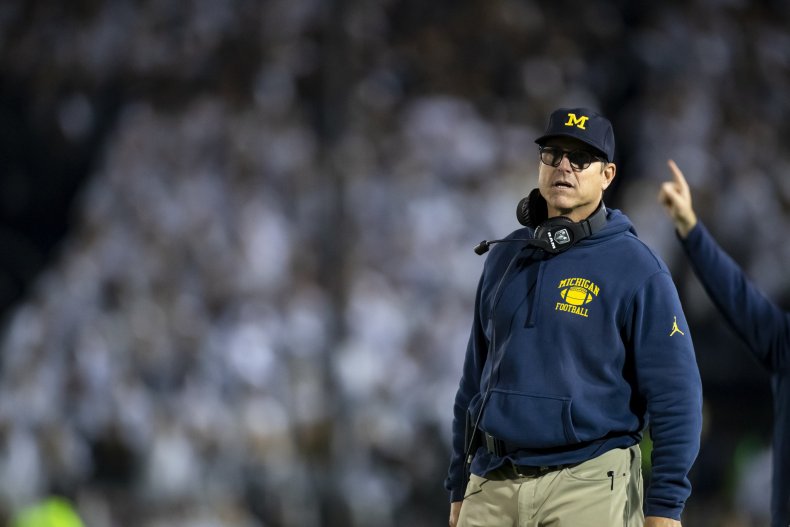 Michigan and Harbaugh have some reasons to be optimistic, as Notre Dame hasn't tasted success in Ann Arbor since 2005, when the then-No. 20 Irish upset No.3 Michigan.
At the same time, the Irish have won the last two meetings between the two programs and their offense has been consistently reliable this season, ranking 14th in the nation in points scored per game.
On the flip side of the coin, the Wolverines' improving defense should provide Notre Dame with an even harder test than then-No.3 Georgia offered in Week 3.
Michigan ranks in the top 20 for points and yards allowed per game and in yards per play. The Wolverines have allowed just 838 rushing yards this season and Irish coach Brian Kelly hinted his team may attack Michigan through the air.
"There are other ways to win games," he said on Monday, as per Mike Berardino of The Indianapolis Star.
"We're committed to finding ways to win first. We're going to have to carve out a run game at some time during the game. That's just being persistent, patient."
Notre Dame's defense has also solidified, ranking in the top-20 in total yards allowed and points allowed. On paper that should give the Irish the edge against a Wolverines offense that ranks 67th in points per game and outside the top-70 in yards per game and yards per play.
Unfortunately for the Irish, their defense has also been unpredictable this year.
Notre Dame gave up 444 yards in their win over USC in Week 7, allowing the Trojans to score on each of their four second-half possessions.
A similar performance this weekend would not only extend Notre Dame's wait for a win in Michigan to 14 years, but it would also completely derail its playoffs hopes.
Here's all you need to know ahead of Saturday.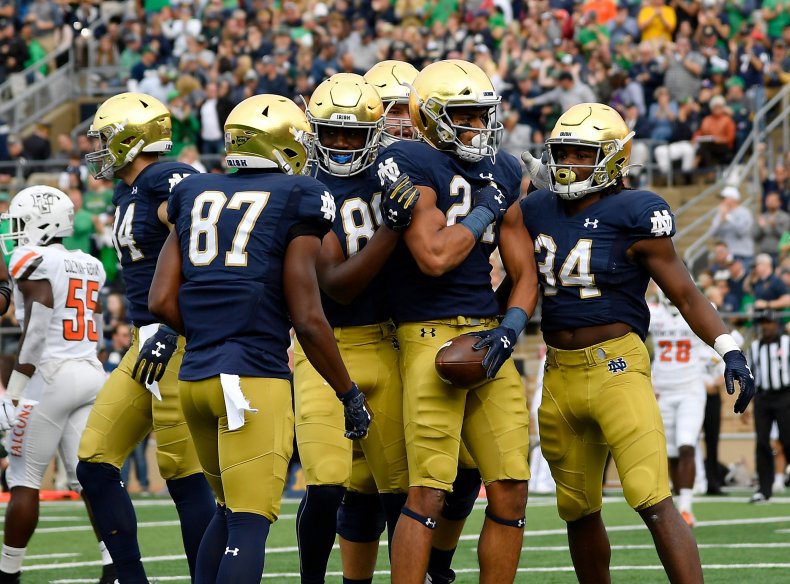 When and where is the game?
The Michigan Wolverines host the Notre Dame Fighting Irish at Michigan Stadium in Ann Arbor, Michigan, on Saturday, October 26.
Kick-off is scheduled for 7:30 p.m. ET.
TV coverage
The game will be broadcast nationally on ABC.
Live stream
A live stream will be available via ABC's digital platforms.
Series record
Michigan holds a slight edge in the all-time series, with 24 wins to Notre Dame's 17. The Fighting Irish, however, have won the last two meetings—both of them at home—with a 24-17 win a home last year and a 31-0 rout in 2014.
Odds
According to BetOnline, Notre Dame is a one-point favorite and 91/100 to cover the spread, while Michigan is a 49/50 underdog.
The over/under line in terms of points scored is set at 51.