College Football TV Schedule 2019: Where to Watch Ohio State vs. Michigan, TV Channel, Live Stream and Odds
Games between Ohio State and Michigan seldom need introduction, even less so when the No. 1-ranked Buckeyes travel to Ann Arbor looking to end the regular season undefeated.
On Tuesday, Ohio State reclaimed top spot in the College Football Playoff rankings, leapfrogging LSU after defeating then-No. 8 Penn State in Week 13.
With the 28-17 win over the Nittany Lions—who have since slipped to No.10—Ohio State now has three wins over Top 25-ranked programs, as many as LSU.
Significantly, the CFP selection committee felt the Buckeyes—who rank first in scoring offense and in total defense—deserved top spot in the rankings by virtue of being the most balanced team in the nation.
"Ohio State's been a complete team, and that win over Penn State was their third win against teams that we currently have ranked in the top 19," CFP committee chairman Rob Mullens said.
"Ohio State's been really good on both sides of the ball. They [Ohio State and LSU] are obviously both very good on the offensive side. And this week the committee felt that that win over Penn State again solidified that Ohio State's a little better on the defensive side of the ball."
Those strengths will be tested in The Big House on Saturday, with Michigan desperate to spoil Ohio State's party and snap a seven-game losing streak against its rivals.
As this graphic provided by Statista shows, the Wolverines came in at No.13 in the latest CFP rankings and are on a four-game winning streak.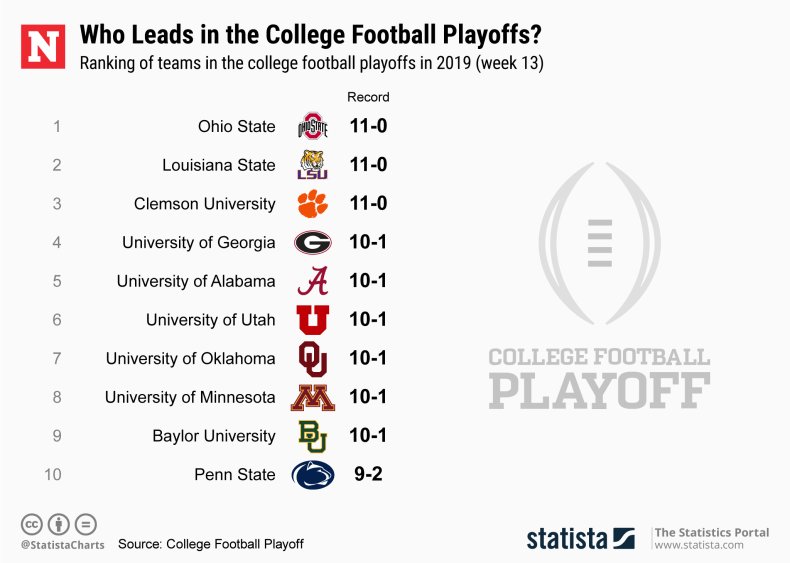 Ohio State has already secured a spot in the Big Ten title game and could improve to 12-0 with a win on Saturday, but Ryan Day has warned his players to expect the toughest challenge of the season.
"It'll be our biggest challenge," he said during his press conference on Tuesday. "They have the ability to be as good as anybody in the country when they're playing well. I think they're playing their best football now. And certainly, we're going to get their best shot on Saturday."
The Wolverines rank second in the Big Ten in pass defense and will present Justin Fields with arguably the toughest matchup of the season so far.
The Buckeyes quarterback has developed into a Heisman Trophy candidate, throwing for 2,352 yards, 33 touchdowns and just one interception. However, he could have his work cut out in Ann Arbor, as the Wolverines have allowed only nine touchdown passes all season.
Given Ohio State's running game is far superior to Michigan's—the Buckeyes rush for 262.5 yards per game at an average of 5.6 yards per carry, while Michigan racks up 102.3 yards on the ground at an average of 2.8—the Wolverines' chances of causing an upset could well depend on stopping Fields.
On the other side of the ball, the No.1 defense in the country in points and yards allowed will come up against a rapidly improving offense. Michigan has outscored opponents 166-45 in the last four games, turning the ball over on just three occasions after coughing it up 13 times in the first six games.
Shea Patterson threw for 750 yards and nine touchdowns in the wins over Michigan State and Indiana and Day is impressed.
"He looks more confident," Day said. "I see a group that feels like they've found an identity. I don't know exactly what made it all click, but it seems like it's going well for them right now."
At the same time, beating the Buckeyes remains a tall order for Michigan, who last defeated their Big Ten rivals in 2011.
Nobody understands the rivalry between the two programs better than Jim Harbaugh, who played for the Wolverines and has now coached them in The Game four times—losing on every occasion.
Two of those defeats came in Ann Arbor, where Harbaugh has gone 30-4 since taking charge of Michigan in 2015.
"It would be big," Harbaugh said of beating Ohio State last week. "Always is."
Despite not having a conference title game on the horizon, a win against the Buckeyes would propel the Wolverines up the CFP rankings next week.
It would also prove that Michigan is heading in the right direction under Harbaugh, after defeating Michigan State and Notre Dame and winning a bowl game.
Here's all you need to know ahead of Saturday.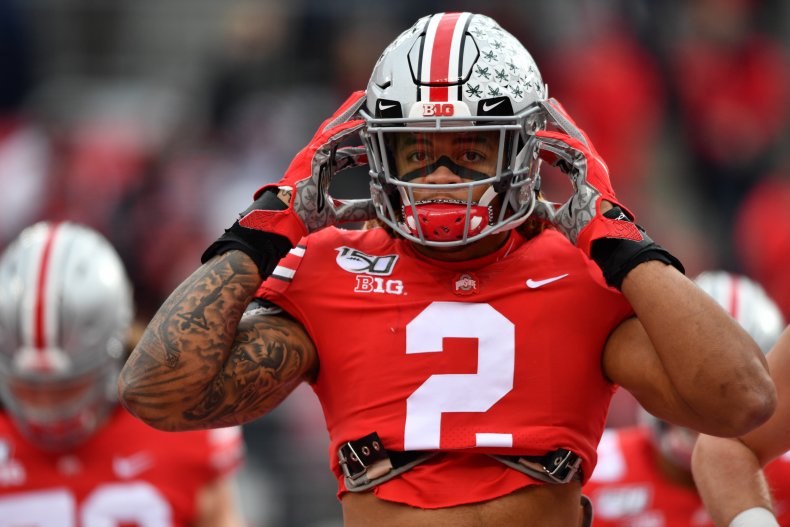 When and where is the game?
The Michigan Wolverines host the Ohio State Buckeyes at Michigan Stadium in Ann Arbor on Saturday, November 30.
Kick-off is scheduled for 12 p.m. ET.
TV coverage
The game will be broadcast nationally on FOX.
Live stream
A live stream will be available via FOX's digital platforms and via the FOX Sports GO app, as well as fuboTV.
Series record
The all-time series is finely balanced, with Michigan winning 58 of the 114 meetings to Ohio State's 50.
The Buckeyes, however, are on a seven-game victory streak against the Wolverines and have won on their last three trips to Ann Arbor.
Odds
According to Oddschecker, Ohio State is a nine-point favorite and is 23/25 to cover the spread, while Michigan is a 27/10 underdog. The over/under line in terms of total points scored is set at 39.
College Football TV Schedule 2019: Where to Watch Ohio State vs. Michigan, TV Channel, Live Stream and Odds | Sports