Ohio State's matchup against Rutgers has gone down in history before a ball has ever been kicked, as the Buckeyes are the largest favorites in conference history.
Despite dropping to No.2 in the College Football Playoff rankings, Ohio State is a whopping 52-point favorite ahead of Saturday.
According to SportsBetting.ag, that is the largest spread in the history of the Big 12 and the largest spread in Ohio State history, surpassing its 2013 matchup against Florida A&M, when the Buckeyes were 48-point favorite.
Data compiled by the sportsbook ranks the 52-point line as the third-largest spread in college football, behind a 59-point spread between SMU and Houston in 1989 and a 57-point line between Oklahoma and Kansas State in the same year.
The spread is also the biggest Rutgers has ever faced, comfortably trumping the 41-point line the faced against Notre Dame in 1996 and against Syracuse two years later.
According to The Action Network, meanwhile, Ohio State is the first road team to be a 50-point favorite. Baylor held the record up until this week, as a 46-point favorite against Kansas in October 2015.
The massive spread may be eye-catching but it's far from surprising. The 9-0 Buckeyes lead the Big Ten 10 East and are a shoo-in to play in the conference championship game.
Ohio State has climbed up to second in both the AP and USA Today coaches' poll and its failure to hold onto the No. 1 spot in the CFP rankings has more to do with LSU's brilliance than any fault of its own.
Last week, five days after debuting at No. 1 in the first CFP rankings of the season, the Buckeyes tore Maryland to shreds in a 73-14 rout and have now outscored opponents by 382 points so far this year.
Ohio State averages 51 points per game this season and there is little to suggest it won't pile them up in New Jersey on Saturday, against a Rutgers team that has allowed 431.2 total yards and 36.7 points per game—the sixth-worst scoring defense in the nation.
The Buckeyes will be without Chase Young on Saturday, with the star defensive end missing his second game in a row amid an ongoing NCAA investigation over a potential rule violation.
Last week, Ohio State suggested Young could miss four games but has since pushed back on those reports.
"It's just an ongoing process right now," Buckeyes coach Ryan Day was quoted as saying by The Athletic.
"There's really nothing I can talk about at this point. I just know it's going on right now. We're going to prepare for him to be back this week. He'll practice this week. Once we find out more information, we'll go from there."
Young wasn't required in last week's rout of Maryland and will in all likelihood not be missed against Rutgers this weekend, but his absence could be sorely felt against Penn State in two weeks.
The Buckeyes were 42.5-point favorite against Maryland and Day suggested he was pleased with his team's response after a week that began with Ohio State at No.1 in the CFP ranking and ended with Young's suspension.
"The team was aware of the situation, they knew this was the first time we faced some adversity," he said in his press conference on Tuesday.
"We know there's more adversity coming along the way. We don't know where, when. [...] Championship teams, they're resilient in times of adversity. It reveals your character."
Here's everything you need to know ahead of Saturday.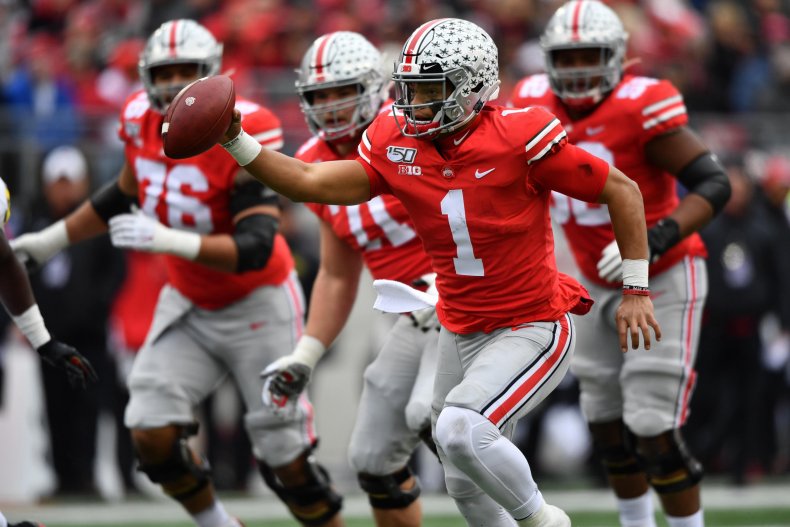 When and where is the game?
The Rutgers Scarlet Knights host the Ohio State Buckeyes at SHI Stadum in Piscataway, New Jersey, on Saturday, November 16.
Kick-off is scheduled for 3:30 p.m. ET.
TV coverage
The game will be broadcast nationally on the Big Ten Network.
Live stream
A live stream will be available via Big Ten Network's digital platforms and via fuboTV.
Series record
The two programs have met just five times, with Ohio State winning on each occasion and outscoring Rutgers by a combined 271-27 score.
Odds
According to BetOnline, the Buckeyes are a 52-point favorite and are 43/50 to cover the spread, while the over/under line in terms of total points scored is set at 60.
About the writer
Dan Cancian is currently a reporter for Newsweek based in London, England. Prior to joining Newsweek in January 2018, he was a news and business reporter at International Business Times UK. Dan has also written for The Guardian and The Observer.