College Football 2019: Where to Watch Oklahoma vs. Baylor, TV Channel, Live Stream and Odds
Baylor hosts Oklahoma on Saturday in a game that has huge playoff implications for both teams and could serve as dress rehearsal for the Big 12 Championship Game.
The second set of College Football Playoff rankings of the season brought bad news for both programs, with the Sooners slipping down one spot to No.10 and the Bears falling from No.12 to No.13.
While the former was somewhat expected as Oklahoma needed to intercept a two-point conversion attempt to avoid what would have been a huge upset loss against Iowa State, the latter was more perplexing.
The Bears improved to 9-0 after defeating TCU in triple overtime on Saturday, but they have failed to make an impression on the CFP committee and are currently the lowest-ranked of the five undefeated programs left in the FBS.
Speaking at the unveiling of the CFP rankings on Tuesday, Rob Mullens, the athletics director at the University of Oregon and CFP Selection Committee chair, noted that Baylor's less than stellar schedule had worked against it so far.
The Bears' non-conference opponents—Stephen F. Austin, UTSA and Rice—have a combined six wins so far, which goes a long way to explain why the committee has shunned them so far.
"When you look at Baylor's non-conference schedule, their three non-conference opponents have won a total of six games," Mullens said. "Obviously, Baylor has some great wins, they're certainly figuring out how to win in close games, but at this point, the committee felt they belonged at No. 13."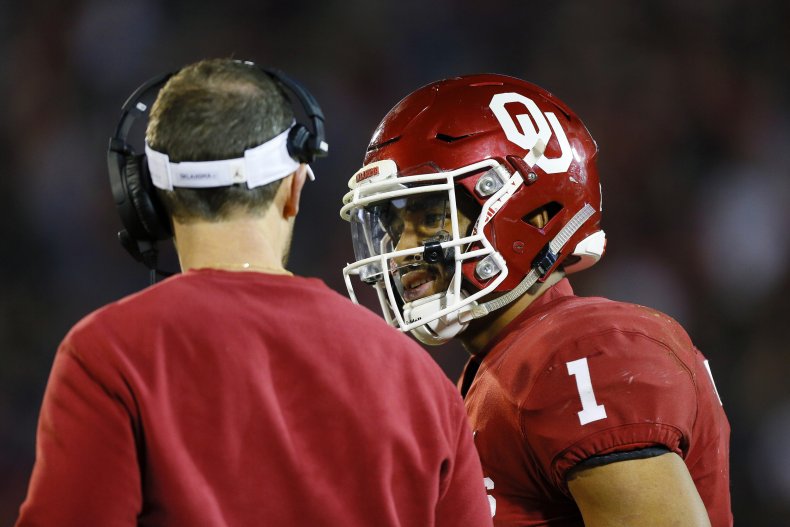 That is why Baylor's next two games are potentially season-defining, as the Bears host No.19 Texas next week after playing Oklahoma on Saturday.
The Sooners have already defeated Texas and, like Baylor, they have a win against No.22 Oklahoma State.
That means either Oklahoma or Baylor could finish the season with with three Top 25 wins if they run the table.
Assuming the Sooners win this weekend, Baylor's matchup against Texas is as crucial for them as it is for the Bears. Finishing 12-1 may not be enough for the Sooners to clinch a fourth playoff berth in five season and they will need Baylor to have the highest possible ranking should they meet them in the Big 12 Championship Game on December 7.
None of that would be relevant, should the Sooners leave Waco, Texas, with a loss this weekend.
Oklahoma coach Lincoln Riley expects his team to respond, after giving up 89 points in the last two games and almost squandering a 35-14 halftime last week.
"The fact that we haven't played our best the last two weeks, happened," he was quoted as saying by the Associated Press.
"And how are we going to respond? And if [the defense] is different and it is better—and we believe it is—then it will show up here the rest of the season. That's our challenge."
While Oklahoma almost let a lead slip, Baylor needed a triple overtime to have the better of TCU.
Bears coach Matt Rhule suggested the result spoke volumes for his team's resilience, as did the fact the win against TCU was the fourth time in conference games this season Baylor had won despite trailing in the fourth quarter.
''Let's talk about what we are," Rhule said.
"We're just a tough, hard-nosed, resilient group of guys that goes out there and just competes and plays. 'We're not perfect, but a lot of teams would have lost that game [Saturday].''
Baylor has won its last 11 games dating back to last season and will Rhule hinted his players will not need particular motivation for the game against Oklahoma—which will see ESPN's camera descend on Waco with the broadcaster set to host its three-hour 'College GameDay'' show on Saturday.
''We're not satisfied at all,'' he explained. ''They [the players] are proud of the accomplishment but they're not satisfied at all. They understand there are things we can do better.''
Here's all you need to know ahead of Saturday.
When and where is the game?
The Baylor Bears host the Oklahoma Sooners at the McLane Stadium in Waco, Texas, on Saturday, November 16.
Kick-off is scheduled for 7:30 p.m. ET.
TV coverage
The game will be broadcast nationally on ABC.
Live stream
A live stream will be available via ABC's digital platforms.
Series record
The two programs have met 28 times, with Oklahoma winning on 23 occasions and Baylor winning just three games.
The Sooners have won the last four straight against the Bears, scoring an average of 51 points per game.
Odds
According to Oddschecker, Oklahoma is a 10-point favorite and is 17/20 to cover the spread, while Baylor is a 14/5 underdog.