College Football 2019: Where to Watch Oklahoma vs. Texas, TV Channel, Live Stream and Odds
In a weekend featuring a host of heavyweight showdowns in college football, it's hard to look past the Red River Showdown.
One of college football's, and U.S. sport as a whole's, longest-standing rivalries, meetings between Oklahoma and Texas seldom need introduction.
That is even truer this year, with the memory of last season's double-header still fresh in the memory and 5-0 Oklahoma ranked No. 6, while 4-1 Texas is ranked No. 11.
A year ago, the Longhorns won in Dallas, but the Sooners then exacted revenge in the Big 12 title game. There is a distinct possibility the two programs will play each other twice this season as well.
Oklahoma's offense has torched teams so far this year, averaging a nation-best 644 yards per game and 53.4 points per game—the second-best figure behind LSU.
The Sooners average 9.8 yards per play, meaning they effectively almost gain a first down each time they have the ball.
To put the figure into context, the Sooners averaged 8.3 yards per play in 2017 with Baker Mayfield at quarterback.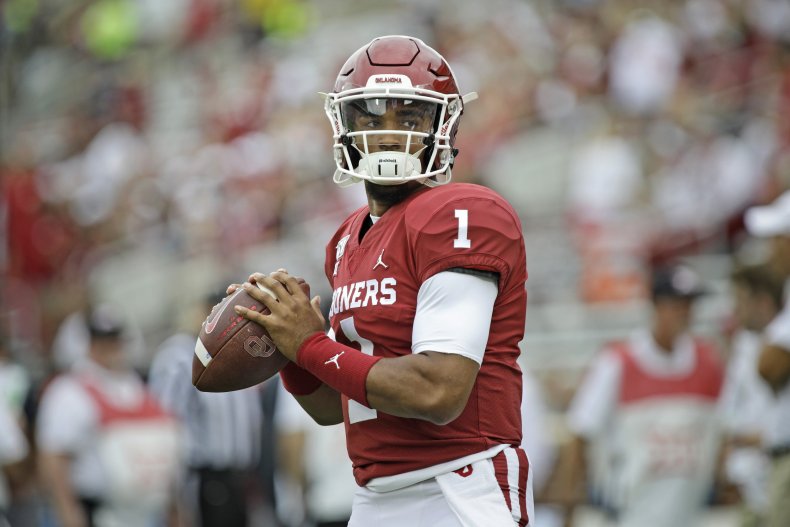 That figure was a new NCAA record and trumped the school's previous best figure of 7.1 yards per play, which had held for 46 yards. Once Kyler Murray replaced Mayfield last year, the Sooners went even better, averaging a record 8.6 yards per play.
With Jalen Hurts under center this season, Oklahoma is on track to blow both records out of the water.
The signal-caller, who transferred to Oklahoma from Alabama in the offseason, has thrown for 1,523 yards, 14 touchdowns and two interceptions so far.
Hurts also leads the Sooners in rushing with 499 yards, but has been warned against running the ball on Saturday.
"He's not dumb," Texas safety B.J. Foster, who has 18 tackles and one pick in three games this season, said of the Sooners quarterback at the Longhorns media day on Tuesday.
"He's gonna have to slide, or it's not gonna be good for him."
If Foster's words are worrying for Hurts, the statistical omens will provide little comfort for the former Alabama player.
Since 1990, quarterbacks who made their debut in the Red River Classic are 2-14-1 against signal-callers who have previously played in the rivalry.
During his freshman year at Alabama, Hurts led the Crimson Tide to a 30-12 win over arch-rivals Auburn and wins over Florida in the SEC title game and over Washington in the College Football Playoff semifinal.
The senior quarterback isn't fazed ahead of his Red River Showdown debut.
"I played in the Iron Bowl," Hurts said last week after the Sooners beat Kansas. "I played in big games before. I'll be alright."
Longhorns quarterback Sam Ehlinger, meanwhile, has faced Oklahoma over the last two seasons, when Mayfield and Murray were under center for the Sooners.
The duo went on to win the Heisman Trophy in consecutive seasons and were then both selected with the first overall pick in their respective NFL drafts.
Ehlinger has passed for 1,448 yards, 17 touchdowns and two interceptions so far this season.
He will need to be at his best, as Texas' best chance of winning may be to turn the game into a shootout.
The Longhorns rank 104th in total defense, allowing 442 yards and 26.6 points per game.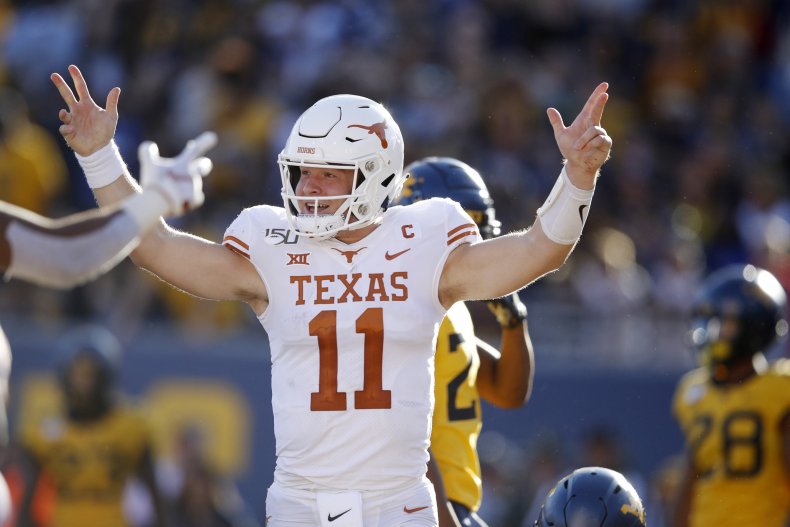 To add to their woes, they will be without cornerbacks Jalen Green and Josh Thompson and defensive back Caden Sterns—the Big 12 Freshman of the Year in 2018.
Texas coach Tom Herman suggested attack may be the best form of defense on Saturday.
"We will be burning the midnight oil tonight," Herman said on Monday, as per Sports Illustrated. "[We will be] trying to figure out a way to score some points and hopefully hold them to something reasonable with that offense they have."
Here's all you need to know ahead of Saturday.
When and where is the game?
The Texas Longhorns host the Oklahoma Sooners at the Cotton Bowl Stadium in Dallas, Texas, on Saturday, October 12.
Kick-off is scheduled for 11 a.m. local time (12 p.m. ET).
TV coverage
The game will be broadcast nationally on FOX.
Live stream
A live stream will be available via FOX Sports' digital platforms and FOX Sports GO.
Series record
The two programs have met 114 times, with Texas winning on 62 occasions and Oklahoma prevailing in 47 games.
The Sooners won the most recent matchup, defeating the Longhorns 39-27 in the Big 12 Championship Game in Arlington, Texas, in December last year.
Odds
According to Oddschecker, Oklahoma is an 11.5-point favorite and is 93/100 to win and cover the spread, while Texas is a 16/5 underdog.