College Football 2019: Where to Watch South Dakota vs. Oklahoma, TV Channel, Live Stream
The post-Kyler Murray began triumphantly for Oklahoma as the Sooners kicked off the season with a 49-31 win over Houston last week.
Jalen Hurts, a transfer from Alabama, marked his Oklahoma debut with a brilliant performance, throwing for 332 yards and three touchdown passes after completing 20 of 23 passes.
He added 176 rushing yards over 16 carries for three scores on the ground.
The 508 total yards Hurts posted on Sunday was the fifth-highest in school history.
The Sooners quarterback, however, was not overly happy with the performance.
"We did some really good things out there tonight, but there are a lot of things we can improve on," he was quoted as saying by ESPN. "We've got to take that next step."
Oklahoma head coach Lincoln Riley echoed Hurst's thoughts.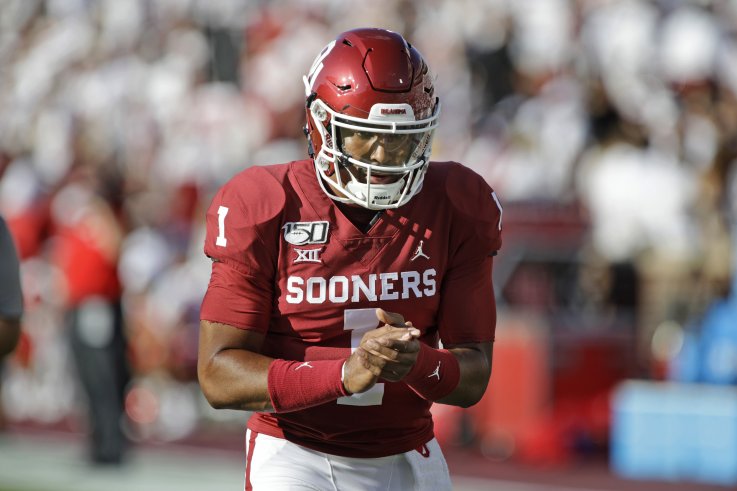 "There were things he could do better, but I thought he handled the moment good," he explained.
"You could tell out there that he'd been in it, certainly. I'm sure he had some nerves, but he did a good job managing them."
Next up for Oklahoma is a game against the South Dakota Coyotes, a meeting neither team expected.
The Sooners were scheduled to meet another FBS team—the top tier of college football—that then backed out.
"We were waiting on the contract to be signed and they had a last-minute change of heart and decided to play someone else for whatever reason," the Sooners' athletic director Joe Castiglione was quoted as saying by The Oklahoman. "It happens in the crazy world of scheduling. More things happen than people would ever believe."
Castiglione, who declined to identify the team that pulled out of the deal, added another FBS team was available to play on September 7.
However, the second team—who was also unidentified—was well aware of the predicament the Sooners found themselves in and would have forced Oklahoma to pay a premium.
Castiglione instead opted to cast his net over the FCS division and agreed a deal with South Dakota in January 2017.
In the world of college football, where some schedules have already been agreed for the next decade, signing a deal two-and-a-half years before the game is akin to making an 11th-hour decision.
Here's everything you need to know ahead of Saturday.
When and where is the game?
The Oklahoma Sooners host the South Dakota Coyotes at the Gaylord Family Oklahoma Memorial Stadium in Norman, Oklahoma, on Saturday, September 7.
Kick-off is scheduled for 6 p.m. local time (7 p.m. ET)
TV coverage
Each year the Sooners have one game that is available only on pay-per-view and this season the honor falls to its matchup against South Dakota.
Fans who are planning to watch the game on TV should reach out to their providers for assistance.
Live stream
A live stream will also be available on pay-per-view via SoonerSports.tv. Once the package is purchased, fans can stream the game via SoonerSports.tv on desktop and mobile devices, or via the SoonerSports apps on iPhone, iPad, Android, Apple TV and Amazon Fire.
A stream, however, will not be available via Roku's SoonersSports app.
Series record
This is the first meeting between the two programs. The Coyotes are the first FCS team to play the Sooners in Oklahoma since Florida A&M visited Norman seven years ago.
Form
Oklahoma kicked off its campaign in style with a 49-31 win over Houston State, while South Dakota lost 31-17 at home against the Montana Grizzlies.
College Football 2019: Where to Watch South Dakota vs. Oklahoma, TV Channel, Live Stream | Sports