Alabama Crimson Tide Fans Crowd Tuscaloosa Streets to Celebrate in Viral Video
Following Alabama Crimson Tide's win of the 2021 College Football Playoff National Championship game on Monday, a sea of fans was seen celebrating on the streets of Tuscaloosa as COVID-19 infections continue to soar across the state.
A viral video of the scene posted on Twitter by James Benedetto, a reporter for The Tuscaloosa Thread, received at least 1.9 million views at the time of reporting since it was first shared.
Benedetto noted: "Alabama Crimson Tide fans flood the streets of Tuscaloosa after the team secured its 18th national title," in a tweet that has received at least 4,900 likes and 7,400 retweets since it was first posted.
Hundreds to thousands of people gathered on the streets of the Strip, a neighborhood in Tuscaloosa, according to images shared by several other Twitter users, including Hailey Sutton, a reporter for Alabama's WSFA 12 News.
Images tweeted by Simone Eli, a reporter for Alabama's CBS 42, showed more of the same. "The scene on the strip in Tuscaloosa after Alabama wins the #NationalChampionship," Eli tweeted.
A video shared by Eli showed crowds of people standing shoulder to shoulder, many of whom were pictured without face coverings.
"Still a heavy police presence in Tuscaloosa—have seen a few people on top of the police SUVs," Eli noted, sharing an image of "someone getting taken off the Strip in Tuscaloosa on a stretcher," in a later tweet.
Tuscaloosa Police were deployed to clear a path through The Strip, according to a tweet by Lt. Andy Norris, an operations support specialist at Pacific Architects and Engineers (PAE).
The scenes came as the state reported a record seven-day average of current COVID-19 hospitalizations. Current COVID-19 hospitalizations in Alabama have been increasing on a sharp incline from mid-October, according to The Atlantic's COVID Tracking Project.
The state's average daily counts of infections and deaths have been rising from early November. The seven-day average of deaths saw a steep increase from early January, according to data compiled by Worldometer.
Total confirmed cases in Alabama have hit at least 404,000, with 5,347 reported deaths, according to Johns Hopkins University (JHU).
Alabama's daily death toll is projected to hit a peak in early February, reaching around 64 on February 4. The state's daily infection tally is forecast to peak in just over a week, hitting around 12,153 on January 22, according to the latest projections by the Institute for Health Metrics and Evaluation (IHME) at the University of Washington.
Both projected figures would be reached if "vaccine distribution is scaled up over 90 days" and "governments do not reimpose mandates if cases increase," the IHME noted.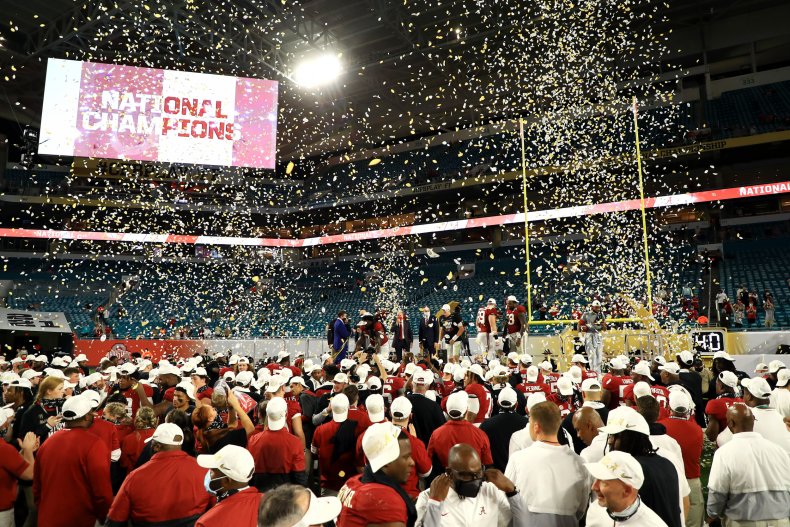 The wider picture
The novel coronavirus has infected more than 90.9 million people, including just over 22.6 million in the U.S., since it was first reported in Wuhan, China.
More than 1.9 million people have died worldwide and more than 50.3 million have recovered as of Tuesday, according to JHU.
The graphic below, produced by Statista, shows the spread of COVID-19 in the U.S.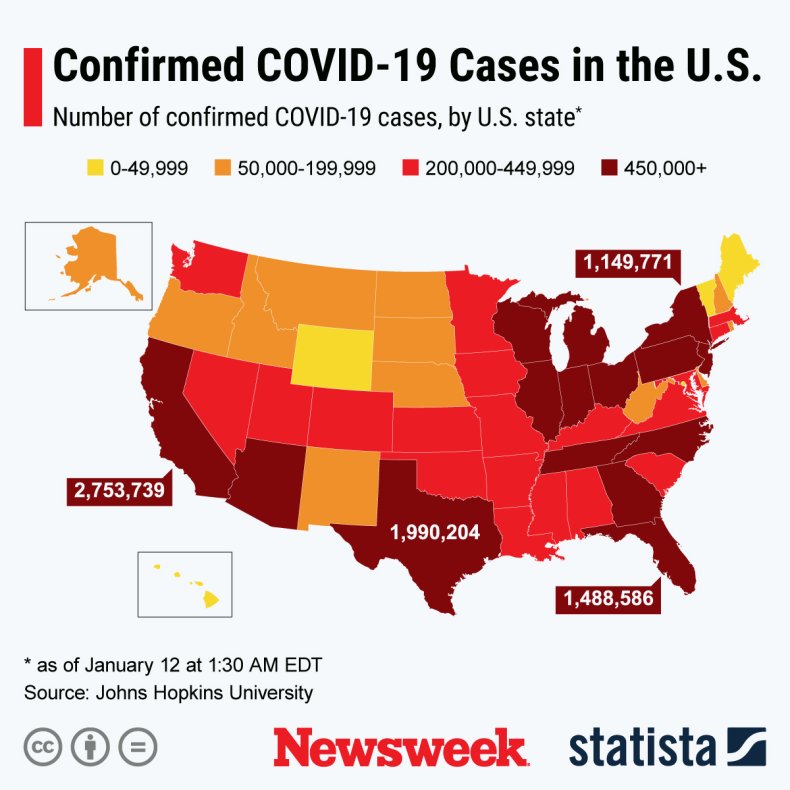 The graphic below, produced by Statista, shows those in the U.S. who would be uncomfortable engaging in leisure activities right now.