College Football Coaches on the Hot Seat Midway Through 2018 Season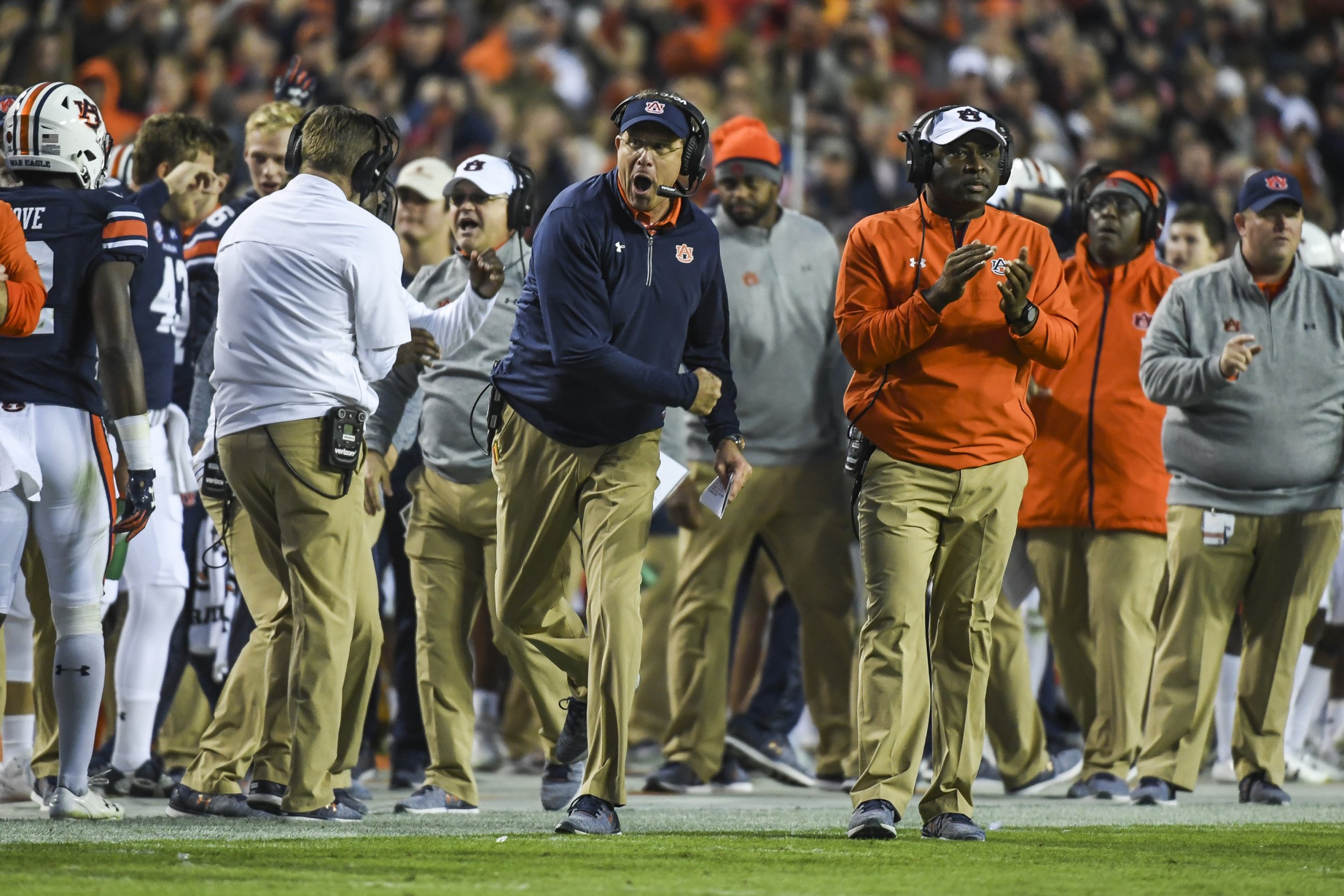 The 2018 college football season has officially reached the midway point. We now have a much clearer understanding of which teams are contenders and pretenders based on preseason expectations. We also have a better idea of which coaches will be facing potential firings at season's end.
LSU's Ed Orgeron was among the coaches many believed would be in the hot seat prior to Week 1. However, the Tigers have put together one of the most impressive résumés in college football with wins against three ranked opponents—including Saturday's victory over then-No. 2 Georgia—and currently hold the No. 5 overall ranking in the AP Poll, which has silenced the doubters.
Others have been much less fortunate and find themselves facing scrutiny while their teams have fallen short of expectations. Here's a look at the college football coaches on the hot seat midway through the 2018 season:
Gus Malzahn, Auburn Tigers
This seems like something that happens every other year. Either Gus Malzahn is in the hot seat or Auburn is a contender.
That's a recurring theme on "The Plains." Auburn was the only team to defeat eventual national champion Alabama last season. In 2016, Malzahn managed to coach himself off the hot seat after winning seven of his last nine games following a 2015 campaign in which the Tigers ranked last in the SEC West.
But the coach finds himself facing scrutiny once again after Auburn's early season losses to LSU, Mississippi State and Tennessee, which led to a fall out of the AP Poll.
Malzahn is the second longest-tenured coach in the SEC, which speaks to the conference's lack of job stability for anyone not named "Nick Saban." Perhaps this is the year in which Auburn parts ways with the offensive-minded coach.
Clay Helton, USC
Do USC fans miss Sam Darnold? Absolutely. But not nearly as much as they should miss Pete Carroll.
The Trojans were similar to what Alabama is now in the mid-2000s under Carroll, which saw them win two national champions and seven Pac-12 titles. But USC has failed to find consistency since the coach's departure in 2009.
The Trojans have had four different coaches attempt to successfully replace the eventual Super Bowl champion, the latest being former interim Clay Helton, who was hired full-time in 2015.
Helton coached USC to a Pac-12 title last season, but has fallen short of expectations in 2018. The Trojans are currently 4-2 (3-1 Pac-12) and don't seem to be making any improvements in Helton's fourth season. Perhaps a change needs to be made sooner rather than later.
Larry Fedora, UNC
Larry Fedora's tenure at UNC plateaued after a 7-2 start in 2016. Since then, the Tar Heels have lost 15 of their last 20 games, which included a blowout loss to Eastern Carolina in 41-19.
Additionally, Fedora embarrassed himself during ACC Media Days by dismissing football causes of chronic traumatic encephalopathy (CTE) and claimed the game was "under attack," adding that players must weigh "risk versus the rewards."
Fedora is an example of someone who started the season facing a possible hot seat and has since turned the temperature up.
David Beaty, Kansas
David Beaty named himself as Kansas's offensive coordinator recently, mainly because he keeps firing his assistants. It's never a good sign when a coaching staff changes because of firings as opposed to coordinators getting head coaching jobs.
Clint Bowen and Kenny Perry are the only two remaining assistants from Beaty's original staff in 2015. Since then, he's had three different offensive coordinators (including himself twice), four quarterbacks coaches (also including himself twice), four wide receivers coaches, two offensive line coaches, three defensive line coaches, three linebackers coaches and three special teams coaches.
While expectations are never high for Kansas football, this negligence cannot go unnoticed for much longer.
Chris Ash, Rutgers
Rutgers is one of the few Power 5 teams worse than Kansas, as proven by a 55-14 blowout in Week 3. Chris Ash is 7-24 (3-20 Big Ten) during his three seasons with the Scarlet Knights.
Rutgers has been outscored 252-106 in six games, is currently winless in four Big Ten matchups and is scheduled to face Nortwestern, Wisconsin, Michigan, Penn State and Michigan State during its remaining five games. Things likely won't get better for Ash before season's end.
Honorable Mention: Scott Frost, Nebraska
Former Nebraska quarterback and current head coach Scott Frost is worth mentioning, although its unlikely that he won't be returning in 2019. Frost—who led UCF to an undefeated season in 2017—has led the Cornhuskers to an 0-6 start during his first year back in Lincoln.
While there are rumbings of a potential termination, it's doubtful that the Cornhuskers would entertain the idea after hiring Frost as a potential savior to the program. Between a $26-million buyout and the lunacy of giving up too early, the former quarterback should be safe this offseason.
Willie Taggart, Florida State
Has there been a more disappointing team than Florida State? The Seminoles were believed by many to be a contender in the ACC and have instead fallen to 3-3 (1-3 ACC) with early losses to Virginia Tech, Syracuse and Miami, as narrowly avoiding an upset to Samford in Week 2.
Like Frost, Taggart has the luxury of being in his first year as a form of job security regardless of how the Seminoles' season ends. However, Florida State didn't intend to be in a coaching search last offseason prior to Jimbo Fisher's decision to leave and accept the head coaching position at Texas A&M.
Though the Seminoles could choose to have a more lengthy coaching search this offseason, it's doubtful that Taggart won't get a chance to improve in 2019.