After soldiering on for a few weeks, college football appears to be losing its battle against the coronavirus pandemic. The U.S. recorded 136,000 new cases of COVID-19 on Wednesday—its highest daily total—and the increase in infections across the country has decimated this week's college football schedule.
The Southeastern Conference (SEC) has postponed four of its seven games slated for Saturday, meaning the number of teams sidelined—eight—will exceed the number in action.
The Big Ten, meanwhile, confirmed on Wednesday that the game between Ohio State, the No 3 ranked team in the Associated Press Top 25 poll, and Maryland was canceled and would not be rescheduled.
The game becomes the third postponement in the Big Ten since the start of the season, bringing the total of games postponed across the Football Bowl Subdivision through the first 11 weeks of the campaign to 55.
It is a far cry from the optimistic picture President Donald Trump painted in August, when he warned that conferences would be making a "tragic mistake" if they canceled their seasons.
"These football players are very young, strong people and, physically, I mean, they're physically in extraordinary shape," Trump told Fox Sports Radio.
"So they're not going to have a problem, you're not going to see people, you know, could there be? Could it happen? But I doubt it.
"So I think football is making a tragic mistake."
His comments came before the Big Ten became the first Power Five conference to postpone its football season because of the pandemic, with the Pac-12 following suit.
The Atlantic Coast Conference, Big 12 and Sun Belt conferences all kicked off as scheduled in early September, with the SEC joining them after a short postponement on September 26.
The Big Ten and Pac-12 eventually reversed their decisions and got underway on October 24 and November 7 respectively.
Trump has repeatedly claimed credit for both conferences' change of heart.
"I brought back Big Ten football," he said during the first presidential debate on September 29.
"It was me and I'm very happy to do it. And the people of Ohio are very proud of me."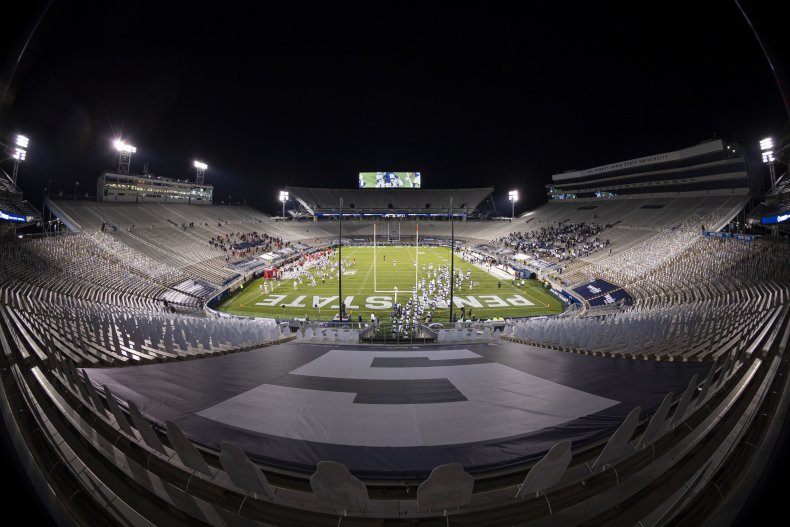 A few days later Pac-12 commissioner Larry Scott suggested Trump had nothing to do with the conference's decision to begin the season in November, but that did not prevent the president from enjoying another victory lap.
"I'm the one that got Big Ten and Pac-12 football back," he said on Fox & Friends on October 20.
"You know, I got that back. That wasn't coming back. And I got it back. Hope people realize that. That was pure and simple me."
Like their Power Five counterparts, the Big Ten and Pac-12 opted for a conference-only schedule but that hasn't prevented postponements.
Wisconsin games against Nebraska and Purdue were both canceled, as well as the Ohio State matchup against Maryland.
On the Pac-12 opening weekend, Arizona's road game against Utah and Washington's trip to California were canceled.
The SEC has so far played 40 of the 70 games that originally appeared on this year's schedule.
Earlier this week, the conference announced No 1 Alabama would not travel to Baton Rouge, Louisiana, to face defending national champions LSU, while No 5 Texas A&M's trip to Tennessee was also canceled. Mississippi State's home game against No 24 Auburn suffered the same fate and, on Wednesday, the game between No 12 Georgia and Missouri was called off.
The SEC coronavirus protocol stipulates teams must have at least 53 scholarship players on their roster for the game to go ahead.
While players who test positive for coronavirus are obviously unavailable for games, contact tracing has emerged as the biggest issue for teams attempting to meet the 53-player threshold.
"I'm certainly shaken, but not deterred," SEC commissioner Greg Sankey said Wednesday.
"Contact tracing has the potential to magnify even one positive test. [...] If you told me in July we'd be here the first week of November and would have accomplished what we've accomplished, I would describe that as positive."
As of Thursday morning, more than 10.4 million cases of coronavirus had been reported in the U.S., by far the highest tally of any country.
Of the 1.28 million deaths recorded worldwide, more than 241,000 have been in the U.S., according to Johns Hopkins University.
There have been more than 52.2 million confirmed cases worldwide since the outbreak was first identified in Wuhan, China.
About the writer
Dan Cancian is currently a reporter for Newsweek based in London, England. Prior to joining Newsweek in January 2018, he was a news and business reporter at International Business Times UK. Dan has also written for The Guardian and The Observer.