College Football Playoff Final Regular Season Rankings, Championships Next
The College Football Playoff (CFP) committee announced their latest rankings Tuesday night, and the Alabama Crimson Tide remain atop the pack. Notre Dame, Clemson and Ohio State are the other three teams who would make the four-team playoff it it started today.
The rankings were announced Tuesday night. Here they are:
Alabama (10-0)
Notre Dame (10-0)
Clemson (9-1)
Ohio State (5-0)
Texas A&M (7-1)
Iowa State (8-2)
Florida (8-2)
Georgia (7-2)
Cincinnati (8-0)
Oklahoma (7-2)
Indiana (6-1)
Coastal Carolina (11-0)
USC (5-0)
Northwestern (6-1)
North Carolina (8-3)
Iowa (6-2)
BYU (10-1)
Miami (8-2)
Louisiana (9-1)
Texas (6-3)
Oklahoma State (7-3)
N.C. State (8-3)
Tulsa (6-1)
San Jose State (6-0)
Colorado (4-1)
Alabama has been ranked No. 1 in the CFP rankings 22 times now, more than all other teams combined at 19 times ranked at the top spot.
Cincinnati has dropped a spot each of the last three weeks after not playing a game that was forfeited because of COVID-19 issues with one team or another.
Then, the analysts chimed in as conference games begin this weekend.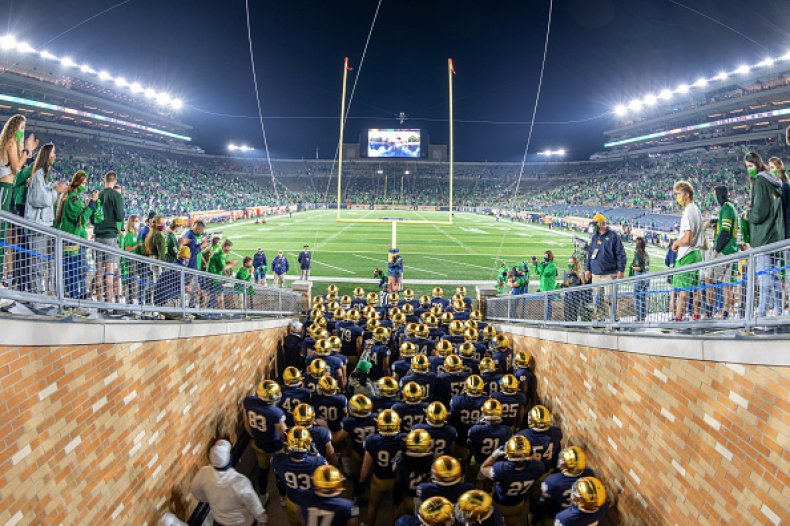 "If you have Notre Dame beat Clemson, let the fun begin," ESPN analyst David Pollack said.
Florida, which was ranked No. 6 last week, lost a weird-ending game to LSU last weekend. A Florida player ripped an LSU player's cleat off his foot and chunked it downfield, which extended an LSU drive and led the Tigers to a 57-yard, game-winning field goal. Florida only slipped one spot in this week's ranking.
"I'm surprised they only dropped one spot to No. 7," ESPN analyst Kirk Herbstreit said during the show. "If they were to beat Alabama it would be a given," Herbstreit said that if Florida would have beaten LSU last weekend.
Herbstreit, a former Ohio State quarterback, said his alma mater is just one win away from making college football's version of March Madness.
"Whether you agree or disagree, Ohio State is 60 minutes away from being there," Herbstreit said of the playoffs.
Ohio State (5-0) had its annual rivalry game against Michigan canceled last Saturday because of COVID issues in Ann Arbor. The Big Ten later allowed Ohio State to play Northwestern in the conference championship game this weekend.
The College Football Playoff matches the No. 1 ranked team vs. No. 4, and No. 2 vs. No. 3 in semifinal games that rotate annually among six bowl games—the Cotton Bowl, Fiesta Bowl, Peach Bowl, Orange Bowl, Sugar Bowl and the Rose Bowl Game.
This season's Playoff Semifinals will take place Friday, January 1, 2021, at the Rose Bowl Game and the Sugar Bowl. The College Football Playoff National Championship will be Monday, January 11, 2021, at Hard Rock Stadium in Miami Gardens, Florida. Last season's NFL Super Bowl was played at Hard Rock Stadium.
The final College Football Playoff ranking will be held this Sunday.