College Football Playoff Got It All Wrong, and That's All Right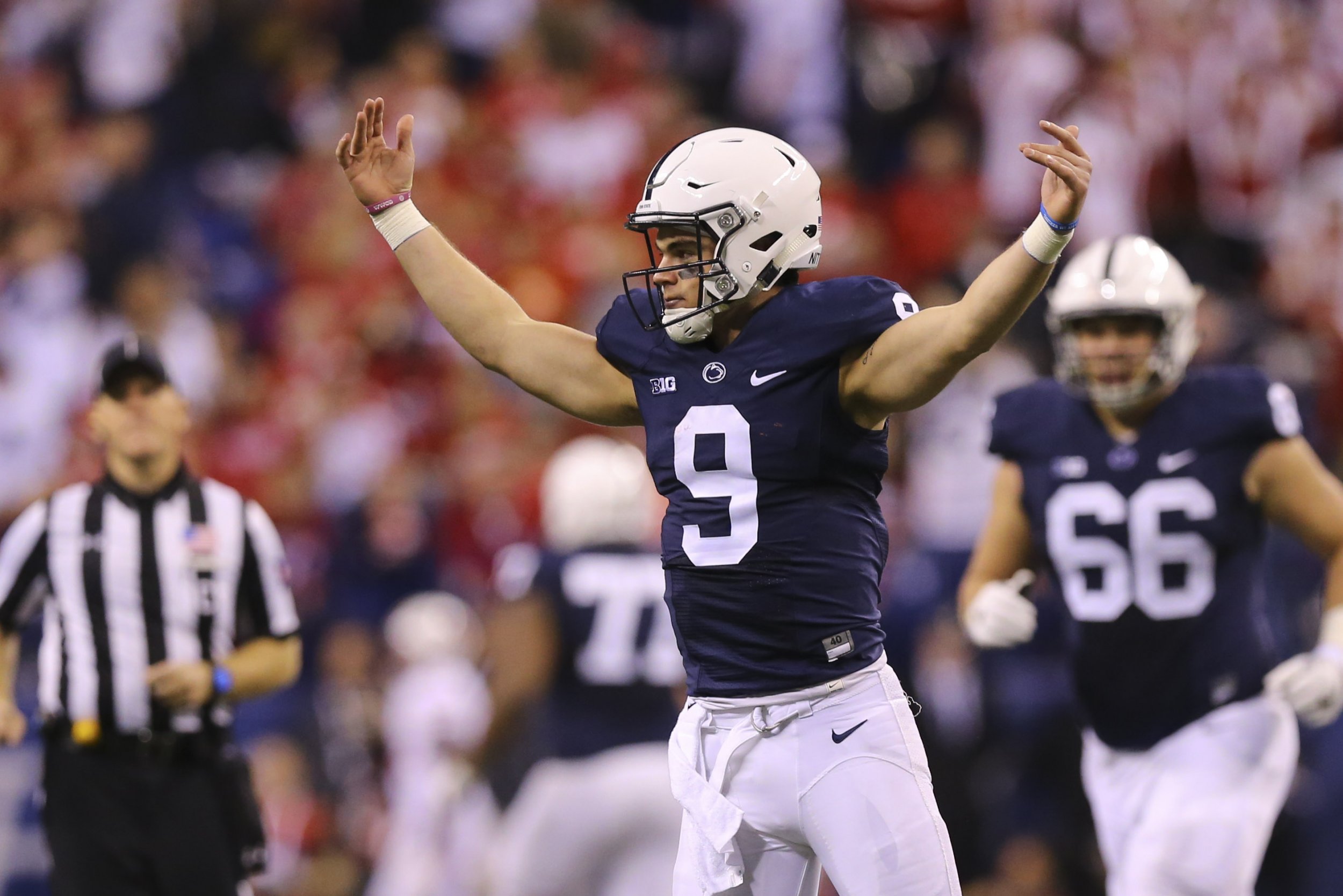 College football selected its four participants for this season's playoff—Alabama, Clemson, Ohio State and Washington—shortly after noon on Sunday, but the ultimate epiphany in terms of understanding the process occurred 13 hours earlier. It happened late Saturday evening in Indianapolis, moments after Penn State overcame a 21-point deficit to beat Wisconsin in the Big Ten championship game, where Fox's postgame show had positioned itself on the sideline.
As giddy Penn State fans clad in blue and white celebrated inside Lucas Oil Stadium, Rob Stone, the show's host, asked analyst Robert Smith if the Nittany Lions deserved to be in the playoff. "Absolutely!" boomed Smith, who then launched into a 90-second polemic on why he believed 11-2 Penn State was worthier to be the fourth and final playoff team than 12-1 Washington, the Pac-12 champs. As Smith at last paused for breath, a graphic appeared on screen indicating his four preferred playoff teams: Alabama, Ohio State, Clemson and…Washington.
A moment of awkward silence followed. "Those are the four teams I gave [the production truck]," the former Ohio State running back sheepishly confessed. "But then I changed my mind."
Smith's flip-flop was more illuminating than his endorsement of Penn State over Washington. That's college football, where experts and fans alike attempt to play "Shall I compare thee to a summer's day" using a Cartesian coordinate system.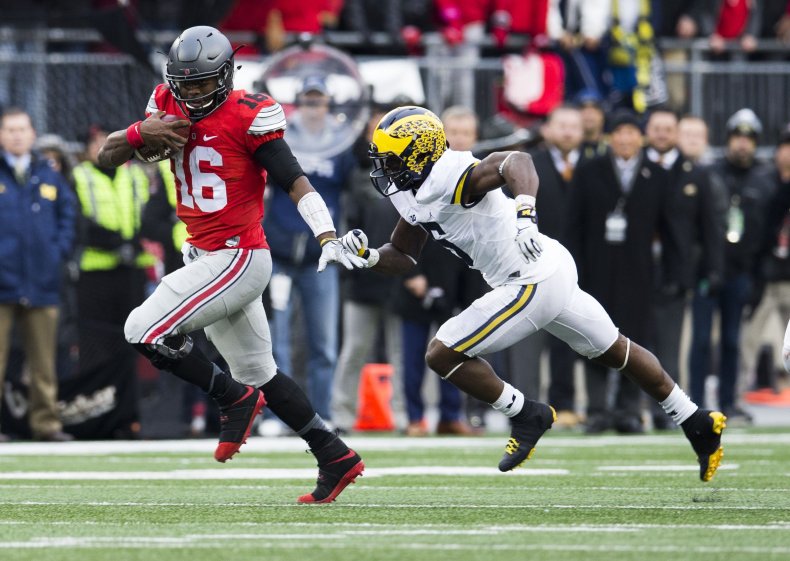 If there is a hierarchy of values (Won-loss record? Head-to-head? Out-of-conference scheduling? Because it's Ohio State?) for choosing the sport's four playoff participants, the dozen selection committee members are loath to list them. "As the selection committee, we come back to our charge, our focus and our mission," is all chairman Kirby Hocutt would reveal to ESPN on Sunday. "That is to select the four very best teams in college football."
Therein lies the paradox: The utter simplicity of the directive complicates matters so much. In this advanced stats millennium, in which sports fans gorge themselves on data, some of which is even pertinent, it is discomforting to some to allow that the solution will not be found using an algorithm.
Provided no hierarchy of values with which to rank teams, fans and experts alike capriciously assign their own, more often than not tailoring them to their allegiances or prejudice. They seamlessly transform into litigators, stressing the arguments that buttress their case (e.g., Penn State won its conference and has the season's most impressive head-to-head victory among contenders!) while ignoring those that detract from it (e.g. the Nittany Lions have twice as many losses as any other playoff team and one of them was by 39 points!).
Consider Ohio State versus Penn State. The Buckeyes, who play in the East division of the Big Ten conference, finished with an 11-1 record. The Nittany Lions, who plays in that same division, finished 10-2. Because both schools were 8-1 in intra-conference play and the Nittany Lions defeated the Buckeyes in a 24-21 thriller, Penn State won the division. They earned the right to play in the conference championship game, which they won.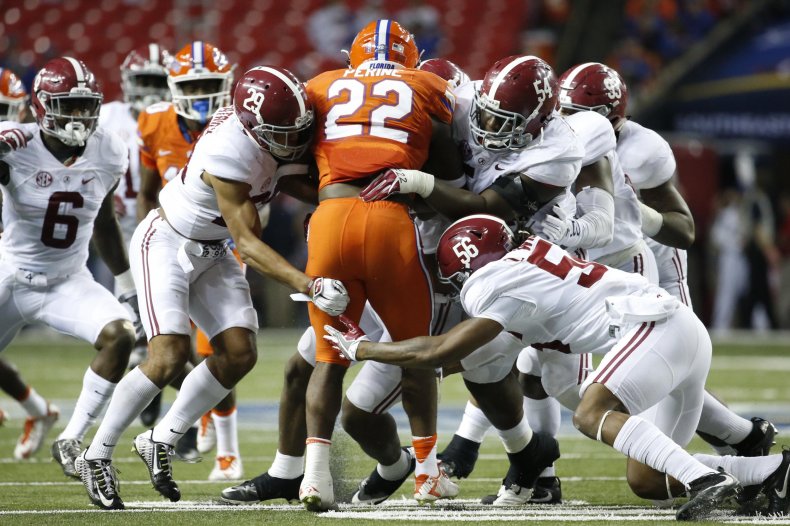 Penn State surrogates, citing the NFL as precedent, argue that the conference champion deserves to be in the playoff, and that the team that won its division certainly takes priority over whoever finished second. However, the NFL crowns divisional champions based on their overall records, not their intra-divisional records. In an NFL world, Ohio State would have won the Big Ten East.
There is no correlation between "the four very best teams in college football" and schools that happen to be conference champions. That may happen, as is the case this season with SEC champ Alabama, one of only two undefeated programs in the Football Bowl Subdivision (FBS). But it is not manifest. Winning games is an objective act, but winning a conference is subject to a somewhat arbitrary device. Why can't the nation's top two teams reside in the same conference? That question is a valid one and often posed in a Southern accent.
A schism exists between those who would automatically place conference champions into the playoff (and expand it from four to eight because there are currently five major conferences and only four available spots) and those who would not. The former group believes that allowing a dozen selection committee members the latitude they currently enjoy invites too much subjectivity. The latter would point out that conferences, when measured against one another, are a swamp of subjectivity.
Let's immediately dispense with the notion that this is simple arithmetic and recognize that it is AP (Associated Press?) calculus. There are 128 eligible schools in the FBS, but 63 of those schools do not belong to one of the five conferences collectively and not so subtly known as the Power 5. The have-nots play in the quintet of conferences known as the Group of 5. Before the season even begins on Labor Day Weekend, half the schools have already been eliminated from the playoff.
Technically, all 128 programs are eligible, but technically everyone above the age of 35 born in the United States may become president, too. Reality skews differently. Thus, while won-loss record is the initial gatekeeper, Western Michigan, a school that finished 13-0 and won the Mid-American Conference championship, had no chance of being part of the playoff because it plays in the Group of 5. "All we can control is winning the games on our schedule," said Broncos coach P.J. Fleck after his team outlasted Ohio University 29-23 last Friday night, "and we've done that."
Move on to the Power 5—the ACC, Big 12, Big Ten, Pac-12 and SEC—and you will find less uniformity than the answers on an Intro to Philosophy final. Conference size varies from 10 to 14 schools. The SEC plays eight conference games, or 66.6 percent of its overall schedule, while the Pac-12 plays nine, or 75 percent. Big 12 schools play a round-robin schedule, aka, everyone plays everyone. ACC teams play eight of a potential 13 conference opponents: Virginia Tech advanced to its conference championship game while avoiding having to face the three best teams in the ACC: Clemson, Florida State and Louisville.
Hence, there is no even playing field between conferences, and even if there were, there are four playoff spots and five conferences. At a certain point, the selection committee has the Miss USA pageant on its hands (in both, Western Michigan has no chance of winning). Conference champions are not more objective candidates; it's just an easier format for the average fan to digest.
What fans should demand—and what the selection committee encourages—are better match-ups during the season. This involve schools that aspire to be in the playoff making dates with other such schools outside their conference. And beating them. You must win (to quote Seinfeld, "Anyone can just take a reservation"). Ohio State is in the playoff not only because the Buckeyes finished 11-1, but because it traveled to Norman, Oklahoma, in September and waxed the eventual Big 12 champ Sooners, 45-24. Oklahoma (10-2), meanwhile, is not in the playoff for that exact same reason.
College football, like democracy, is not easy, and often not pretty. It compels intelligent people to argue that Ohio State is a superior team to Penn State, even though the Nittany Lions beat the Buckeyes six weeks ago. It invites a diligent reporter, such as ESPN's Heather Dinich, whose beat is the playoff selection committee, to acknowledge that Alabama beat USC (the nation's hottest team at the moment) 52-6 but ask, "Other than [the Trojans], who has Alabama played?" Answer: six other teams that were ranked at the time they met the Crimson Tide. It exposes flip-flopper Robert Smith's diffidence in spite of his stated conviction.
College football makes fools of us all. We should appreciate the lesson in that.
Read more from Newsweek.com:
Chaos and the college football playoff are constant companions (523666)
"Sucker punches, dead goats and a heroic grocery bagger: A look back at the 2014 college football season, part 2 (368487)"
Stanford's Christian McCaffrey is the most fun college football player to watch since Reggie Bush (508968)