College Football Playoff: Twitter Goes Wild as Clemson Makes History with Thrashing of Alabama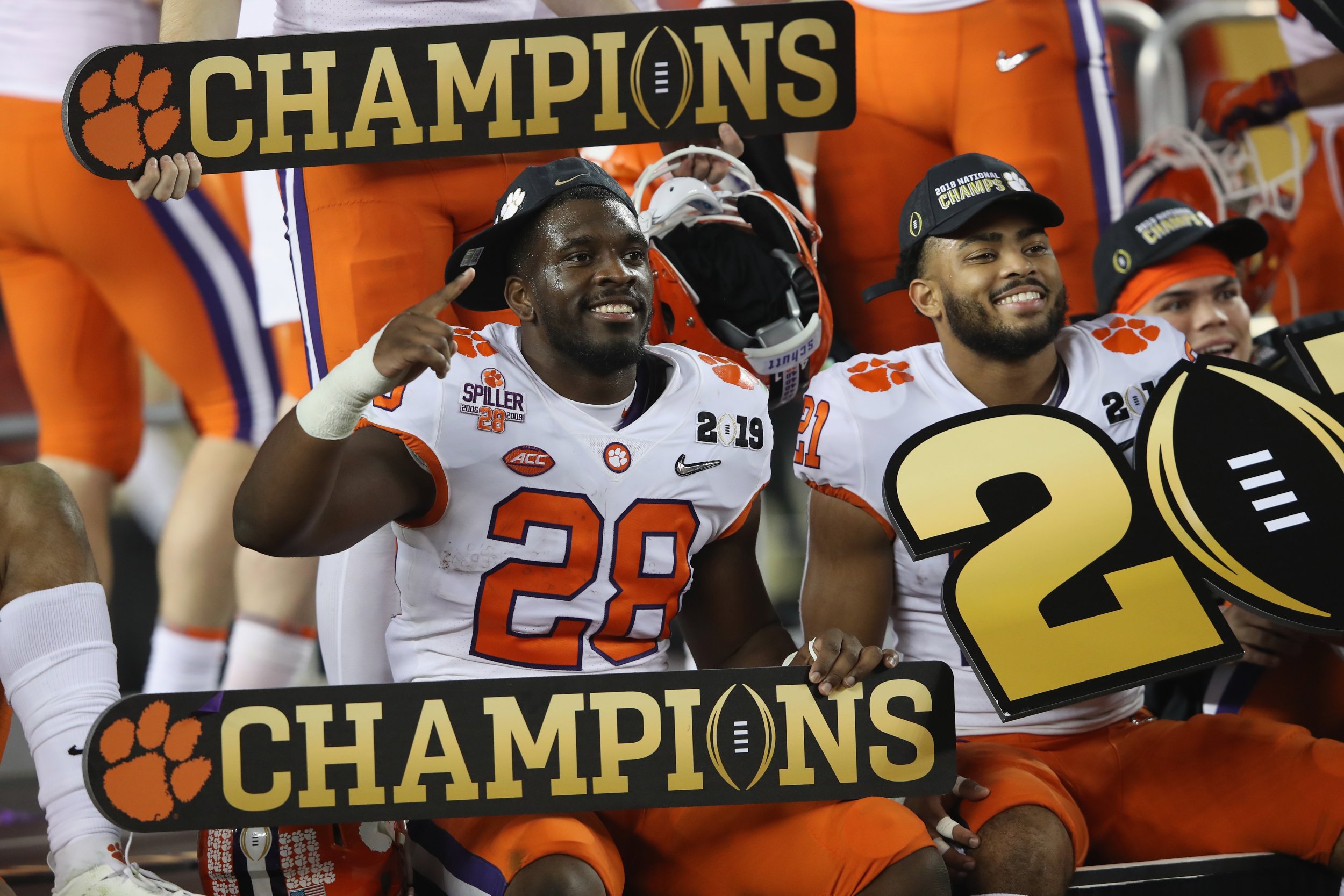 Clemson thrashed Alabama to clinch a second national title in three years, becoming the only team in the history of the playoffs era to go 15-0.
The Tigers started the College Football Playoff as 5.5-point underdogs, but handed out a 44-16 thrashing to the Crimson Tide, which it had beaten at the same stage two years ago.
Read more: NFL playoff picture: Updated divisional NFC and AFC matchups
Ranked as the top two teams in the country, Alabama and Clemson both entered the game with a 14-0 record but the Crimson Tide had no answers for the Tigers, who became the first college football team in 121 years to win 15 games.
As Clemson's head coach Dabo Swinney and his players celebrated, Twitter tried to make sense of Alabama's unexpected collapse. Since Nick Saban took charge of Alabama in 2007, the Crimson Tide has gone 141-21, has never lost by more than 14 points and has never been 15 points behind at halftime.
Clemson quarterback Trevor Lawrence completed 20 of 32 attempted passes, throwing for 347 yards and three touchdowns, while Travis Etienne added 86 rushing yards and two touchdowns on 14 carries.
After scoring two touchdowns in the semifinal against Notre Dame, Justyn Ross had 153 receiving yards on six receptions and added a score.
"It's been an awesome journey," Lawrence was quoted as saying by The Associated Press. "It's really unbelievable."
For Alabama, Tua Tagovailoa completed 22 of 34 passes, throwing for 295 yards and two touchdowns. However, he also had two crucial interceptions in the first half, the first of which was returned 44 yards for a touchdown by A.J. Terrell, who gave Clemson a 7-0 lead.
Despite having the second-best offense in college football in terms of points per game, Alabama failed to move the scoreboard in the final 44 minutes of the game as Saban suffered its biggest defeat since December 17, 2006, when the Buffalo Bills beat the Miami Dolphins 21-0.
Alabama hadn't lost a game by more than 16 points since November 15, 2003, when it fell 27-3 to LSU, which was then coached by Saban.
The 67-year-old missed out on a seventh national title with Alabama but insisted the loss to Clemson did not diminish what the program has achieved under him over the last 12 years. "One game doesn't define who you are," he said.
Swinney, meanwhile, has now joined Hall of Famers Bobby Bowden and Joe Paterno as two-time national champion.
"We're just little old Clemson and I'm not supposed to be here," he said. "But we are here and I am here. How about them Tigers."