College Football Playoff Rankings on 12/08/20: Alabama Remains No. 1
The College Football Playoff (CFP) committee announced their latest rankings Tuesday night, and the Alabama Crimson Tide remain atop the pack. Notre Dame, Clemson and Ohio State are the other three teams who would make the four-team playoff it it started today.
The rankings were announced Tuesday night. Here they are:
Alabama (9-0)
Notre Dame (10-0)
Clemson (9-1)
Ohio State (5-0)
Texas A&M (7-1)
Florida (8-1)
Iowa State (8-2)
Cincinnati (8-0)
Georgia (6-2)
Miami (8-1)
Oklahoma (7-2)
Indiana (6-1)
Coastal Carolina (10-0)
Northwestern (5-1)
USC (4-0)
Iowa (5-2)
North Carolina (7-3)
BYU (9-1)
Louisiana (9-1)
Texas (6-3)
Colorado (4-0)
Oklahoma State (5-2))
N.C. State (8-3)
Tulsa (6-1)
Missouri (5-3)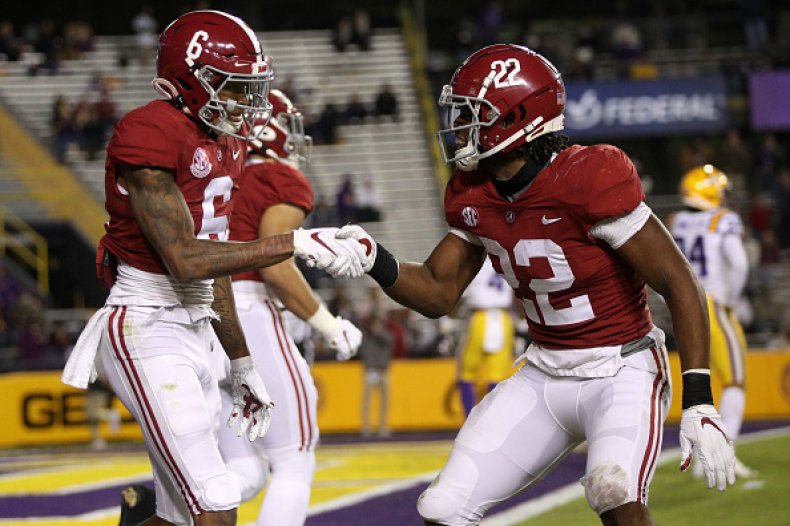 Alabama has been asked No. 1 in the CFP rankings 21 times now, more than all other teams combined at 19 times ranked at the top spot. Iowa State moved to the No. 7 spot this week, bumping Cincinnati down to No. 8. Georgia and Miami held firm at the final two spots in the Top 10.
"I think the focus will be on Ohio State, with the number of games," ESPN college football analyst Kirk Herbstreit said. Herbstreit said Ohio State fans should be big-time Alabama fans, cheering for the Crimson Tide to beat Florida in the SEC Championship game, and for Notre Dame to beat Clemson in the ACC title game.
Ohio State (5-0) had its annual rivalry game against Michigan canceled this Saturday because of COVID issues in Ann Arbor. The Big Ten rule this season states that a team needs to have played six games to qualify for the conference championship game, which is next weekend (Dec. 19).
Big Ten officials are scheduled to meet Wednesday to discuss altering the rule, which could allow Ohio State to play in the conference title game. If Ohio State does not play in the conference championship, it could allow teams like Florida to slip into the rankings with an upset of Alabama, or a Clemson win over Notre Dame. The second would be a revenge win as Notre Dame beat Clemson in double overtime earlier this season.
The College Football Playoff matches the No. 1 ranked team vs. No. 4, and No. 2 vs. No. 3 in semifinal games that rotate annually among six bowl games—the Cotton Bowl, Fiesta Bowl, Peach Bowl, Orange Bowl, Sugar Bowl and the Rose Bowl Game.
This season's Playoff Semifinals will take place Friday, January 1, 2021, at the Rose Bowl Game and the Sugar Bowl. The College Football Playoff National Championship will be Monday, January 11, 2021, at Hard Rock Stadium in Miami Gardens, Florida. Last season's NFL Super Bowl was played at Hard Rock Stadium.