College Football Playoff Rankings Released, Here are The Initial Standings
Not even four months ago, it seemed like there might not be a college football season in 2020. Two major conferences (Big Ten and Pac-12) had postponed their fall seasons, and it was a waiting game to see if the year would ever kick off. Now that 12 weeks are in the books for some teams, and as few as three weeks for some leagues, the College Football Playoff has released its first ranking.
The College Football Playoff matches the No. 1 ranked team vs. No. 4, and No. 2 vs. No. 3 in semifinal games that rotate annually among six bowl games—the Cotton Bowl, Fiesta Bowl, Peach Bowl, Orange Bowl, Sugar Bowl and the Rose Bowl Game.
This season's Playoff Semifinals will take place Friday, January 1, 2021, at the Rose Bowl Game and the Sugar Bowl. The College Football Playoff National Championship will be Monday, January 11, 2021, at Hard Rock Stadium in Miami Gardens, Florida. Last season's NFL Super Bowl was played at Hard Rock Stadium.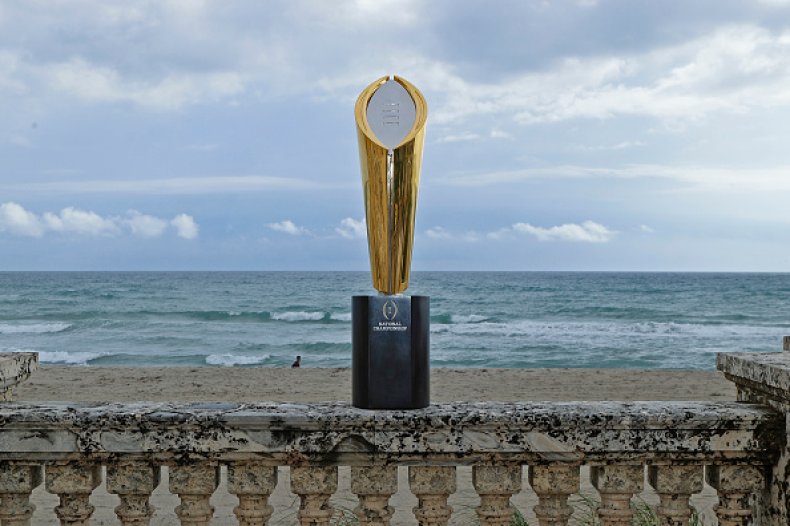 The rankings are being announced Tuesday night. Here they are (as they are announced):
Alabama (7-0)
Notre Dame (8-0)
Clemson (7-1)
Ohio State (4-0)
Texas A&M (5-1)
Florida (6-1)
Cincinnati (8-0)
Northwestern (5-0)
Georgia (5-2)
Miami (7-1)
Oklahoma (6-2)
Indiana (4-1)
Iowa State (6-2)
BYU (9-0)
Oregon (3-0)
Wisconsin (2-1)
Texas (5-2)
USC (3-0)
North Carolina (6-2)
Coastal Carolina (8-0)
Marshall (7-0)
Auburn (5-2)
Oklahoma State (5-2)
Iowa (3-2)
Tulsa (5-1)
When it came to Clemson being at No.3 ahead of an undefeated Ohio State team at No. 4, ESPN college football analyst Kirk Herbstreit said it likely had to do "with the eye test."
"[Ohio State coach] Ryan Day will be the first to tell you that they have not played up to their bar," said Herbstreit, a former Ohio State quarterback who has children playing at Clemson. "They're not where they expect to be, especially in the secondary."
The COVID-19 global pandemic has hampered and delayed much of the sports season, including college football. The coronavirus led to a shutdown of sports in America, and eventually the world, beginning early this year in March.
Though football season from the previous year had already concluded, the virus shutdown spring football in college, OTAs in the NFL, and the annual NFL Draft, which was eventually held virtually.
Football seasons have begun, but with limited, or no fans.
The college championship is scheduled for Miami and the Super Bowl is set for Tampa, both in the state of Florida, which still allows fans at games.