College Football Playoff Rankings Released on Tuesday 12/01/20
The College Football Playoff (CFP) committee announced their latest rankings Tuesday night, and the Alabama Crimson Tide remain atop the pack. The top seven remained the same, and Iowa State moved into the top 10 at No. 9.
The biggest mover in the ranking was Oklahoma State, which vaulted eight spots into the No. 15 position. The Cowboys are on pace to meet Iowa State for the Big 12 championship and an outside chance to make the football playoff.
Washington (3-0) entered the rankings this week at No. 22. Then there are the Louisiana Ragin' Cajuns (8-1), who defeated Iowa State in the opening week and were ranked in the AP Top 25 this season. The Cajuns entered the CFP rankings this week.
The rankings were announced Tuesday night. Here they are:
Alabama (8-0)
Notre Dame (9-0)
Clemson (8-1)
Ohio State (4-0)
Texas A&M (6-1)
Florida (7-1)
Cincinnati (8-0)
Georgia (6-2)
Iowa State (7-2)
Miami (7-1)
Oklahoma (6-2)
Indiana (5-1)
BYU (9-0)
Northwestern (5-1)
Oklahoma State (6-2)
Wisconsin (2-1)
North Carolina (6-3)
Coastal Carolina (9-0)
Iowa (4-2)
USC (3-0)
Marshall (7-0)
Washington (3-0)
Oregon (3-1)
Tulsa (5-1)
Louisiana (8-1)
There were only two noticeable drops in this week's rankings from the initial release. Oregon dropped eight spots to No. 23 after the Ducks lost to Oregon State, 41-38. Then there was Northwestern. The Wildcats dropped six spots to No. 14 after a road loss to Michigan State. USC dropped two spots to No. 20 despite a win.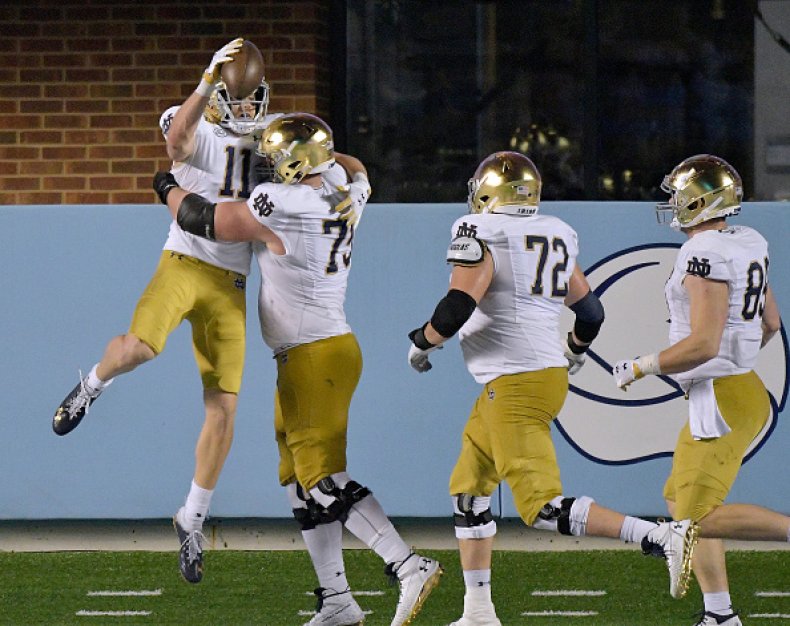 The College Football Playoff matches the No. 1 ranked team vs. No. 4, and No. 2 vs. No. 3 in semifinal games that rotate annually among six bowl games—the Cotton Bowl, Fiesta Bowl, Peach Bowl, Orange Bowl, Sugar Bowl and the Rose Bowl Game.
This season's Playoff Semifinals will take place Friday, January 1, 2021, at the Rose Bowl Game and the Sugar Bowl. The College Football Playoff National Championship will be Monday, January 11, 2021, at Hard Rock Stadium in Miami Gardens, Florida. Last season's NFL Super Bowl was played at Hard Rock Stadium.