Will College Football Playoff Title Game Be Postponed Because of Ohio State COVID Cases?
The College Football Playoff National Championship game between Alabama and Ohio State could be postponed because of coronavirus issues within the Buckeyes program.
The Crimson Tide and the Buckeyes—the No. 1- and No. 3-ranked programs in the Associated Press Top 25 poll respectively—are scheduled to play for the national title on Monday, January 11 at Hard Rock Stadium in Miami, Florida.
However, AL.com reported on Tuesday the game may have to be postponed due to concerns surrounding Ohio State players' availability after the Buckeyes indicated COVID-19 testing and related protocols could leave them without a position group. Stadium also reported the game may not be played on Monday due to coronavirus-related concerns, adding interested parties had held preliminary discussions about postponing the game by a week to January 18.
Last week, the College Football Playoff (CFP) committee had penciled the date as a potential alternative to January 11.
For their part, however, the Buckeyes remain adamant the game will go ahead as scheduled and are due to arrive in Miami at 6 p.m. ET on Saturday.
"We're following the same protocols we followed all season long," Ohio State athletic director Gene Smith told ESPN on Tuesday.
"We intend to play on January 11, and we continue to communicate with the Big Ten and now the CFP; so at this point in time, we see the game being played. But who knows what tomorrow will bring? That's COVID. We're on track right now."
Alabama athletic director Greg Byrne echoed the sentiment, tweeting that "both schools are focused on playing" on Monday and that he and Smith had held "multiple conversations" to discuss the possibility of postponing the game.
Earlier this week, Ohio State coach Ryan Day insisted his team would be ready to go on January 11.
"We get 10 days here and kind of rest up a little bit and then get to work and practicing," he said during a media session on Monday.
"So, I think we'll be refreshed and ready to roll. The virus still hasn't gone away, so we've got to make sure we're really vigilant in that area, which is still a struggle day in and day out. It's just hard. But the preparation is just going to continue to go on."
Ohio State players practiced as scheduled on Tuesday and continue to comply with the Big Ten coronavirus protocols by undergoing antigen testing for COVID-19 on a daily basis.
Coronavirus has wreaked havoc with the college football season, forcing multiple conferences to delay the start of their campaign. Once the season got underway, it did so on a shortened-basis for a number of conferences, including the Big Ten, with several games postponed or canceled due to outbreak within programs.
Both Day and his Alabama counterpart Nick Saban tested positive for COVID-19 during the regular season and 23 Ohio State players were unavailable for the game against Michigan State last month, while the matchup against Michigan the following week was canceled for the first time in over a century.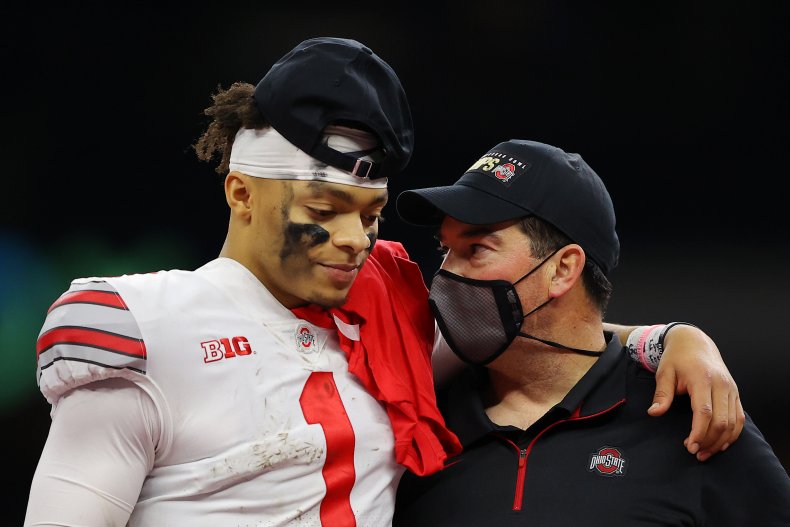 The Buckeyes were also without several key players for their 49-28 win over Clemson in the Sugar Bowl—the CFP semifinal—on January 1.
As a result of the cancelations, the Buckeyes have played only six regular-season games, while Alabama managed to complete its 10-game schedule.
Crucially, however, the threshold for cancelation in the Big Ten differs from those adopted by the CFP, which resembles that used by most other conferences during the season.
Big Ten coronavirus protocols stipulate teams had to cancel or postpone games if the test positive rate was greater than 5 percent and the population positivity rate was higher than 7.5 percent.
The CFP, meanwhile, allows teams to postpone games only if they have fewer than 53 players available on game day with a minimum of seven offensive linemen, four interior defensive linemen and one quarterback.
"I can tell you there are no changes," CFP executive director Bill Hancock was quoted as saying by ESPN on Monday. "The game is scheduled for January 11, as planned, and we look forward to it."
As of Wednesday morning, over 735,000 cases of coronavirus and 9,247 deaths have been reported in Ohio, according to Johns Hopkins University, which has been tracking the outbreak using combined data sources.
California, Texas, Florida, Illinois and New York are the only U.S. states to have recorded more coronavirus cases than Ohio.
Over 21 million cases of coronavirus have been reported in the U.S—the highest tally in the world—and over 357,300 deaths of the over 1.87 million fatalities recorded worldwide so far.
There have been almost 86.5 million confirmed cases globally since the outbreak of coronavirus was first identified in Wuhan, a city located in China's central Hubei province, late in December 2019.