College Football Playoff: Will Ohio State be No. 1 seed, Where are LSU and Clemson?
The regular season of college football concluded Saturday night with the conference championship games. Now, the College Football Playoff committee will have a the dubious task of ranking teams from 1-25. The biggest question this year is who will be No. 1 instead of No. 4.
Ohio State has been ranked No. 1 the last two weeks, and they beat No. 8 Wisconsin, 34-21, for the Big Ten Championship. Then there's No. 2 LSU who beat No. 4 Georgia, 37-10 in the SEC Championship.
Meanwhile, No. 3 Clemson won the ACC Championship, 62-17, over No. 23 Virginia.
The top three teams finished the season with identical 13-0 records and all will make the CFP, but the order is uncertain. Then there's the battle for No. 4, which the Oklahoma Sooners seemed to wrap up Saturday after No. 5 Utah lost on Friday.
Here's what happened with the top 10 this weekend:
No. 1 Ohio State won, 34-21, over No. 8 Wisconsin
No. 2 LSU won, 37-10, over No. 4 Georgia
No. 3 Clemson won, 62-17, over No. 23 Virginia
No. 5 Utah lost, 35-17, to No. 13 Oregon
No. 6 Oklahoma won, 30-23, over No. 7 Baylor (in Overtime)
The CFP committee has declared it looks at a clean sheet of paper each week to determine who should be ranked where. They said they would watch the games this weekend. If so, here are a few notes:
No. 13 Oregon had no problem putting away No. 5 Utah on Friday night, so Utah's chances of making the final four seem difficult
No. 2 LSU controlled the SEC Championship from start to finish, dismantling the nation's No. 4 team
No. 1 Ohio State fell behind No. 8 Wisconsin by nearly three touchdowns before coming back for their win
No. 5 Utah looked overmatched against No. 13 Oregon.
No. 6 Oklahoma and No. 7 Baylor looked equal as they went to overtime.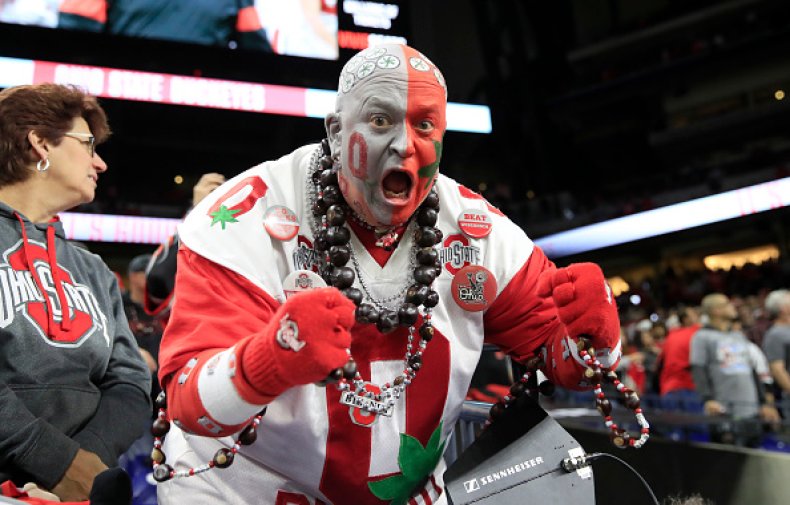 With everything considered, here's what the CFP top 10 could look like when it's revealed at noon ET on Sunday.
LSU
Ohio State
Clemson
Oklahoma
Georgia
Baylor
Penn State
Florida
Auburn
Oregon
Of course, the top four matter most when it comes to this the national championship race, and the top four will likely be Ohio State, LSU, Clemson and Oklahoma, or any order the committee selects. The overall rankings will also help determine which teams will go to New Years Six bowl games and how bowl pairings will be determined down the line.
The CFP selections and bowl pairings will be announced at noon ET on Sunday.
The Army-Navy Game will take place on December 14, the same day as this year's Heisman Trophy presentation. The bowl season begins on Friday, December 20