College Football Playoff's 12-Team Format Would Give Automatic Bids to 6 Conference Champs
College Football Playoff (CFP) officials next week will consider a 12 team-format that would give automatic playoff bids to six teams that are the highest-ranking conference champions, the Associated Press reported.
If the postseason playoff is expanded from four to 12 teams, there would be no limit on the number of teams coming from one conference, according to an individual familiar with the proposal speaking to AP anonymously Thursday.
It is up to the CFP's management committee to decide next week on whether to recommend the expansion to the CFP oversight committee that consists of university presidents. The meeting between the management and oversight committee is slated for June 22 in Dallas.
For six out of seven years, Alabama and Clemson have landed a spot in the playoffs out of 130 teams. Bill Hancock, the CFP director, said the format would not be altered this season or in 2022.
For more reporting from the Associated Press, see below.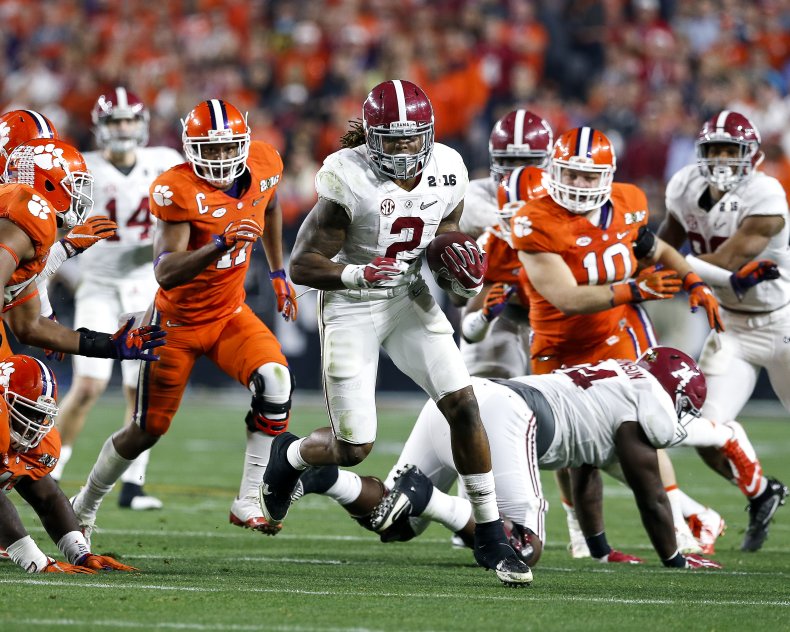 A 12-team playoff would also include six at-large selections.
A full announcement was expected later Thursday. Sports Illustrated was first to report a 12-team model was being proposed.
The CFP's surprising disclosure comes a week ahead of a planned presentation to CFP officials in Chicago on June 17 and 18. It's an important step in a process that has several more ahead.
If the presidents sign off, the next step is determining whether the plan can be implemented and when.
The College Football Playoff is entering year eight of a 12-year agreement with ESPN. The deal doesn't lock in a format but an assumption has been that any changes would come after that deal expires following the 2025 season.
The four-team playoff was implemented in 2014, a natural progression from the Bowl Championship Series, which matched No. 1 vs. No. 2 in the title game from 1998 to 2013.
But the playoff's popularity seems to have stagnated as only a few teams have grabbed the majority of the spots since 2014.
Ohio State and Oklahoma have each been selected four times. That's 71% of the playoff spots to just four of the 130 teams that play major college football, including Alabama and Clemson.
A 12-team field with six spots reserved for conference champions would guarantee at least one team from outside the Power Five conferences would be in the playoff each season. The Group of Five has never had a team crack the field of four or been particularly close.