Ohio State reclaimed top spot in the College Football Playoff rankings, leapfrogging LSU after defeating then-No. 8 Penn State in Week 13.
The Tigers thrashed Arkansas 56-20 on Saturday but slipped to No. 2 for the first time in two weeks, while Clemson stayed put in third place and Georgia was confirmed as the highest-ranked one-loss team at No. 4.
Alabama remained at No. 5, while Utah climbed up one spot to No. 6 and Oregon was the big loser of the week, falling from No. 6 to No. 14 after suffering a shock loss against Arizona State.
Here are five talking points from Tuesday.
The case for the defense
Ohio State and LSU have both torched teams at will throughout the season and rank first and second respectively in scoring offense. On the defensive side of the ball, however, the picture is rather different as the Buckeyes rank first in total defense, while the Tigers are 42 spots further down.
Both programs have three wins against top-25 ranked teams and it was significant to note the CFP committee rewarded what it perceived to be the most balanced of the two.
"Ohio State's been a complete team, and that win over Penn State was their third win against teams that we currently have ranked in the top 19," CFP committee chairman Rob Mullens said. "Ohio State's been really good on both sides of the ball. They're obviously both very good on the offensive side. And this week the committee felt that that win over Penn State again solidified that Ohio State's a little better on the defensive side of the ball."
The No.1 seed matters
Being one of the four teams the CFP committee selects for the playoff is the main goal for most programs, but finishing with the No. 1 seed could be particularly important this season. If the top three remain undefeated this season, LSU and Clemson will collide in one of the semifinals, while Ohio State will take on Georgia or whoever the CFP deems to be the best one-loss team in the nation.
On paper at least, the latter looks like a far easier prospect than meeting either LSU or Clemson.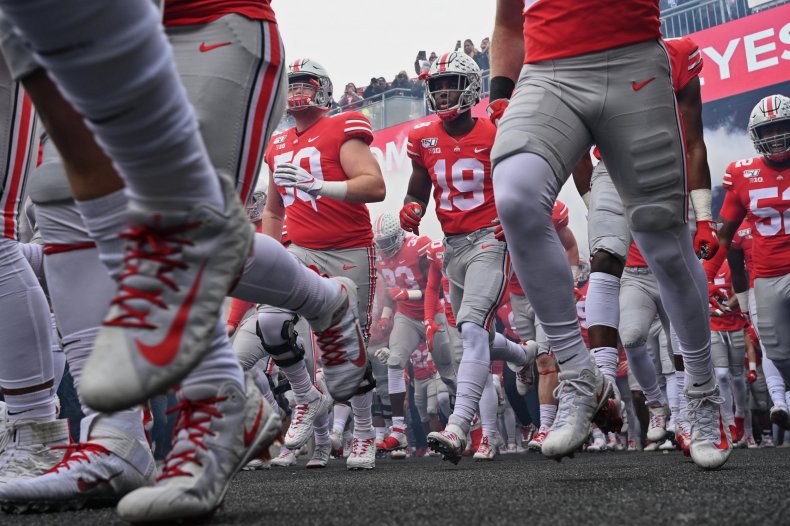 Iron Bowl will decide Alabama's destiny
Unsurprisingly, as the below graphic provided by Statista shows, the committee left Alabama at No. 5 on Tuesday. The Crimson Tide began the post-Tua Tagovailoa era convincingly with a 66-3 shellacking of Western Carolina but that wasn't enough to leapfrog Georgia at No. 4, despite the Bulldogs' unconvincing 19-13 win over Texas A&M.
With no SEC title game to speak of on the horizon, Alabama's only chance of securing a playoff spot is the Iron Bowl against No. 15 Auburn on Saturday, the last game left on its schedule.
No. 6 Utah and No. 7 Oklahoma both have two games left—both of which are against ranked opponents in the Sooners' case—and could finish with a 12-1 record if they win their conferences.
Alabama, instead, can only go 11-1 and a convincing win over Auburn is imperative to make the Crimson Tide's case for being the best one-loss team in the country, provided Georgia loses to LSU in the SEC title game.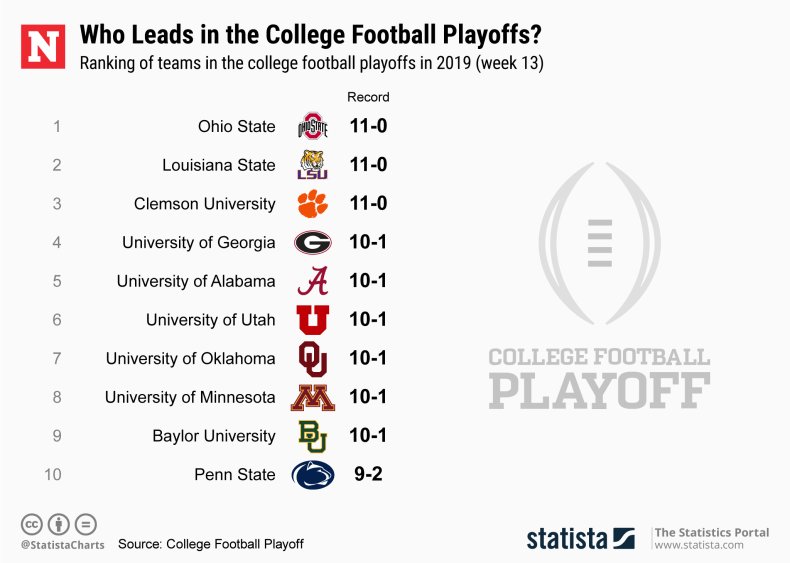 The Big 12 is still in the race
Despite a narrow 28-24 win over Texas Christian University, Oklahoma climbed up two spots to No. 7, while Baylor's 24-10 win over Texas saw it surge from No. 14 to No. 9.
The inclusion of Oklahoma State and Iowa State in the Top 25 means both the Sooners and the Bears have two top 25-wins each and Oklahoma could make it three when it takes on Oklahoma State in Rivalry Week.
"The wins over Iowa State and Oklahoma State continue to improve, as well, as those teams continue to win, and their only loss close to Oklahoma,"Mullens said of Baylor.
The Sooners and the Bears meet in the Big 12 title game, which means one of them will have a top-10 scalp to embellish its resume and will have a great shot at making the top four.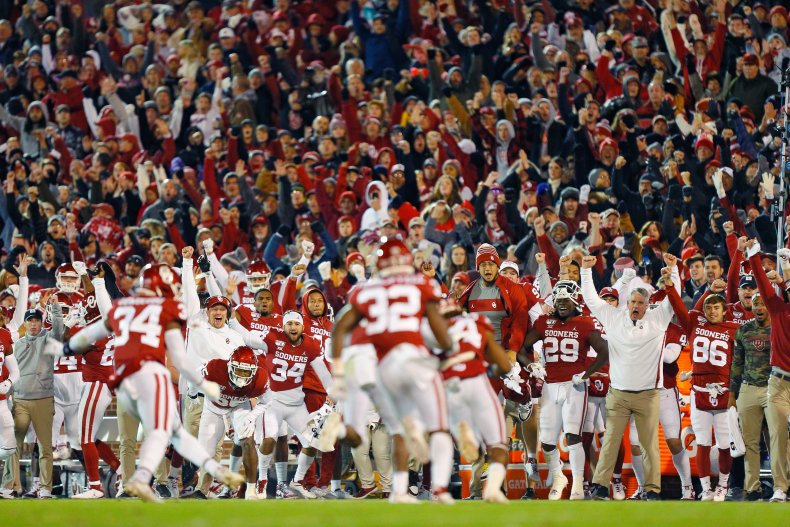 Not all good news for Utah
As expected Utah climbed up a spot to No. 6 after defeating Arizona to improve to 10-1, seizing on Oregon's shock loss to Arizona State, which saw the Ducks plummet down eight places to No. 14.
The Utes have been defensively dominant—they rank fourth nationwide in scoring defense and have conceded seven points or less in five of their last six games—but none of their wins have come against a team with fewer than four losses.
If Utah beats Oregon in the Pac-12 title game it will have just one top-15 win on its resume, which may not be enough to remain ahead of either Oklahoma or Baylor—who will have a top-10 win after their meeting in the Big 12 title game to go with their two wins against top-25.
Uncommon Knowledge
Newsweek is committed to challenging conventional wisdom and finding connections in the search for common ground.
Newsweek is committed to challenging conventional wisdom and finding connections in the search for common ground.
About the writer
Dan Cancian is currently a reporter for Newsweek based in London, England. Prior to joining Newsweek in January 2018, he was a news and business reporter at International Business Times UK. Dan has also written for The Guardian and The Observer.