Get Ready, College Football Fans, the Season Starts Now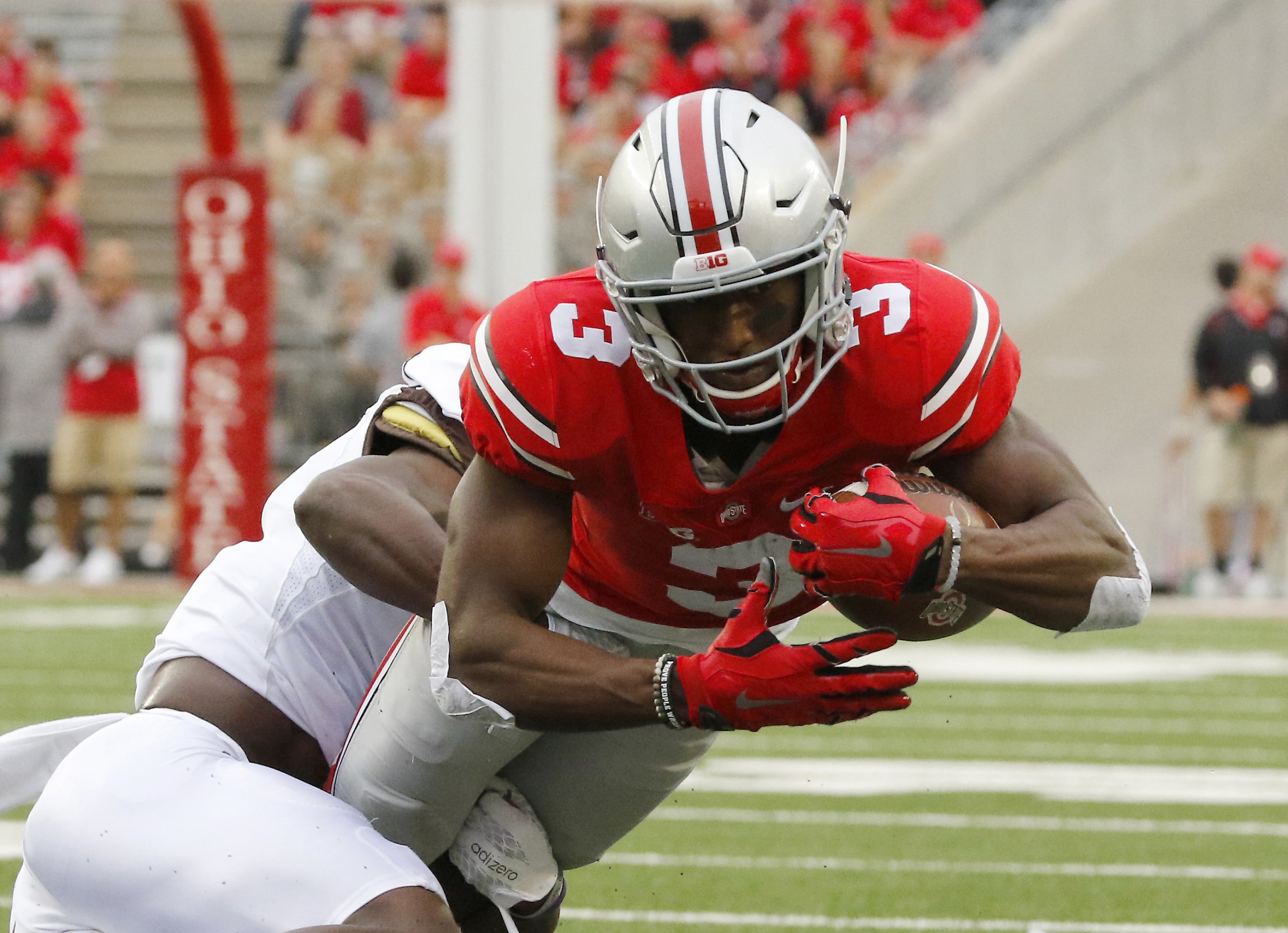 Don't tell anyone—shush!—but college football season unofficially begins today, Saturday.
Yes, there has been an entire September of games that included upsets, Hail Marys (a double shot of thanks, BYU), and a Quack-down smackdown of the Ducks in Eugene, Oregon, but here comes the first Saturday of October.
As the Eastern seaboard hunkers down for the first nasty, soggy weekend in months, there are a dozen reasons to remain couch-bound and super-glued to the TV. Five of the 12 games pit unbeatens against one another. Five games, and not all the same five as above, feature teams that are both ranked in the Top 25. All dozen games feature at least one unbeaten and an opponent that has just one loss.
Leave the outdoor work to these 24 teams and The Weather Channel's Jim Cantore today. Hunker down, take stock of your food and beverage rations and enjoy the first slate of games that will create separation between the contenders and the pretenders.
No. 23 West Virginia (3-0) at No. 15 Oklahoma (3-0)
Noon, FS1
The Mountaineers have yet to play anyone (Liberty?), but Dana Holgorsen's squad has outscored its three opponents 74-0 in the first half and are No. 1 in the nation in scoring defense (7.7 points per game). In first-year starting quarterback Baker Mayfield, a former walk-on at Texas Tech, the Sooners have the latest incarnation of Johnny Manziel. Let's take Bob Stoops's team, who have already won a major road game this season—at Tennessee—by a field goal or less in Norman.
The Pick: Sooners.
Minnesota (3-1) at No. 16 Northwestern (4-0)
Noon, Big Ten Network
Aided by a local 11 a.m. start on Labor Day weekend, the Wildcats shocked a Stanford team that was still rubbing the sleep from its eyes. Like West Virginia, Pat Fitzgerald's Wildcats have won with stout defense, holding opponents to 8.8 points per game. But look out for the Golden Gophers, whose lone defeat came by six points on the opening night of the season (a Thursday) to a TCU team that is averaging 51 points per game. Ah, but Minnesota has been living dangerously, with all three victories coming by a field goal.
The Pick: Wildcats
Iowa (4-0) at No. 19 Wisconsin (3-1)
Noon, ESPN
The Hawkeyes Rodney Dangerfield'ed their way through September and are unbeaten thanks to a 57-yard field goal versus Pittsburgh as time expired. The Badgers lost their opener to Alabama at Cowboys Stadium in Arlington, Texas, but have surrendered a total of one field goal in the three games since. They'll have reason to "Jump Around" in Camp Randall Stadium when the fourth quarter begins today.
The Pick: Badgers (Huuuuuge)
Texas Tech (3-1) at No. 5 Baylor (3-0)
3:30 p.m., ABC/ESPN2
When the season began, the question was, Who is the class of the Big 12, Baylor or TCU? Both schools, remarkably, opened in the top five in both the AP and Coaches' polls. Now? The Horned Frogs barely escaped Texas Tech last Saturday, winning on a fourth-down pass that was tipped in the end zone. The Bears have yet to leave the Lone Star State or play a Power 5 program, but they do lead the nation in scoring at an eye-popping 64 points per game.
Baylor feels superior to TCU right now—they won't play until November 28—but the Red Raiders are the pleasant surprise in the Big 12. Baylor finally has a test. Oh, and the oddsmakers put the over/under on this contest at 88.5 points. It's the Arena Football League in Waco.
The Pick: Bears
No. 1 Ohio State (4-0) at Indiana (4-0)
3:30 p.m., ABC/ESPN2
The Hoosiers last began a season 5-0 in 1967—Bob Knight had not even arrived in Bloomington—and that drought will not end this afternoon. Indiana's Jordan Howard, a refugee of the scuttled University of Alabama-Birmingham football program, is No. 2 in rushing in the country at 169 yards per game, but his O-line is about to face a relentless Ohio State front seven. The Buckeyes have sleep-walked through their last three home games, but they'll be up for this one against an unbeaten conference foe. Ohio State's band dots the "i" and today its team will pound IU.
The Pick: Buckeyes
No. 18 Alabama (3-1) at No. 8 Georgia (4-0)
3:30 p.m., CBS
Two weeks ago Bulldog quarterback Greyson Lambert set an NCAA accuracy record by completing 24 of 25 passes versus South Carolina. That same night, the Crimson Tide lost at home for the first time in 18 games, to Mississippi. Georgia is that elite SEC program that has nevertheless watched as Alabama, Auburn, Florida and LSU have all won two SEC championships since they last did, in 2005 (and three of them have won a national championship since then, while Georgia last did so in 1980). Something more than an 11-win season is long overdue in Athens, and today is the day when we learn if Mark Richt's team is up to its fans' expectations. The Tide find themselves as the underdog for the first time in 73 games, which makes the Bulldogs the overdog.
The Pick: Bulldogs
Kansas State (3-0) at No. 20 Oklahoma State (4-0)
4 p.m., FS1
This is easily the least anticipated of the five games between unbeatens. Wildcat quarterback Joe Hubener stepped in when the team's incumbent, Jesse Ertz , incurred a season-ending injury on the first play of the season. Related: Hubener had never played quarterback before, not even in high school.
The Pick: Cowboys
Washington State (2-1) at No. 24 California (4-0)
4 p.m., Pac-12 Network
This game features the lowliest of the two-dozen teams on this docket, the Cougars, against arguably the most accomplished passer in this field, Cal's Jared Goff. The Golden Bears will put up 40-plus against Wazzu in their last breather before a trio of contests versus Top 20 opponents Utah, UCLA and USC (followed by a visit to Oregon). It could be a while before the fans in Berkeley are able to savor Cal's next win.
The Pick: Golden Bears
No. 3 Mississippi (4-0) at No. 25 Florida (4-0)
7 p.m., ESPN
The Rebels have the season's savviest win, that humbling of the Crimson Tide at Bryant-Denny Stadium two weeks back. Quarterback Chad Kelly has played lights out, while Hugh Freeze's team is loaded with NFL talent (defensive tackle Robert Nkemdiche is a Top 5 pick in the 2016 NFL draft). The Gators have been a pleasant surprise in coach Jim McElwain's debut season, but they will not keep pace with the Rebels' 55 points-per-game average.
The Pick: Rebels
No. 21 Mississippi State (3-1) at No. 14 Texas A&M (4-0)
7:30 p.m., SEC Network
A year ago the Aggies started out 5-0 and were ranked No. 6 before falling 41-38 at Mississippi State. The Bulldogs, everyone seems to have forgotten, were 9-0 and ranked No. 1 in the nation before losing at Alabama. Is either team as talented as its 2014 vintage?
The Pick: Aggies
No. 6 Notre Dame (4-0) at No. 12 Clemson (3-0)
8 p.m., ABC
Which side has the more talented swimmers? As record rains deluge South Carolina and a state of emergency is declared, a game that would be better played with a noon kickoff will wait until, as The Weather Channel's Jim Cantore himself declared, "peak rain" at 8 p.m. These two last met in Death Valley in 1977 and the Irish prevailed behind a fourth-quarter comeback from Joe Montana. Tonight expect Notre Dame's superior offensive line, which averages 6'6" and 315 pounds, to muddle through.
The Pick: Fighting Irish
Arizona (3-1) at No. 18 Stanford (3-1)
10:30 p.m., Pac-12 Network
The Wildcats were embarrassed at home last Saturday night in prime-time on national television, as UCLA put the game away by halftime, 42-14. The Cardinal had an impressive win at USC two weeks back and look poised to make a run at the Pac-12 North title. The question is whether the Wildcats will keep this one interesting until the season premiere of Saturday Night Live hits air at 11:30 p.m. featuring Miley Cyrus as host. Related: Cardinal running back Christian McCaffrey is a wrecking ball.