College football star Avantae Williams has been arrested for allegedly assaulting a pregnant victim.
The 20-year-old University of Miami Hurricanes safety was taken into custody by Miami-Dade police officers on Wednesday night after police responded to a domestic violence incident involving Williams and his ex-girlfriend, who is 31 weeks pregnant with his chid.
Williams has been charged with three counts of aggravated assault of a pregnant victim.
He was booked into the Turner Guilford Knight Correctional Center and his bond has been set at $10,000. He is expected to appear in bond court on Thursday morning.
The football player and the woman have been living at a residence near the 10600 blocks of Hammocks Boulevard for the last four months, according to the arrest affidavit.
On Wednesday afternoon, Williams and the woman reportedly got into a fight over him being involved with another woman. As the argument escalated, he told her, "When I return from practice you need to be gone."
She was still home packing her bags when he returned.
The report states that he was angered by the fact that she was still at the residence, which led him to grab her by the hair, throw her onto the bed and scream at her, "Get the [expletive] out."
Williams then reportedly grabbed her hair and threw her to the ground two more times—the last time causing the woman to hit her head. The victim then went to a neighbor's and called 911.
She was taken to West Kendall Hospital and treated for bruises to her arm and neck. No information was released about the unborn child.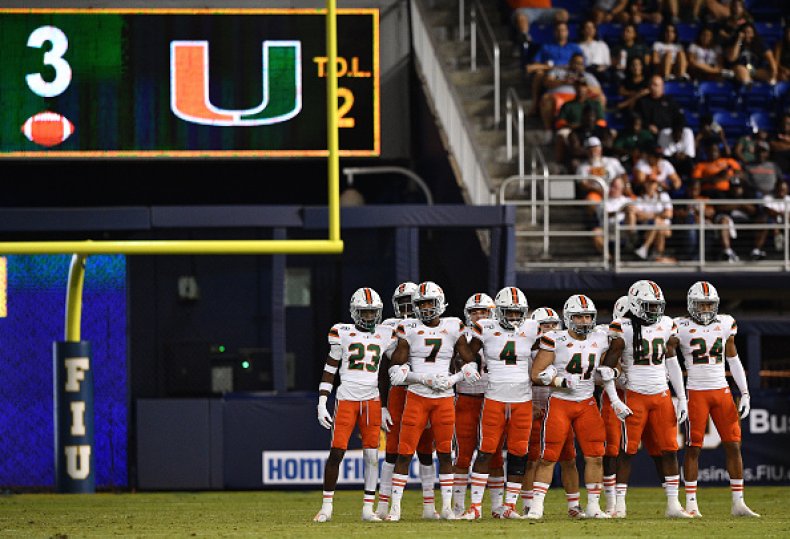 In a Thursday statement, the Hurricanes said: "We are aware that football student-athlete Avantae Williams has been arrested by the Miami-Dade Police Department. He was immediately suspended from all team activities."
The Deland native initially committed to the Gators last year before making a surprising switch to the University of Miami on National Signing Day after his cousin Lorenzo Lingard transferred from Miami to Florida. Williams was Miami's top recruit in the 2020 signing class.
ESPN has ranked him as the No. 1 safety in the country and the No. 45 overall player.
Williams sat out the last season with an undisclosed "chronic and lingering" medical condition, but was cleared for spring practice and was expected to be in the Hurricanes' rotation when the college opens the season against Alabama on September 4.
Newsweek reached out to the University of Miami Hurricanes and the Miami-Dade Police Department for additional comment but did not hear back before publication.
Uncommon Knowledge
Newsweek is committed to challenging conventional wisdom and finding connections in the search for common ground.
Newsweek is committed to challenging conventional wisdom and finding connections in the search for common ground.
About the writer
Katherine Fung is a Newsweek reporter based in New York City. Her focus is reporting on U.S. and world politics. She has covered the Republican primary elections and the American education system extensively. Katherine joined Newsweek in 2020 and had previously worked at Good Housekeeping and Marie Claire. She is a graduate of the University of Western Ontario and obtained her Master's degree from New York University. You can get in touch with Katherine by emailing k.fung@newsweek.com. Languages: English.