College Football TV Schedule 2019: Latest AP Rankings, Week 10 Games, Where to Watch, Live Stream
LSU's march towards the College Football Playoff gathered pace on Saturday as it dethroned Alabama to claim top spot in the Associated Press Top 25 poll.
With a 23-20 win over then-No. 9 Auburn, the Tigers became the first team in the AP Poll era to win three matchups against top-10 ranked teams in the opening weeks of the season. They become the third team to hold the No. 1 spot in the rankings this campaign.
Joe Burrow strengthened his credentials as a Heisman Trophy candidate, completing 32 of his 42 passes for 321 yards and a touchdown, while Clyde Edwards Helaire hushed for 136 yards and a score over 26 carries.
LSU's climb to the top of the rankings saw Alabama drop to No. 2 after four weeks of holding first spot.
The Crimson Tide thrashed Arkansas 48-7 and improved to 8-0—the same record as LSU—as Mac Jones ensured Tua Tagovailoa's absence wasn't felt.
In his first start of the season, the backup quarterback went 18-of-22 for 235 yards and three touchdowns, while Jerry Judy had 103 yards and two touchdowns over seven catches.
Behind Alabama, Ohio State consolidated its third spot with a 38-7 rout over Wisconsin, making it eight wins in eight games.
Justin Fields had a relatively subdued game by his standards, throwing for 167 yards and two touchdowns, but J.K. Dobbins stole the show again. The running back rushed for 163 yards over 20 carries and scored two touchdowns as the Buckeyes blew their Big Ten rivals away.
The loss was Wisconsin's second in a row and saw the Badgers drop from No. 13 to No. 18, having been as high as No. 6 just two weeks ago.
Elsewhere, Clemson extended its winning run to 23 games with a 59-7 shellacking of Boston College, which kept them in fourth place.
Trevor Lawrence threw three for 275 yards and three touchdowns for the reigning national champions, who are the only top-5 team in action next week, which features an unusually light schedule.
Clemson hosts Wofford in Week 10, while LSU, Alabama, Ohio State and No. 5 Penn State all enjoy a week off, as do No. 10 Oklahoma, No. 13 Minnesota, Wisconsin, No. 19 Iowa and No. 25 San Diego State.
Oklahoma was arguably the biggest disappointment of Week 9, losing 48-41 on the road to Kansas State and dropping five places in the ranking.
The highlight of Week 10 sees No. 6 Florida host No. 8 Georgia in one of only two top 25-matchups as both the Gators and the Bulldogs look to keep their playoff hopes alive.
Here's everything you need to know about Week 10.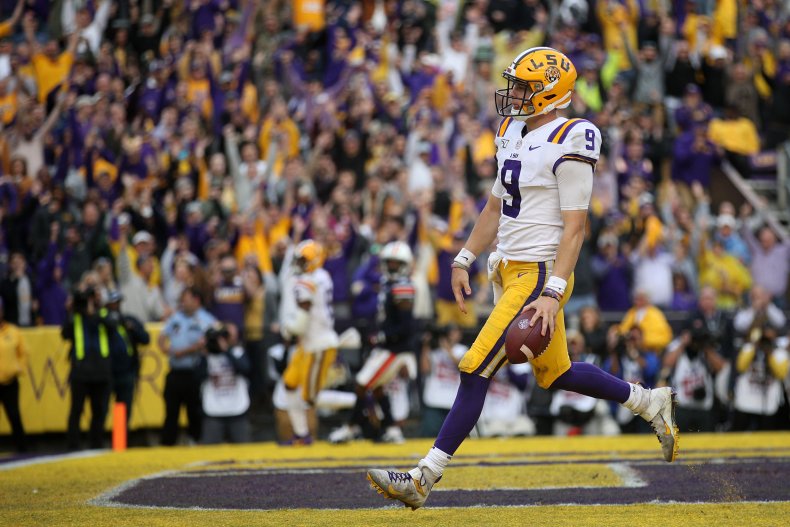 When does Week 10 start?
Week 10 begins on Thursday, October 31, when No. 12 Baylor hosts West Virginia and No. 20 Appalachian State welcomes Georgia Southern.
LSU, Alabama and Ohio State are not in action this week and there are only two Top 25 matchups on Saturday, with No. 8 Georgia traveling to No. 6 Florida and No. 15 SMU facing No. 24 Memphis on the road.
TV coverage
As usual, coverage of the college football season is split across a variety of networks. ABC broadcasts games in the ACC, American, Big 12, Big Ten and Pac-12 conferences.
Games in the latter three conferences will also be broadcast on FOX and ESPN, with ESPN carrying matchups from the ACC, American, Mountain West, SEC and Sun Belt conferences.
CBS broadcasts SEC conference games, while NBC retains exclusive broadcasting rights to Notre Dame's home games.
Live stream
Live streams throughout the season will be available via the broadcasters' digital platforms, as well as fuboTV and DirecTV.
Week 10 TV schedule for college football Top 25 teams (All times ET)
Thursday, October 31
Georgia Southern @ Appalachian State—8 p.m., ESPNU
West Virginia @ Baylor—8 p.m. ESPN
Saturday, November 2
North Carolina State @ Wake Forest—12 p.m., ESPN
Michigan @ Maryland—12 p.m., ABC
Virginia Tech @ Notre Dame—2:30 p.m., NBC
Georgia @ Florida—3:30 p.m., CBS
Kansas @ Kansas State—3:30 p.m., FS1
Utah @ Washington—4 p.m., FOX
Wofford @ Clemson—4 p.m., ACC Network
Ole Miss @ Auburn—7 p.m., ESPN
Cincinnati @ East Carolina—7 p.m., CBSSN
SMU @ Memphis—7:30 p.m., ABC
Oregon @ Southern California—8 p.m., FOX
Boise State @ San Jose State—10:30 p.m., CBSSN