College Football TV Schedule 2019: Latest AP Rankings, Week 12 Games, Where to Watch, Live Stream
LSU strengthened its grip on top spot in the Associated Press Top 25 poll after its thrilling 46-41 road win against Alabama on Saturday.
The Tigers became the first team to defeat the Crimson Tide in Tuscaloosa, Alabama, since Ole Miss won at Bryant-Denny Stadium in September 2015. LSU also became the only program in history to defeat Alabama at home twice since Nick Saban took charge of the Crimson Tide in 2007.
The Tigers had won 9-6 in triple overtime in the "Game of the Century" in 2007 and repeated the feat in the remake on Saturday.
Joe Burrow strengthened his Heisman Trophy credentials as he passed for 393 yards and three touchdowns as the Tigers improved to 9-0 and took complete control of the SEC, while Alabama suffered its first defeat of the season.
LSU now tops both the AP and USA Today coaches' poll, while Alabama, which ranked first and second respectively until Saturday, has fallen to fourth in both.
The two programs entered the weekend as the No.2 and No.3 in the College Football Playoff ranking, but LSU is now expected to leapfrog Ohio State at No.1, with Alabama set to drop out of the top four.
Ohio State climbed up to second in the AP poll after a 73-14 thrashing of Maryland, which improved its record to 9-0 for the season. Justin Fields completed 16 of 25 passes, throwing for 200 yards and three touchdowns as the Buckeyes made light work of the Terrapins.
LSU and Ohio State are both expected to extend their winning runs in Week 12, when they travel to Ole Miss and Rutgers respectively.
Behind the duo, Clemson climbed back into the top three of the AP poll for the first time since Week 7 with a 55-10 rout of North Carolina State, which improved them to 10-0 for the season and extended their winning run to 25 games.
The Tigers can now legitimately expect to be included in the top four when the next set of College Football Playoff ranking is released on Tuesday.
Clemson will be hoping to gain further ground when it hosts Wake Forest on Saturday. The No.19-ranked team in the CFP ranking, the Demon Deacons suffered a surprise 36-17 loss on the road to Virginia Tech and fell out of the AP Top 25.
Georgia climbed up one spot to fifth after beating Missouri 27-0, while Oregon rose from No.7 to No.6 despite being on a bye.
Both teams are 8-1 along with Oklahoma, but the Sooners slipped down one spot to No.10 after a narrow 42-41 win over Iowa State on Saturday.
Week 12 could be crucial for both Georgia and Oklahoma, as the former travels to No. 13 Auburn, while the latter faces No.12 Baylor on the road.
Elsewhere, Minnesota surged up from No.13 to No.7 after defeating previously undefeated Penn State 31-26, while the Nittany Lions dropped four spots to No.9 after the loss.
Both teams face Top 25-ranked programs in Week 12, with Minnesota taking on No. 23 Iowa on the road and Penn State hosting No.24 Indiana.
Here's all you need to know ahead of Week 12.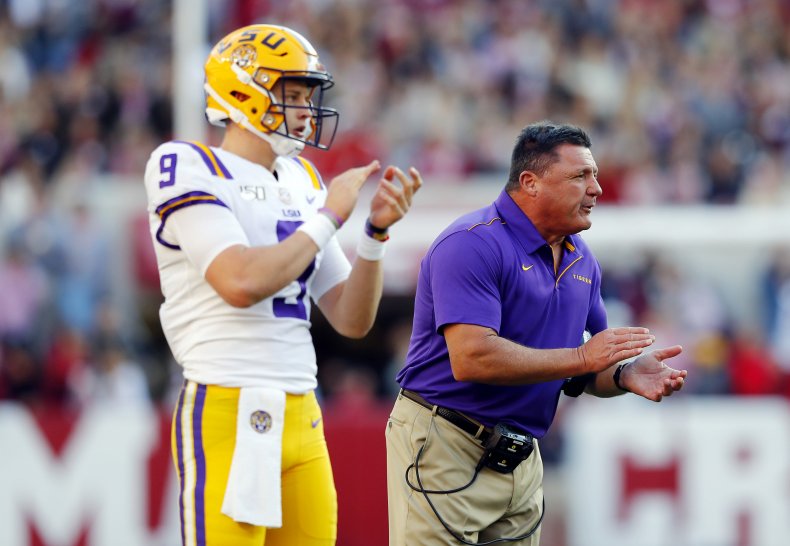 When does Week 12 start?
Week 12 begins on Tuesday, November 12, when Ohio hosts Western Michigan and Eastern Michigan plays Akron on the road.
Six further matches are scheduled across the next three days, but none feature Top 25-ranked teams.
Five games among programs in the top 25 of the College Football Playoff ranking, however, are on tap on Saturday.
No. 5 Georgia travels to No. 13 Auburn, while No. 7 Minnesota faces No. 23 Iowa on the road and No.9 Penn State hosts No.24 Indiana.
No. 21 Navy travels to Indiana to play No. 16 Notre Dame, while No. 12 Baylor hosts No. 10 Oklahoma.
TV coverage
As usual, coverage of the college football season is split across a variety of networks. ABC broadcasts games in the ACC, American, Big 12, Big Ten and Pac-12 conferences.
Games in the latter three conferences will also be broadcast on FOX and ESPN, with ESPN carrying matchups from the ACC, American, Mountain West, SEC and Sun Belt conferences.
CBS broadcasts SEC conference games, while NBC retains exclusive broadcasting rights to Notre Dame's home games.
Live stream
Live streams throughout the season will be available via the broadcasters' digital platforms, as well as fuboTV and DirecTV.
Week 12 TV schedule for college football Top 25 teams (All times ET)
Alabama @ Mississippi State—12 p.m., ESPN
Indiana @ Penn State—12 p.m., ABC
Florida @ Missouri—12 p.m., ABC
Kansas @ Oklahoma State—12 p.m., FS1
Michigan State @ Michigan—12 p.m., FOX
Wisconsin @ Nebraska—12 p.m., Big Ten Network
Navy @ Notre Dame—2:30 p.m., NBC
Ohio State @ Rutgers—3:30 p.m., Big Ten Network
Georgia @ Auburn—3:30 p.m., CBS
Wake Forest @ Clemson—3:30 p.m., ABC
Memphis @ Houston—3:30 p.m., ESPN2
Texas @ Iowa State—3:30 p.m., FS1
Minnesota @ Iowa—4 p.m., FOX
LSU @ Ole Miss—7 p.m., ESPN
Oklahoma @ Baylor—7:30 p.m., ABC
UCLA @ Utah—8 p.m., FOX
New Mexico @ Boise State—10:15 p.m., ESPN2
Arizona @ Oregon—10:30 p.m., ESPN