2019 College Football Schedule: Week 3 Games, Where to Watch, Live Stream, TV Channel
The college football season is just two games old, but there's little to suggest the status quo will be disrupted anytime soon.
Clemson made it two wins out of two with a 24-10 victory over Texas A&M on Saturday. Trevor Lawrence finished 24-for-35, throwing for 268 yards and one touchdown.
Lyn-J Dixon had 79 rushing yards and one touchdown on 11 carries, while Justyn Ross finished with 94 receiving yards and a touchdown over seven receptions.
The Tigers were kept scoreless in the first and last quarter but were never in any trouble against the Aggies. Next up for the defending champions is a trip to Syracuse, which dropped out of the Top 25 after suffering a 63-20 shellacking at the hands of Maryland on Saturday.
As expected, Alabama, Clemson's main rival for the national title, put on a show against New Mexico State. The Crimson Tide won 62-10 against the lowest-ranked program in the FBS—the top tier of college football—with Tua Tagovailoa throwing for 227 yards and three touchdowns, adding 33 rushing yards and a score on the ground.
Alabama racked up 603 total yards in the game to move to 2-0 and will face South Carolina on the road on Saturday.
Tagovailoa wasn't the only quarterback to catch the eye over the weekend, with Jalen Hurts continuing where he left off in Week 1.
Hurts, who lost his starting spot in Alabama to Tagovailoa last season, finished 14-of-18 with 259 passing yards and three touchdowns in Oklahoma's 70-14 thrashing of South Dakota.
Hurts, who added 47 rushing yards, has been unstoppable since transferring from Alabama in the offseason. He has completed 83 percent of his throws in the first two games, amassing 814 yards, nine touchdowns and no interceptions so far.
The Sooners' signal-caller could add to his stellar figures next week, when Oklahoma travels to California to face a UCLA team that is 0-2 so far.
Like Hurts, Justin Fields transferred to a new school in the offseason, swapping Georgia for Ohio State. And also like Hurts, Fields has been mightily impressive so far.
The quarterback completed 20 of his 25 passes for 224 yards and two touchdowns, adding 42 rushing yards and two touchdowns on the ground as the Buckeyes beat Cincinnati 42-0.
Next up for Ohio State is a trip to Indiana to face the Hoosiers, who are 2-0 this season and have just thrashed Eastern Illinois 52-0.
No. 3-ranked Georgia, meanwhile, will face Arkansas State at home after dispatching Murray State 63-17 on Saturday.
Here's all you need to know about Week 3.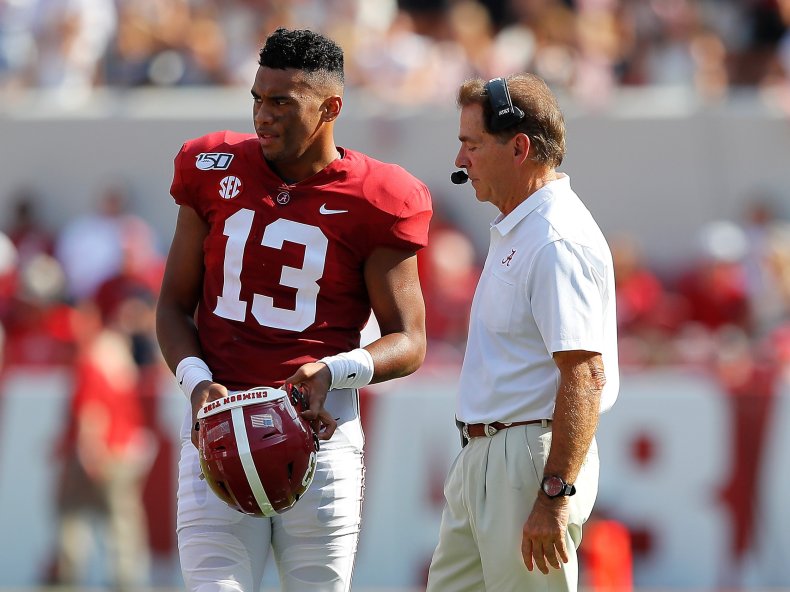 When does Week 3 start?
Week 3 of the college football season begins on Friday, with North Carolina taking on Wake Forest on the road, before Boston College hosts Kansas and No. 20-ranked Washington State travels to Houston.
There are no clashes between Top 25 teams and No. 10 ranked Michigan and No. 14 ranked Wisconsin do not play this week.
TV coverage
As usual, coverage of the college football season will be split across a variety of networks. ABC will broadcast games in the ACC, American, Big 12, Big Ten and Pac-12 conferences.
Games in the latter three conferences will also be broadcast on FOX and ESPN, with ESPN carrying matchups from the ACC, American, Mountain West, SEC and Sun Belt conferences.
CBS will broadcast SEC conference games, while NBC retains exclusive broadcasting rights to Notre Dame's home games.
Live stream
Live streams throughout the season will be available via the broadcasters' digital platforms, as well as fuboTV and DirecTV.
Week 3 TV schedule for college football Top 25 teams (All times ET)
Friday, September 13
Washington State @ Houston—9.15 p.m., ESPN
Saturday, September 14
Arkansas State @ Georgia—12 p.m., ESPN2
Ohio State @ Indiana—12 p.m., FOX
Pittsburgh @ Penn State—12 p.m., ABC
Maryland @ Temple—12 p.m., CBSSN
New Mexico @ Notre Dame—2:30 p.m., NBC
Alabama @ South Carolina—3:30 p.m., CBS
Stanford @ UCF—3:30 p.m., ESPN
USC @ BYU—3:30 p.m., ABC
Arizona State @ Michigan State—4 p.m., FOX
Iowa @ Iowa State—4 p.m., FS1
Idaho State @ Utah—4:15 p.m.
Florida @ Kentucky—6 p.m., ESPN
Lamar @ Texas A&M—6p.m., ESPNU
Clemson @ Syracuse—6:30 p.m., ABC
Northwestern State @ LSU—6:30 p.m., SEC Network
Hawaii @ Washington—6:30 p.m., Pac-12 Network
Florida State @ Virginia—6:30 p.m., ACCN
Oklahoma @ UCLA—7 p.m., FOX
Texas @ Rice—7 p.m., CBSSN
Portland State @ Boise State—10:15 p.m., ESPN2
Montana @ Oregon—10:45 p.m., Pac-12 Network