2019 College Football Schedule: Week 4 Games, Where to Watch, Live Stream, TV Channel
Week 3 of the college football seasons didn't feature any matchups between Top 25-ranked teams, but there was no shortage of drama.
Kansas won on the road against a Power 5 team for the first since 2008 when it beat Boston College on Friday. Two ranked teams tasted defeat against unranked programs on Saturday, with No.18 Michigan State losing to Arizona State at home and No. 24 USC fell on the road 30-27 to BYU.
Elsewhere, the Top-10 ranked teams all maintained their perfect record and moved up to 3-0—except for Notre Dame, who are 2-0.
Trevor Lawrence went 22-for-39, throwing for 395 yards and three touchdowns as No. 1 ranked Clemson won 41-6 on the road against Syracuse, while Travis Etienne added 76 rushing yards over 14 carries.
Tua Tagovailoa, one of Lawrence's main rivals for the Heisman Trophy, fared even better. The Alabama signal caller finished 28-for-36, throwing for 444 yards and five touchdowns as the No. 2 ranked Crimson Tide beat South Carolina 47-23.
Jake Fromm and Joe Burrow were just as impressive. The former completed 17 of his 22 passes for 279 yards and three touchdowns as No. 3-ranked Georgia routed Arkansas State 55-0.
The latter finished 21-for-24, throwing for 373 yards and two touchdowns as No. 4 ranked LSU thrashed Northwestern State 65-14.
Jalen Hurts, meanwhile, continued his spectacular start to the season, as Oklahoma comfortably beat UCLA 48-14.
Hurts completed 15 of 20 passes for 289 yards and three touchdowns, adding 150 yards and a score over 14 carries.
Meanwhile, Justin Fields had 199 yards and three touchdowns as Ohio State routed Indiana 51-10, but J.K. Dobbins stole the show rushing for 193 yards and a score over 22 carries.
Week 4 features three matchups between Top-25 ranked teams, including a major test for Georgia.
The Bulldogs host No.7-ranked Notre Dame, while No. 8-ranked Auburn travels to No. 17 Texas A&M and No. 11 Michigan takes on No. 13 Wisconsin.
Clemson and Alabama will be expected to improve to 4-0 when they take on Charlotte and Southern Miss, while LSU travels to Tennessee to face Vanderbilt and Ohio State welcomes Miami University.
Here's all you need to know about Week 4.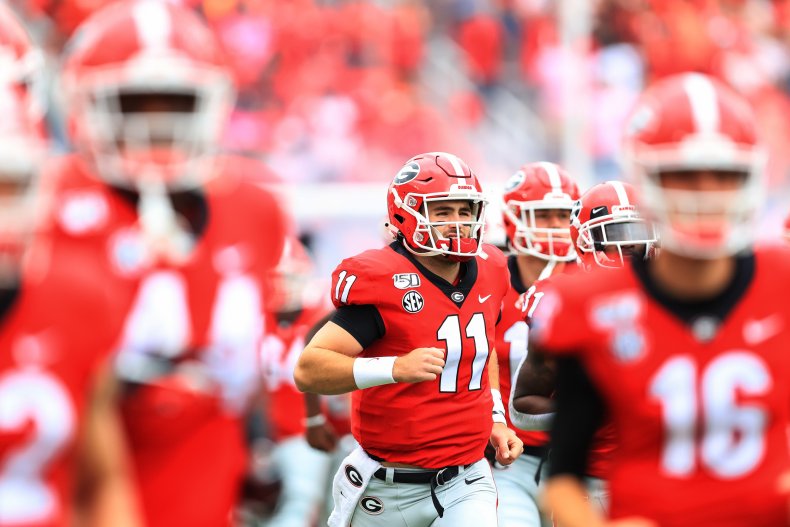 When does Week 4 start?
Week 4 of the college football season begins on Thursday, when Houston travels to Tulane.
Friday sees No.-10 ranked Utah take on University of Southern California on the road, while No.-20 ranked Boise State hosts Air Force and Louisiana Tech welcomes Florida International.
Saturday, as usual, sees the lion's share of the action. Six Top-25 ranked teams—Alabama, LSU, Florida, Michigan, Wisconsin and California—kick off at 12 p.m. ET, while Ohio State, Auburn, Texas A &M, UCF, Washington and TCU follow at 3:30 p.m. ET.
Defending champions Clemson, meanwhile, aren't in action until 7:30 p.m. ET.
TV coverage
As usual, coverage of the college football season will be split across a variety of networks. ABC will broadcast games in the ACC, American, Big 12, Big Ten and Pac-12 conferences.
Games in the latter three conferences will also be broadcast on FOX and ESPN, with ESPN carrying matchups from the ACC, American, Mountain West, SEC and Sun Belt conferences.
CBS will broadcast SEC conference games, while NBC retains exclusive broadcasting rights to Notre Dame's home games.
Live stream
Live streams throughout the season will be available via the broadcasters' digital platforms, as well as fuboTV and DirecTV.
Week 4 TV schedule for college football Top 25 teams (All times ET)
Friday, September 20
Utah @ USC—9 p.m., FS1
Air Force @ Boise State—9 p.m., ESPN2
Saturday, September 21
Southern Mississippi @ Alabama—12 p.m., ESPN2
LSU @ Vanderbilt—12 p.m., SEC Network
Tennessee @ Florida—12 p.m., ESPN
Michigan @ Wisconsin—12 p.m., FOX
California @ Ole Miss—12 p.m., ESPNU
Miami (OH) @ Ohio State—3:30 p.m., Big Ten Network
Auburn @ Texas A&M—3:30 p.m., CBS
UCF @ Pittsburgh—3:30 p.m., ABC, ESPN2
Washington @ BYU—3:30 p.m., ABC, ESPN2
SMU @ TCU—3:30 p.m., FS1
Oregon @ Stanford—7 p.m., ESPN
Old Dominion @ Virginia—7 p.m. ESPN2
Charlotte @ Clemson—7:30 p.m. ACCN
Oklahoma State @ Texas—7:30 p.m. ABC
Notre Dame @ Georgia—8 p.m., CBS
Colorado @ Arizona State—10 p.m., Pac-12 Network
UCLA @ Washington State—10:30 p.m., ESPN