Week 4 of the college football season had an extremely familiar feeling about it, with all the playoffs candidates winning.
Clemson, the No.1 ranked team, extended its winning streak to a record 19 games after beating Charlotte 52-10 at home, moving to 4-0. Trevor Lawrence attempted just nine passes before being withdrawn, completing seven of them for two touchdowns and 94 passing yards.
The defending champions don't have another Top 25-ranked opponent on the schedule and it appears unlikely North Carolina will be the team snapping the longest winning run in college football this Saturday.
If the Tigers march on, so do No. 2 Alabama and No. 4 LSU, who are also 4-0. The Crimson Tide thrashed Southern Mississippi 49-7 with Tua Tagovailoa completing 17 of 21 passes for 293 yards and five touchdowns.
It was the second consecutive game the quarterback threw for five touchdowns, but his performance was bettered by Joe Burrow, who threw six touchdown as LSU defeated Vanderbilt 66-38.
The Tigers signal caller has forced himself into the conversation for the Heisman Trophy and his six touchdown passes on Saturday were a school record, as was a third consecutive with at least 350 passing yards.
Burrow completed 25 of his 34 passes, completing 398 yards and had LSU's offense firing on all cylinders again.
LSU coach Ed Orgeron insisted his team would keep its foot firmly on the gas.
"Score, be aggressive," he was quoted as saying by the Associated Press. "That's our mentality. We're going to be aggressive. We're going to go get it. We're not slowing down for anything."
Alabama hosts Ole Miss in Week 5, while LSU has a week off, as No.6 Oklahoma did this week.
The Sooners are back in action at home against Texas Tech on Saturday, while No. 5 Ohio State takes on Nebraska on the road.
The Buckeyes improved to 4-0 with a 76-5 shellacking of Miami, as Justin Fields went 14-of-21 for 223 yards and four touchdowns.
No. 3 Georgia, meanwhile, passed its first test of the season with flying colors with a home win over No. 7 Notre Dame. Jake Fromm, who is yet to lose a home game for Georgia, completed 20 of 26 passes for 187 yards and one touchdown and D'Andre Swift rushed for 98 yards over 18 carries in a 23-17 win.
Here's all you need to know about Week 5.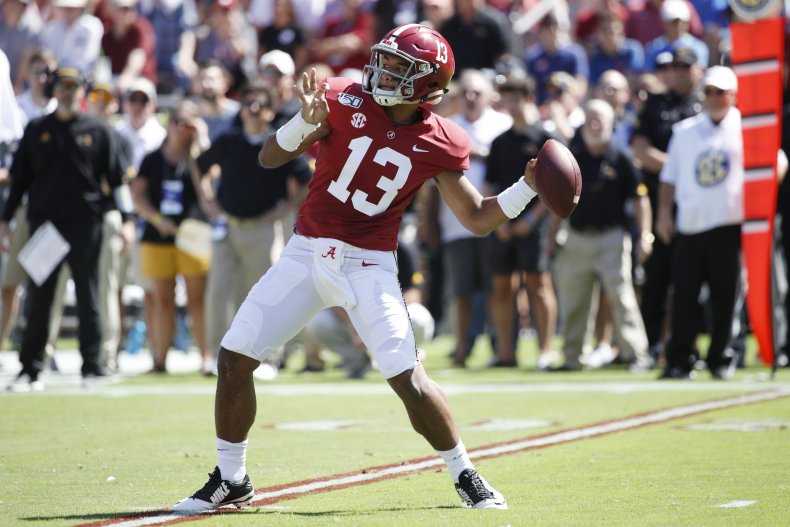 When does Week 5 start?
Week 5 begins on Thursday, September 26, when Navy travels to Memphis.
Friday sees two Top 25-ranked teams in action as No. 12 Penn State takes on Maryland on the road, while No. 15 California hosts Arizona State.
There are two meetings between Top 25 teams on Saturday, with No. 10 Notre Dame playing on the road against No. 18 Virginia, while No. 21 Southern California hosts No. 17 Washington.
TV coverage
As usual, coverage of the college football season is to be split across a variety of networks. ABC broadcasts games in the ACC, American, Big 12, Big Ten and Pac-12 conferences.
Games in the latter three conferences will also be broadcast on FOX and ESPN, with ESPN carrying matchups from the ACC, American, Mountain West, SEC and Sun Belt conferences.
CBS broadcasts SEC conference games, while NBC retains exclusive broadcasting rights to Notre Dame's home games.
Live stream
Live streams throughout the season will be available via the broadcasters' digital platforms, as well as fuboTV and DirecTV.
Week 5 TV schedule for college football Top 25 teams (All times ET)
Friday, September 27
Penn State @ Maryland—8 p.m., FS1
Arizona State @ California—10:30 p.m., ESPN
Saturday, September 28
Texas Tech @ Oklahoma—12 p.m.
Northwestern @ Wisconsin—12 p.m., ABC
Middle Tennessee @ Iowa State—12 p.m., ESPN2
Rutgers @ Michigan—12 p.m., Big Ten Network
Arkansas @ Texas A&M (Arlington, Texas)—12 p.m., ESPN
Clemson @ North Carolina—3:30 p.m., ABC
Ole Miss @ Alabama—3:30 p.m., CBS
Virginia @ Notre Dame—3:30 p.m., NBC
Southern California @ Washington—3:30 p.m., Fox
Indiana @ Michigan State—3:30 p.m., Big Ten Network
Towson @ Florida—4 p.m., SEC Network
Kansas State @ Oklahoma State—7 p.m. ESPN+
UConn @UCF—7 p.m., ESPN2
Mississippi State @ Auburn—7 p.m., ESPN
Ohio State @ Nebraska—7:30 p.m., ABC
Washington State @ Utah—10 p.m., FS1